The 20 Best Medieval Movies Of All Time, According To IMDb

ScreenRant
9/15/2022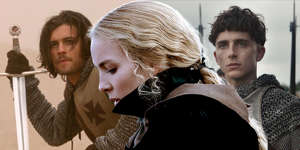 Historical films are difficult to do well. They require endless research to prevent them from becoming inaccurate, huge budgets to cater to the elaborate sets, costumes, and props required, and must often strike a balance between staying true to history and entertaining a modern audience. It's certainly no easy feat.
Despite the difficulties, there are many medieval films that have been incredibly successful, both commercially and critically. From A Knight's Tale to Henry V to The Name of the Rose, the best medieval movies are must-watches for any film fan.
Updated on September 15th, 2022 by Tanner Fox: The medieval period is fertile grounds for epic tales of glory on the battlefield and romanticized reimaginings of historical events, but it seems to have fallen out of favor somewhat in recent years. High fantasy stories set in fictional worlds seem to be much more prevalent, but, as great as Lord of the Rings or House of the Dragon may be, they shouldn't be a complete replacement for the medieval setting.
Still, from the pioneering years of cinema in the first half of the twentieth century to the huge blockbusters of the modern day, there are more than a few medieval movies that are more than worthwhile.
Valhalla Rising (2009)
IMDb Score: 6.1
• Available on AMC+
This Nicolas Winding Refn film features Mads Mikkelsen in one of his most visceral performances. Buoyed by the gorgeous Scotland landscape on which it was shot, Valhalla Rising is a worthy screening for both Mikkelsen fans and anyone who can get on Refn's wavelength and comfortably stay there.
RELATED: 10 Scariest Horror Movies Set During The Medieval Period
Far from the director's Drive, the film follows a Norse Warrior called One-Eye and a young boy as they travel with Christian Crusaders in 1096 AD.
Ironclad (2011)
IMDb Score: 6.1
• Available to purchase on Google Play
Ironclad was mostly passed over by American audiences back in 2011. Odd, considering the film features a cast of major stars: Brian Cox, Kate Mara, Paul Giamatti, Derek Jacobi, and James Purefoy.
The plot follows a small group of Knights Templar as they engage in a battle to secure the future of their people against King John's forces.
A Knight's Tale (2001)
IMDb Score: 7.0
• Available on Starz
A Knight's Tale is one of the films that cemented the late Heath Ledger as an international star. Ledger stars as William Thatcher, a man who impersonates a knight and rises up through the ranks by jousting in a series of tournaments.
The highly entertaining film centers around the idea that humans can choose their own destinies and is much more comedic than most medieval movies, often using modern pop culture references for humorous effect.
The Northman (2022)
IMDb Score: 7.1
• Available on HBO Max
Famed for his brooding and unrelentingly strange horror-adjacent efforts in 2015's The VVitch and 2019's The Lighthouse, director Robert Eggers certainly knows how to establish drama, build tension, and cultivate a bizarre climax that makes the film's heroes seem no more well-intentioned than its villains.
RELATED: 10 Best Medieval Games That Take Players Back In Time
That's very much on display in 2022's The Northman. A Norse tale of revenge that reverts into a tale of questioned allegiances and misinterpreted memories, it's a visually stunning adventure that'll leave audiences wondering why more movies don't opt for the troubled antihero storyline.
Kingdom of Heaven (2005)
IMDb Score: 7.2
• Available on Starz
Ridley Scott's Kingdom of Heaven has an intriguing history. Years before fans started demanding the director's cut of Justice League, the film Kingdom of Heaven showed how a director's cut could save a movie. When released in theaters, Kingdom of Heaven flopped.
However, once Scott released his cut on DVD, it was a massive success and remains one of the best medieval films of all time. In the movie, a blacksmith (Orlando Bloom) joins his father (Liam Neeson) as a crusader on the road to the Holy City.
El Cid (1961)
IMDb Score: 7.2
• Not Available For Streaming
The 1961 film El Cid starring Charlton Heston and Sophia Loren is one of the most highly rated on IMDb, with an average of 7.2. The film chronicles the life of Spanish legendary figure Rodrigo Diaz de Bivar, also known as El Cid.
The film is set in the 11th century against a backdrop of Christian Spain that is being overrun by the Moors. The charismatic knight El Cid tries to unify his divided country and rally his people against foreign invaders. Another medieval film that IMDb rates as 7.2 stars is Ridley Scott's Crusades epic Kingdom of Heaven, starring Orlando Bloom.
The King (2019)
IMDb Score: 7.3
• Available on Netflix
Many of IMDb's most successful medieval movies were made in the 20th century, but one of the more recent additions is The King, which was released in 2019. Based on several plays by William Shakespeare, the film chronicles the life of Henry V after becoming the King of England in the 15th century.
Henry ascends to the throne following the death of his brother. In the early days of his reign, he must face a number of obstacles, including war and treachery. The film stars Timothée Chalamet as King Henry V, along with Robert Pattinson, Joel Edgerton, Lily-Rose Depp, and Dean-Charles Chapman.
The Last Duel (2021)
IMDb Score: 7.4
• Available on DirecTV
The Last Duel went down as one of the biggest box office bombs of 2021, but it's also an ambitious and poignant tale that's worthy of a growing audience. Directed by Ridley Scott, the film was written and features performances by both Matt Damon and Ben Affleck.
RELATED: Which The Last Duel Character Are You, Based On Your Zodiac Sign?
Along with Jodie Comer and Adam Driver, they tell three different versions of one horrid incident with Nicole Holofcener writing for Comer's character.
Excalibur (1981)
IMDb Score: 7.4
• Available for purchase on Amazon Prime
John Boorman directed his medieval movie Excalibur in 1981. As expected from the title, this is a story about King Arthur and the knights of the Round Table.
The cast was amazing. Nigel Terry was Arthur. Patrick Stewart was Leondegrance. Liam Neeson was Gawain. Helen Mirren was Morgana. The movie picked up an Oscar nomination for Best Cinematography while Boorman won an award at the 1981 Cannes Film Festival.
Richard III (1955)
IMDb Score: 7.4
• Available on HBO Max
Another medieval film based on the work of Shakespeare, Richard III tells the tale of the cruel English king and his conquests. It stars Laurence Olivier, Cedric Hardwicke, Nicholas Hannen, and Ralph Richardson.
The last king of the House of York, Richard III was killed at the Battle of Bosworth Field, which marked the end of the Middle Ages in England. He is believed by some historians to have murdered his nephews, Edward V and Richard, Duke of York, to eliminate the risk of losing his throne. Legend has it that the young princes were secretly buried in the Tower of London.
Henry V (1989)
IMDb Score: 7.5
• Available on Tubi
Shakespeare's work has inspired a number of successful medieval films, one of those being Henry V. The 1989 version of the film earned a score of 7.5, while the earlier 1944 version that was directed by Laurence Olivier received 7.1.
The 1989 adaptation of Shakespeare's play stars its director, Kenneth Branagh, as the titular character. The film follows Henry V as he tries to claim the kingdom of France in the name of England during the Hundred Years War. It also stars Emma Thompson, Judi Dench, and Robbie Coltrane.
Hamlet (1948)
IMDb Score: 7.6
• Available on HBO Max
This 1948 Oscar-winning adaptation of Shakespeare's classic tragedy Hamlet stars and was directed by Laurence Olivier, and it serves as something of a paired-down interpretation of the original play. That said, it retains the playwright's trademark dialogue and expertly reflects the tribulations of its titular lead.
Hamlet was a hit in the late 1940s, but it's something of a difficult watch today. While the story of Hamlet is a timeless tale with which most cinephiles are at least casually familiar, this interpretation is more for fans who prefer movies based on Shakespeare's works to retain their original stageplay setup and feel.
The Name Of The Rose (1986)
IMDb Score: 7.7
• Not Available For Streaming
In 1986, Sean Connery starred in The Name of the Rose, a period piece that would go on to become one of the most highly rated IMDb films of all time. Despite being an Italian, French, and German production, the film is acted in English and tells the story of the fictional 14th-century Franciscan monk William of Baskerville.
William and his apprentice, played by Christian Slater, travel to an abbey and investigate a suspicious death. The film is based on the Italian novel of the same name by Umberto Eco.
Becket (1964)
IMDb Score: 7.8
• Available on Tubi
With a strong rating of 7.8, the 1964 film Becket is one of the best medieval movies on IMDb. Starring Richard Burton and Peter O'Toole, the film documents the relationship between Henry II of England and the bishop Thomas Becket.
RELATED: 10 War Books Too Twisted To Be Made Into Films
Now known as Saint Thomas of Canterbury, Thomas Becket served as the Archbishop of Canterbury from 1162 until 1170. He was assassinated by four knights who followed the king and was later canonized by the Catholic Church and the Church of England.
The Lion In Winter (1968)
IMDb Score: 7.9
• Available for purchase on Amazon Prime
Another highly-rated film to chronicle the life of Henry II is The Lion in Winter, starring Peter O'Toole as King Henry II and Katharine Hepburn as Eleanor of Aquitaine. The film also stars a young Anthony Hopkins as the couple's eldest son, Richard the Lionheart.
The film is based on a Broadway play of the same name and was one of the highest-grossing films of 1968. It also won three Academy Awards, including Best Music Score, Best Adapted Screen Play, and Best Actress for Katharine Hepburn. The Adventures of Robin Hood, starring Errol Flynn, also received 7.9 on IMDb.
The Passion of Joan of Arc (1928)
IMDb Score: 8.1
• Available on HBO Max
Released in 1928 as a silent film, The Passion of Joan of Arc told the real-life story of the trial of Joan of Arc in 1431. She led the French in battle against the English during the Hundred Years' War but stood trial in front of the French clergy, who were loyal to the English, for heresy.
Film critic Pauline Kael called Renée Jeanne Falconetti's performance as Joan of Arc the best in cinema history.
Ran (1985)
IMDb Score: 8.2
• Available for purchase on Amazon Prime
Moving to Japan for the medieval period, Akira Kurosawa mastered the genre. In 1985, Ran became one of Kurosawa's later classics. The director pulled heavily from Shakespeare, and Ran was a remake of King Lear.
RELATED: 10 Best Akira Kurosawa Movies, According To IMDb
Taking place in feudal Japan, the film centers on a dying feudal lord who lost most of his kingdom's inheritance, and this caused a war to break out between his sons for the kingdom while destroying what is left of their father's kingdom.
The Seventh Seal (1957)
IMDb Score: 8.2
• Available on HBO Max
In 1957, Ingmar Bergman created one of his masterpieces with The Seventh Seal. The film takes place at the end of the crusades when a medieval knight, played by Max von Sydow, returned home.
At the time of the Black Death, the knight was dying but wanted to return home to see his wife one last time and challenged Death to a game of chess for his life to delay his passing. Among the many admirable traits of Bergman's film, it's an actually reassuring pandemic movie.
Monty Python & The Holy Grail (1975)
IMDb Score: 8.2
• Available on Netflix
It's not often that a medieval film with a high rating is also a comedy, but Monty Python and the Holy Grail breaks all the rules. The incredibly rewatchable 1970s movie features a retelling of King Arthur and a modern murder investigation.
The film was released in 1975 and stars the well-known comedic group known as Monty Python: Graham Chapman, John Cleese, Terry Gilliam, Eric Idle, Terry Jones, and Michael Palin.
Braveheart (1995)
IMDb Score: 8.3
• Available on Netflix
It comes as no surprise that the highest-rated English film set in medieval times is Braveheart, the 1995 epic tale of William Wallace. Directed by and starring Mel Gibson, Braveheart follows the life of Wallace after the murder of his new wife transforms him from a peaceful farmer's son to the rebellious leader of the Scottish army.
The movie went on to dominate the awards season of the time, even taking home the Oscars for Best Director and Picture. Despite its many historical inaccuracies and the storm of controversy that now surrounds Mel Gibson, Braveheart remains one of the most iconic medieval films of all time.
NEXT: 10 Best 90s Biography Films, Ranked (According To IMDb)