As Kanye West Was Finally Tracked Down By Lawyers, His L.A. Ranch Is Making Waves For Being An Abandoned Mess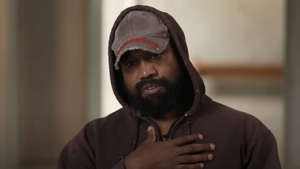 Kanye West has finally settled his contentious divorce from Kim Kardashian, but his legal troubles seem to be far from resolved. The polarizing rapper and businessman is currently embroiled in a number of lawsuits for different reasons. As his problems stacked up, his lawyers had apparently been trying to track him down in order to make a very big move. Now, it would seem that the attorneys have finally gotten a hold of him, and that development coincides with a wave-making report about West's Los Angeles ranch being an absolute mess. 
Why Have Kanye West's Lawyers Been Trying To Find Him?
The performer, whose legal name is now Ye, was hit with a $250 million lawsuit from the family of George Floyd in October 2022. The suit, which seemingly roped in conservative pundit Candace Owens, was filed after the musician made false statements about Floyd's death while appearing on a podcast. The Grammy winner is involved in a battery investigation after reportedly throwing a person's phone after a heated encounter (which ex Kim Kardashian is not keen on discussing). He's also lost partnerships with Adidas and more due to anti-semitic remarks. One might think that the star's attorneys had been trying to find him in order to formulate legal strategies, but that wasn't the case at all. 
Lawyers at Greenberg Traurig LLP law firm hunted down Kanye West in an attempt to dissolve their relationship with him. In order to cut ties, they had to serve him legal papers, though West apparently evaded their attempts for months. The legal team even thought of putting out an ad in Los Angeles newspapers in order to get his attention, per Billboard. Finally, they located the Jesus is King writer earlier this year and, on January 27, he was formally served. Legal documents obtained by the aforementioned news outlet shed light on the location that received the paperwork:
So it would appear that the abode was suitable for the delivery of the documents, given that Ye apparently still uses it from time to time. However, it sounds like there's barely any kind of activity occurring at his other former base of operations.
Ye's Ranch In California Is Reportedly In Shambles
Kanye West's ranch in Los Angeles is just one of several properties that he owns at the moment, and it apparently hasn't been getting any TLC from him. The location, which cost the Yeezy founder $2.2 million, is now said to be littered with trash, and the walls that once protected the place have been taken down and replaced with wire fences. DailyMail.com also reports that there's a barbecue smoker on the lot, and a 4x4 tank has been spotted on the premises as well. 
Before it was essentially abandoned, the site served as the headquarters for Ye's infamous Sunday Service and was also used for work regarding his highly criticized school, Donda Academy. (That controversial institution, which remains unaccredited, is still operating in Simi Valley, California, as of this writing.) 
It's fair to say that Kanye West is currently dealing with some situations that one could deem messy (from both a figurative and literal standpoint). These developments also come on the heels of his marriage to Bianca Censori (who we know a few things about). As West continues to engage in his marital bliss, the public will certainly be watching to see how he navigates his legal issues and whether he takes action on that L.A. property.