The highest grossing music tours of all time

Photos
10/7/2016
Musicians and artists like nothing more than to play to their fans. And why wouldn't they? The financial rewards can be staggering. We count down some of the highest grossing music tours of all time.

Paul McCartney | Out There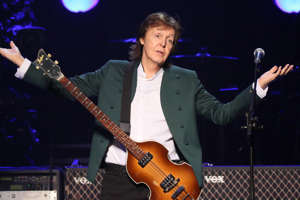 Actual Gross: $275,700,000
Year: 2013-2015
Shows: 84
Attendees: 1,958,754
The former Beatles member fell ill in May 2013, so the tour was delayed, finally beginning in July. He was swarmed by grasshoppers in Goiânia and performed in Equador, Poland, South Korea, Costa Rica and Verona, Italy for the first time.
Celine Dion | Taking Chances World Tour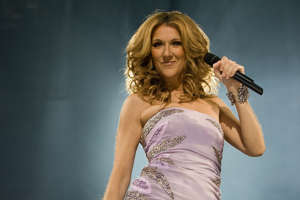 Actual Gross: $279,200,000
Year: 2008-2009
Shows: 132
Attendees: 2,200,000
Dion finished her five-year residency in Las Vegas and hit the road to promote her two new albums, "D'elles" and "Taking Chances." The tours set a record in Canada when her Montreal shows tickets sold out within 35 minutes.
One Direction | Where We Are Tour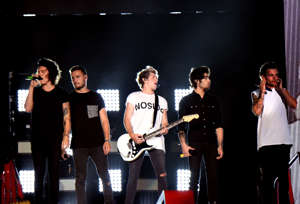 Actual Gross: $290,178,452
Year: 2014
Shows: 69
Attendees: 3,439,560
A year before the band decided to split, their fans went to see them promote their third album "Midnight Memories." The Australian pop band 5 Seconds of Summer was their opening act for the U.K., U.S.A. and European tour dates.
Madonna | The MDNA Tour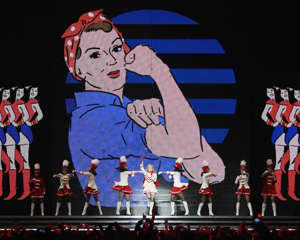 Actual Gross: $305,158,363
Year: 2012
Shows: 88
Attendees: 2,212,345
The pop icon courted controversy on this tour with wardrobe malfunctions, use of religious symbols and defending LGBTQ rights in Russia. She played in the U.A.E., Ukraine, Scotland and Columbia for the first time.
The Rolling Stones | Licks Tour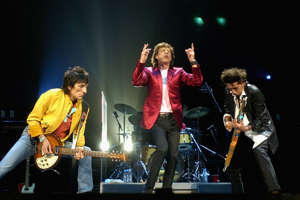 Actual Gross: $311,000,000
Year: 2002-2003
Shows: 115
Attendees: 3,470,945
Concurrent with the release of their double compilation album "Forty Licks," The Stones put together a dynamic set list of 80 songs and went on tour. The album, which featured four new songs, went platinum four times over. They had to cancel the East Asia leg of the tour due to the SARS outbreak.
The Rolling Stones | Voodoo Lounge Tour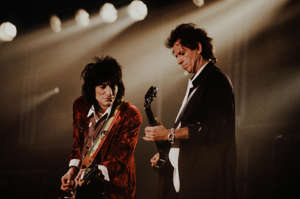 Actual Gross: $320,000,000 
Year: 1994–1995 
Shows: 124 
Attendees: 6,336,776 
This tour came to be known for their elaborate stage designs and the absence of bassist Bill Wyman. Their album "Voodoo Lounge" went double platinum in the U.S. and also won the Grammy for best rock album in 1995. 
Bruce Springsteen | Wrecking Ball World Tour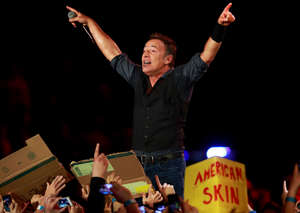 Actual Gross: $347,000,000
Year: 2012–2013
Shows: 127
Attendees: 3,650,535
America's blue-collar troubadour was dealing with the loss of Clarence Clemons, Springsteen's saxophonist, when he and the E Street Band went on tour to promote his album "Wrecking Ball." Springsteen was named the No. 1 musical act by Rolling Stone magazine that year. He also started working on his new album "High Hopes" during breaks on the tour and released it in 2014.
The Police | Reunion Tour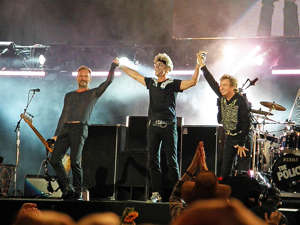 Actual Gross: $362,000,000
Year: 2007–2008
Shows: 156
Attendees: 3,300,912
The tour marked the band's 30th anniversary and they performed their hit songs with a new spin. The series met with critical acclaim with tickets for the entire British tour selling out within 30 minutes.
Cirque Du Soleil | Michael Jackson: The Immortal World Tour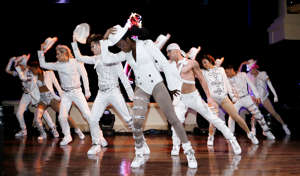 Actual Gross: $371,000,000
Year: 2011–2014
Shows: 501
Attendees: 3,700,000
A musical theatrical production by Cirque du Soleil using the music and choreography of Michael Jackson, the arena show was similar to a rock concert. The show featured their signature acrobatic style and became the highest grossing Cirque production. It prompted them to make another Jackson inspired musical for a residency show in Las Vegas' Mandalay Bay Resort and Casino.
U2 | Vertigo Tour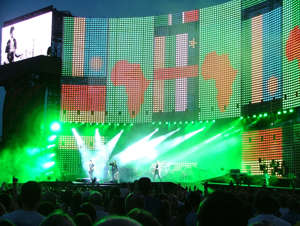 Actual Gross: $389,047,636 
Year: 2005-2006 
Shows: 131 
Attendees: 4,619,021 
With an ellipse-shaped ramp and a huge LED-based light bead curtain, this tour was big on production. Promoting the band's album "How to Dismantle an Atomic Bomb" that went multi-platinum worldwide, their set list was one of their most diverse featuring a song from each of their albums.
Madonna | Sticky & Sweet Tour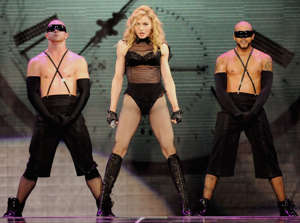 Actual Gross: $408,000,000
Year: 2008–2009
Shows: 85
Attendees: 3,545,899
Madonna hit the road to promote the album "Hard Candy" in 2008. Changes were made midway through the tour when a Michael Jackson-inspired dance was introduced after he passed away in June 2009.
AC/DC | Black Ice World Tour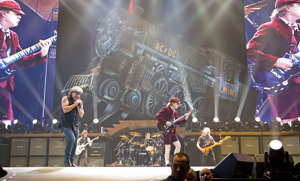 Actual Gross: $441,121,000
Year: 2008-2010
Shows: 167
Attendees: 4,846,965
The last AC/DC show with founding member and rhythm guitarist Malcolm Young and their longtime drummer Phil Rudd. The tour promoted their album "Black Ice" that won a Grammy and went platinum.
Roger Waters | The Wall Live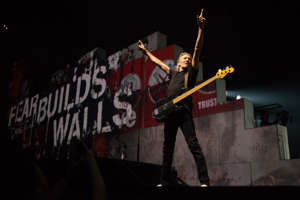 Actual Gross: $458,673,798
Year: 2010–2013
Shows: 219
Attendees: 4,129,863
The former member of Pink Floyd launched a tour that was called "one of the most ambitious" shows and is the highest grossing tour by a solo artist of all time. Boasting a budget of $60 million, it was the first time the Pink Floyd album "The Wall" was performed in its entirety since a 1990s performance. Pyrotechnics, massive marionette puppets, crashing airplanes and 3D effects were part of the concert with a white wall erected on stage, brick by brick till it obscured the band and became the screen for visuals.
The Rolling Stones | A Bigger Bang Tour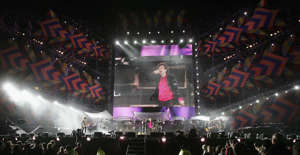 Actual Gross: $558,255,524
Year: 2005–2007
Shows: 147
Attendees: 4,680,000
To accompany their "A Bigger Bang" album, the band went on a two-year tour. It remains iconic for the free concert on Copacabana Beach in Rio de Janeiro, Brazil on Feb. 18, 2006. They finally performed in China after canceling the Licks Tour and had to modify their set list as some songs were considered "too suggestive" by the government.
U2 | 360° Tour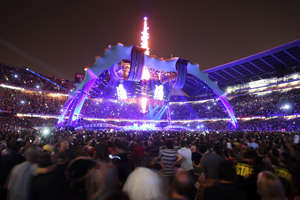 Actual Gross: $736,421,584
Year: 2009–2011
Shows: 110
Attendees: 7,272,046
The Irish rockers set up a 360° stage with a giant screen suspended above them in a contraption nicknamed "the Claw." The set up allowed the audience to almost surround the stage and increased the venues' capacity by up to 25 percent. Messages from the International Space Station, Bishop Desmond Tutu and Aung San Suu Kyi were telecast during the performance. The band's profits were minimal as the production cost of the tour were high.