Coachella 2023 guests: We're expecting Selena Gomez, Ellie Goulding and maybe even Rihanna
The Desert Sun (Palm Springs)
4/11/2023
It's the most wonderful time of year (for those who can stand the traffic, at least). The Coachella Valley Music and Arts Festival will descend upon the desert in less than a month, and this year's lineup is the most diverse in the festival's history.
But The Desert Sun staff is curious: will that trend continue into the special guests? We think it will — and we think women will especially dominate the list of special guest performers.
Here are our predictions for who will be brought onto the various Coachella stages this year.
With Bad Bunny
Benito Antonio Martínez Ocasio, aka Bad Bunny, seems to never shy away from being featured on different artists' songs or featuring them in his. For that reason, it'll come as no surprise if he invites several guests to the Coachella stage, especially those that helped make "Un Verano Sin Ti" a groundbreaking album: Chencho Corleone, The Marías, Jhayco or Bomba Estéreo (to name a few).
Most recently, Bad Bunny teamed up with fellow reggaetonero and trap singer Eladio Carrión on "Coco Chanel," prompting millions of streams on YouTube and Spotify within days of its release, and a surge in search engine entries for the founder of the luxury brand of the same name. Carrión is set to perform his own set for the first time at Coachella this year but, given the collaboration's success, a joint performance with Bad Bunny could also be in the works for April.
Yet, despite all the possibilities that Bad Bunny at the festival brings, perhaps the dream would be to see him alongside one of his proclaimed heroes, "The Big Boss" himself, Daddy Yankee. Though he retired last year, Daddy Yankee is still making public appearances and is expected at the 2023 Latin American Music Awards in Las Vegas around the same time as Coachella. Would it really be too much trouble to go from one desert to another?
— Eliana Perez
In January, Goldenvoice dropped the Coachella lineup, announcing that the Gorillaz will perform on Friday night shortly before Bad Bunny takes the main stage.
In February, the indie group paired with the Latin trap star for their hit collaboration "Tormenta,"  an unlikely, jazzy mix of raeggaeton and alternative influences. Coincidence? Or Coachella teaser?
I say it's very likely the Gorillaz retake the stage during Benito's headliner act to perform "Tormenta" together.
— Jonathan Horwitz
With BLACKPINK
Coachella and ice cream are a matchmade in heaven when it comes to beating the desert heat. Another combo that's perfect for the stage? The BLACKPINK ladies and their "Ice Cream" collaborator Selena Gomez. The women released the pop song during the height of the COVID-19 pandemic, and it currently has more than 825 million views on YouTube. The artists have not performed the song live together, so a debut performance on the Coachella stage would be the perfect treat for fans.
Another superstar and possible surprise guest is Cardi B. BLACKPINK's "The Album" debut featured a collaboration with the rapper called "Bet You Wanna." The group's upbeat pop sound mixed with her fierce verse would light the Coachella crowd's fire and lead to another memorable moment in the desert.
Cardi B and Gomez are no strangers to the festival: They both surprised the 2019 crowd when they joined DJ Snake and reggaeton rapper Ozuna for the quartet's song "Taki Taki." Cardi B also performed her own set in 2018, dancing while pregnant and showcasing her hits "Be Careful" and "Bodak Yellow."
— Ema Sasic
With Frank Ocean
Frank Ocean has been making music for over a decade, and long-time fans know of his early career connection with Odd Future, a Los Angeles-based music collective, and Tyler the Creator. The two have collaborated on songs such as "She" and "911 / Mr. Lonely" and so far, Tyler the Creator has no shows scheduled in 2023, so a guest appearance by him is in the realm of possibility.
If Ocean wants to do something special at Coachella, I believe reuniting the members of Odd Future onstage would be it. In 2018, the group reunited for the final show at Low End Theory, a small nightclub in Los Angeles. That reunion was erratic, and many fans missed out.
Coachella is the perfect setting for this reunion because the festival is no stranger to reuniting artists on-stage. Just last year, K-pop group 2NE1 reassembled during the 88Rising set.
— Kevin Caparoso
With Calvin Harris
OK, so a perfect world would obviously give us a repeat of Harris' 2016 closing set when Barbadian pop goddess Rihanna suddenly appeared atop a sound stage to join the DJ for a rousing rendition of their smash collab "We Found Love." This time around, the duo could perform "This Is What You Came For," another megahit that was actually released just weeks after their Coachella appearance.
Of course, Rihanna did just not so subtly announce she is pregnant during her much-hyped Super Bowl performance last month, which could mean a trip to the desert is out of the question. Then again, she sang at the Oscars a couple weeks ago, so we aren't ruling anything out.
If RiRi isn't in the cards, Harris' broad catalogue of collabs means he has no shortage of other guest possibilities, including Dua Lipa, Sam Smith, Ellie Goulding and Florence and the Machine's Florence Welch. While I'd personally love to see Dua or Welch, my money is on Goulding given that the two released a new song called "Miracle" earlier this month that is currently both artists' most popular song on Spotify.
— Paul Albani-Burgio
With The KID LAROI
There will be surely no shortage of festivalgoers hoping to see Miley Cyrus pops on stage with the 19-year-old to perform their raw harmonization of "WITHOUT YOU."
But let's be real, when you — and pretty much everyone else — think of this Australian wonderkid, there's one song that comes straight to mind. That's "Stay," the peppy, poppy, punchy hit that paired him with Justin Bieber and has surely gotten stuck in the heads of millions since it debuted two summers ago.
So, can Bieber be counted on to make the trip? It's hard to say whether he'd do it again, but at last year's festival, a shirtless Bieber turned heads by joining Daniel Caesar to perform "Peaches." Biebs seems to like spending some of his spring in the desert, supporting the younger collaborators that he helped make famous.
— Paul Albani-Burgio
With Charli XCX
British pop star Charlotte Emma Aitchison, better known as Charli XCX, has collaborated with more artists than many of her fellow Coachella 2023 performers. Although most people know her for solo hit "Boom Clap," Charli XCX has songs with a diverse group of musicians, including Japanese/British singer Rina Sawayama ("Beg for You"), 2023 Record of the Year winner Lizzo ("Blame It On Your Love"), French singer-songwriter Christine and the Queens ("Gone" and "New Shapes") and many more.
I think perhaps the most promising special guest possibility for Charli XCX's Coachella set (besides aforementioned Christine and the Queens, who is also performing at Coachella and could easily come out for a song), is recent Grammy Award-winning German artist Kim Petras with American-born South Korean boy band member Jay Park. The pair released "Unlock It" with Charli XCX in 2020, and I'm confident that this year's international Coachella audience is looking for a K-pop-infused performance. If it were up to me, I'd also love to see her bring out Australian pop singer/actor Troye Sivan, who collaborated with Charli XCX on the song "1999."
— Niki Kottmann
With Metro Boomin
Some have taken to the internet to complain about a lack of rappers headlining Coachella this year. I see their point, though it sells short the likes of up-and-coming stars such as GloRilla, Flo Milli and Doechii, plus a veteran like Pusha T.
But if they don't cut it for you, other big names are likely to show up, thanks to a solid list of producers on this year's lineup. From Pi'erre Bourne to Kenny Beats, you've probably heard their beats during a late night on the dancefloor.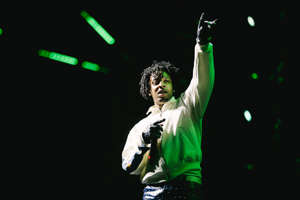 My guess is Metro Boomin will bring out Future and 21 Savage (the latter of whom performed at Coachella last year). The well-known producer's placement on the lineup's second line suggests that some surprises are coming, and I would bet on his two long-time collaborators to bring some energy to the desert.
Whether it's Metro or someone else, the producers are sure to bring excitement – and reassurance that any rumors of rap's death at Coachella have been greatly exaggerated.
— Tom Coulter
With Chemical Brothers
A logical guess would be that Noel Gallagher of Oasis fame may join the Chemical Brothers this year in that two of the band's most popular songs — "Setting Sun" and "Let Forever Be" — feature Gallagher. Also Gallagher is a frequent performer at the desert's biggest music event. Oasis was a headliner in 2002 and he returned last year with his new band High Flying Birds.
— Shad Powers
With Willow Smith
In 2019 Willow's brother Jaden played Coachella, and on Weekend Two, their famous father, Will Smith, joined Jaden much to the delight of the crowd that wanted all the "Fresh Prince" vibes. Cut to 2023 and, let's just say, the whole Will Smith thing doesn't have quite the light and fun cachet to it after #OscarSlap. Either way, family is family, so it would stun no one to see Will or Jaden or both hit the stage with Willow, who could then proceed to whip their non-existent hair back and forth together.
If you're looking for a non-relative to jump up with Willow, keep an eye out for YUNGBLUD. The two have collaborated before, particularly on the jam "Memories." Yungblud is also playing Coachella this year, so it could be a classic, you-join-me-I'll-join-you situation. YUNGBLUD plays on Friday and Willow on Sunday.
— Shad Powers
With Gorillaz
Even though Gorillaz is fronted by Blur leader Damon Albarn, the band is considered a virtual project featuring animated characters created by visual artist Jamie Hewlett. Since its inception, artists such as Del the Funky Homosapien, De La Soul, Snoop Dogg and more have been featured on Gorillaz' albums. Many of these collaborators also appear during live shows.
It's hard to say who could appear during Gorillaz' Friday set, it could be anyone such as the Australian psychedelic rock band Tame Impala or Fleetwood Mac vocalist Stevie Nicks, both of whom performed on the group's 2023 album "Cracker Island."
Even though De La Soul member Trugoy the Dove died shortly before the rerelease of the trio's previous albums, it's likely surviving members Posdnuos and Maseo will appear during the songs "Feel Good Inc." and "Superfast Jellyfish."
— Brian Blueskye
This article originally appeared on Palm Springs Desert Sun: Coachella 2023 guests: We're expecting Selena Gomez, Ellie Goulding and maybe even Rihanna