Shooter identified in Santa Fe High School rampage; at least 10 dead

Houston Chronicle
5/18/2018
Video by Associated Press
SANTA FE, Texas – The suspected shooter arrested after a rampage that killed 10 people at Santa Fe High School this morning used guns owned by his father and had planned to kill himself, Gov. Greg Abbott told reporters in an afternoon press conference.

He said the shooter, who police identified as 17-year-old Dimitrios Pagourtzis, used a shotgun and a .38 caliber revolver, and that he did not legally possess them.
"I have no information at this time whether the father knows the weapons were taken," the governor said.
Abbott said earlier reports that the shooter used an AR-15 style rifle were wrong.
In addition to the 10 dead, 10 others were wounded, Abbott confirmed.
Two federal search warrants are being sought to find explosive devices at two residences. Police earlier said Pagourtzis brought some devices into the school and it was unclear whether any went off.
There also is a search warrant out for Pagourtzis' vehicle. He had written in journals and on his computer that he wanted to commit the shooting and commit suicide afterward, Abbott said.
The teen had no previous criminal history and there were no warning signs of the attack, he said.
The governor wants to convene a roundtable on mass shootings, to include people who can bring "a diversity of thoughts and concerns," he said. He wants to hear from families of victims and victims themselves, as well as those who want gun laws protected.
The high school's plan by is to have two police officers on campus, as was the case at the time of the shooting, Abbott said.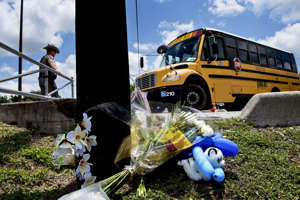 Gallery by photo services
Lt. Gov. Dan Patrick of Houston offered remarks saying a response should be focused on access to schools and retrofitting schools to protect against attacks.
Pagourtzis, a junior, shared photographs on a now-defunct Facebook page of a T-shirt that said "born to kill" and clothes adorned with German nationalist iconography.
He played on the defensive line for the school football team during his freshman year, and was lauded on a school website in 2016 for his "huge role" in shutting down a rival team's running game.
Although his Facebook page cites a connection to the U.S. Marine Corps, a USMC spokesperson said he is not affiliated with the Marines.
He is a member of a dance squad with a local Greek Orthodox church, the Associated Press reported.
A woman who answered the phone at a number associated with the Pagourtzis family declined to speak with the AP.
She said: "Give us our time right now, thank you."
The dead are expected to include students and staff, according to a senior law enforcement official who was not authorized to speak about the investigation.
The bloodshed 30 miles south of Houston is the worst mass shooting in America since February, when 17 people were gunned down at a high school in Parkland, Florida, according to a database of shootings maintained by the Washington Post. 
UPDATE 2:28 p.m.: In addition to John Barnes, the Santa Fe school police officer who engaged the shooter, a Texas state trooper also did so, sheriff's officials told reporters.
2:01 p.m.: The injured we have identified:
Clayton Horn, a student, was in surgery at Clear Lake Regional Medical Center, his uncle, Damon Savage, said. Horn was shot in the arm and upper thigh, he said.
Student Rome Shubert, 16, was grazed in the back of the head by a bullet and was being treated at the same hospital, his friend Avari Creekmore said.
John Barnes, a Sante Fe school police officer and former Houston police detective, was in surgery at the University of Texas Medical Branch in Galveston.
1:43 p.m.: Bomb technicians are at the home on Highway 6, which according to public records is Pagourtzis' residence.
Law enforcement officials have been at the scene for hours and told reporters to stay back because there might be an explosive close to the highway.
1:29 p.m.: An ambulance arrived at the home being investigated on State Highway 6 northwest of the high school.
Juanita Martin and her son, Joshua Varney, sat on folding chairs outside a tin home a quarter-mile down from the home.
Law enforcement officials appeared to be gong in and out of a trailer next to the property, which Martin said has been "abandoned for years."
Officials have said they are worried that additional explosives could be in the area.
A sheriff's deputy close to where reporters were stationed would not confirm anything found on the scene.
Martin's home is separated from the trailer by woods, but a trail connects the two properties.
"That's kind of a little too close to home," Martin said. "I've got seven kids."
1:22 p.m.: The Gulf Coast Regional Blood Center is asking residents to donate blood because they're in need of platelets and O-negative red blood cells. Here's a list of blood donation sites.
12:52 p.m.: The latest on the injured:
Eight students were taken to Clear Lake Regional Medical Center in Webster, all suffering from gunshot wounds, a spokeswoman said. Six have been discharged. One is in critical condition, another in fair condition.
Two other students were taken to Mainland Medical Center in Texas City. They did not have wounds but were being treated in connection with the attack, the spokeswoman said.
The University of Texas Medical Branch in Galveston was treating three people with wounds: A male under 18 with a gunshot to the leg; a middle-aged woman with a gunshot to the leg, and a man in his 50s who is a Santa Fe school police officer and retired Houston police detective, according to Joe Gamaldi, who heads the Houston Police Officer's Union. He remains in surgery with a gunshot to the upper arm, near the chest, Gamaldi said. Hospital officials said the older male they were treating has significant blood loss and was in critical condition.
UTMB said it planned to hold a blood drive starting later today.
12:37 p.m.: Police have blocked off at least a half mile of State Highway 6, about four miles northwest of the high school, where they are investigating a home. The highway is lined with trees and sparsely populated with a row of small frame houses and some trailers.
12:32 p.m.: U.S. Sen. Ted Cruz said in a statement that an armed officer "intercepted the gunman and brought the suspect into custody." Law enforcement officials have not confirmed that.
12:24 p.m.: Emma González, an outspoken survivor of the Parkland shooting, tweeted: "Santa Fe High, you didn't deserve this. You deserve peace all your lives, not just after a tombstone saying that is put over you. You deserve more than Thoughts and Prayers, and after supporting us by walking out we will be there to support you by raising up your voices."
12:17 p.m.: Police are speaking with teachers in the school gym to piece together a timeline of the shooting, according to a television reporter who was there. It appeared most students have been turned over to their parents.
They'd been arriving at the gym in the hours after the shooting. to pick them up or find out where they'd been sent.
"She's not there," one woman said desperately into a cell phone as she jogged to her car. "The hospital is confirming she's not there."
Minutes earlier, another family had run to their vehicle, yelling to a nearby loved one that they needed to go -- their daughter had been shot and was in the hospital.
12:10 p.m.: The University of Texas Medical Branch in Galveston clarified that it is treating three people: a male under 18 with a gunshot wound to the leg; a middle-aged woman who has a leg wound and is out of surgery, and a man in his 50s with a gunshot to the upper arm, near the chest, who is in surgery and in critical condition, according to David Marshall, chief nursing officer.
The latter is a school security officer who had recently retired as a Houston police detective, according to Joe Gamaldi, who heads the Houston Police Officer's Union.
Gamaldi said that he retired in January after many years in law enforcement with the city.
"With the number these happening, statistics are showing it's more dangerous than ever to be a police officer," Gamaldi said. "Every officer knows the day they put that uniform on it may be their last. I ask that you keep all of our police officers in our prayers as we work hard to keep the community safe."
12:01 p.m.: Law enforcement officers are investigating a home about a three miles away from the high school.
11:35 a.m.: Galveston County Judge Mark Henry said the first reports of a shooting came in around 7:45 a.m. He told reporters that "suspected material" has been found off campus and that people should not touch anything they find that looks suspicious, and should call 911.
More from Houston Chronicle
Houston Chronicle