BBC dismisses conspiracy theory over Brexit deal fan 'actor' on Newsnight

The Independent
11/29/2018
© Provided by Independent Digital News & Media Limited The BBC has taken the unusual step of denying that a guest on a Newsnight Brexit debate who spoke in favour of Theresa May's European Union withdrawal deal was "a paid actor", after conspiracy theories about her real identity swirled on social media.
The corporation issued a statement about Lynn Hayter's appearance after some Twitter users suggested she had been brought on to unfairly sway public opinion.
Download the all-new Microsoft News app to receive up-to-the minute news from the world's best sources – available now on iOS and Android
Ms Hayter who acts as an extra in film and television under her middle name Marina, was among members of the public invited to be part of a panel on the flagship news programme on 26 November.
During the debate she expressed support for the prime minister's approach to Brexit. 

"They know far more about what's going on than we do", she told her fellow panel members and MPs who were also present.
News, analysis and expert opinion as the UK gets closer to leaving the European Union 
She added: They are members of parliament for a reason, we're not. Being a conservative born and bred all my life I will back prime minister May. It's going to be hard for everybody, it's going to be a rocky boat, but we've got to just sit it out and put faith in the government that we elected."
Some on Twitter appeared to suggest Ms Hayter's use of two names and decision to wear a clerical collar showed she had been deployed in a deceptive manner.
"She has played numerous roles including Peasant Woman, quizzical librarian and shocked neighbour but no vicars until her starring role as Brexit deal fan girl on #Newsnight," one said.
Video: Theresa May's draft withdrawal agreement explained (The Independent)
Another claimed: "The BBCs reputation as an impartial public service broadcaster is in tatters."
Labour peer Andrew Adonis, who has repeatedly argued that Britain should remain in the EU, also tweeted about her appearance.
He asked: "Is it true that @BBCNewsnight engaged actors to put the Leave argument in a recent studio discussion because they wanted the Leave case put more strongly?"
Ms Hayter was captioned on screen as "Lynn", not "Reverend Lynn" as some claimed online. Her fellow panellists were also named by their first names only.
Gallery: Facts to know about Brexit (Photos)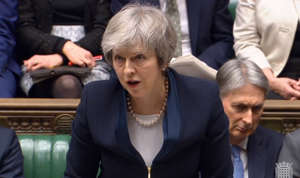 The same was true when she previously appeared on another panel discussion on the show on 23 November. On that occasion she also wore a clerical collar.
Use of a different name for acting work is a common practice. Ms Hayter has appeared in BBC series EastEnders and Dickensian, as well as blockbuster films like Star Wars Episode VII: The Force Awakens, according to her profiles.
She has also authored a book, promoted on her Twitter profile and easily found through a Google search, under the name Lynn Marina Hayter.
The profile also lists Ms Hayter as a Christian and she appears to subscribe to the American prosperity gospel version of the faith, having retweeted preachers like Kenneth Copeland and Mike Murdock. Use of the dog collar is not restricted to the Anglican and Catholic churches.
Presenter Emily Maitlis warned Lord Adonis not to "become a peddler of fake news".

She tweeted: "Not in this day and age. Not when we need our parliamentarians to be better and more trusted than ever. To have got to a place where you could chose to believe that enough to write it is deeply worrying."
Other social media users were angered by the conspiracy claims. Duncan Weldon, a former Newsnight economics editor, said: "If you genuinely believe the BBC hired an actor to play the part of 'pro Brexit member of the public', then take a long look at yourself."
Adam Bienkov, a political journalist, said: "Just a little more searching shows she's just a woman, who happens to be a Christian, who happens to back May's deal and also happens to do some acting work."
The Independent has approached Ms Hayter for comment on Twitter and through her agent.
The BBC said in a statement on Twitter: "Claims that Lynn appeared on #newsnight as a paid actor are false. Lynn is a pastor and was a genuine participant of our Brexit debate. She carries out work as an extra using her middle name but this is not relevant to the capacity in which she appeared."