7 injured in multi-vehicle crash on Route 40 in Baltimore County

WBAL TV Baltimore
6/21/2021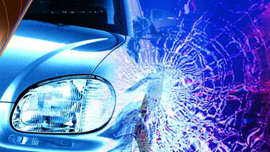 Seven people were injured Sunday morning in a multi-vehicle crash in Baltimore County, police said.
County police said officers were called just before 11:30 a.m. to U.S. Route 40 at and St. Agnes Lane in the Catonsville area for a crash.
Sign up for our Newsletters
Police said the driver of a 2020 Nissan was traveling east on Route 40. Police said the driver swerved to avoid colliding with a 2020 Chevrolet Tahoe that was making a right turn onto Route 40. Police said the Nissan struck a 2009 Acura, pushing it into another vehicle, a 2008 Toyota.
Police said the driver of the Tahoe also swerved to avoid a collision and was struck by a 2018 Chevrolet Equinox, causing the Tahoe to spin and hit the Nissan. The Nissan then struck a utility pole, police said.
Seven people were taken to a hospital with injuries that ranged from minor to serious but non-life-threatening.
An investigation continues.
TOP STORIES FROM WBAL:
Labor department: Over 508,000 fraudulent unemployment claims detected since May
Full MARC, commuter bus service to resume; MTA fare hikes coming
Maryland reports zero COVID-19 deaths for second day in a row
Volunteers work to restore ship caulkers' houses in Baltimore
COVID-19 delay proves to be blessing in disguise for pole vaulter Olivia Gruver
Maryland businesses work to improve recruitment through signing bonuses
READ THE FULL STORY:7 injured in multi-vehicle crash on Route 40 in Baltimore County
CHECK OUT WBAL:Get all the latest Baltimore news, weather and sports. WBAL-TV brings you the best in Maryland news online, anytime.