Dad eating with kids at McDonald's fatally shoots gunman inside Alabama McDonald's

FOX News
10/29/2018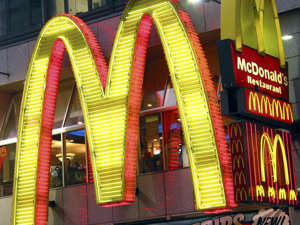 © plus49/Construction Photography/Avalon/Getty Images Economy USA: Mc Donalds Fast Food Restaurant at Times Square New York City. (Photo by plus49/Construction Photography/Avalon/Getty Images) A brave dad opened fire on a masked gunman inside an Alabama McDonald's on Saturday, fatally hitting the intruder before suffering serious injuries, reports said.
WBRC reported that the unidentified father was with his sons when a man dressed in a mask walked into the Birmingham restaurant and opened fire. The report said the gunman, father and one of the boys were struck during the volley.
The gunman, who was not identified, later died of his injuries. The father had life-threatening injuries and his son suffered nonlife-threatening injuries, the report said. Reports did not indicate his sons' ages.
The father is not facing charges, the report said. His current condition is unclear.
Authorities are working to determine if the gunman was going to rob the establishment, or if he was targeting an employee.