Next Pike County murder trial won't start until early 2024
Cincinnati Enquirer
3/16/2023
WAVERLY, Ohio – George "Billy" Wagner III has been jailed in Butler County since 2018, charged with the April 2016 shooting deaths of eight members of Pike County's Rhoden family.
On Wednesday, he learned he'll stay put into next year, with his trial now predicted for January or February of 2024.
"It's going to take some time," visiting Judge R. Alan Corbin told Wagner, as the 51-year-old defendant dipped his head in apparent disappointment.
Start the day smarter. Get all the news you need in your inbox each morning.
Lawyers need transcripts from the fall 2022 trial of Wagner III's son, George Wagner IV, to proceed. Those documents – which Corbin said would run between 12,000 and 15,000 pages – will not be ready until September.
Attorneys will then need time to review the transcripts to determine witness lists and other particulars.
"We don't have a choice" on the timing, Mark C. Collins, one of Wagner III's two attorneys, said after Wednesday's brief hearing in the Pike County Common Pleas Court.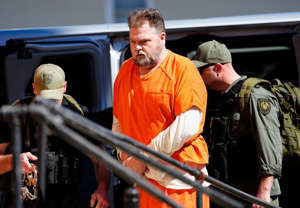 Where will the Wagner trial be held?
Between now and next year, Collins and fellow defense attorney Thomas F. Hayes will revise their motion for a change of venue in Wagner III's trial. That will include an analysis of "presumed prejudice" in seeking a site where potential jurors are not already very familiar with the Rhoden killings and charges against Wagners.
They said they expect to file the revised motion in May, with a hearing on the request to follow in the summer.
Special Prosecutor Angela Canepa, meanwhile, is preparing a document revealing whether the state of Ohio will seek the death penalty if Wagner III is convicted on eight charges of aggravated murder. Those are among the 22 he is facing for the deaths of seven members of the Rhoden family and one future member.
Wagner III's trial will be shorter than that of his son if the state removes death as a possible penalty at the start. "I think it will be more streamlined," Collins said.
A jury found George Wagner IV guilty Nov. 30 on the same 22 charges his father is facing. In December, Wagner IV was given eight consecutive life sentences and 121 additional years.
Wagner III's wife and younger son, Angela and Jake Wagner, changed their pleas to guilty in the case in 2021. Both are awaiting sentencing.
This article originally appeared on Cincinnati Enquirer: Next Pike County murder trial won't start until early 2024