One juvenile shot, another arrested in Oxford

The Boston Globe
5/26/2019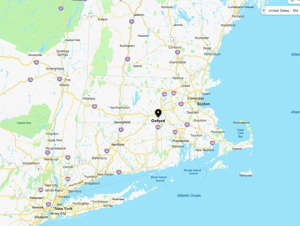 A male juvenile was arrested and charged with attempted murder after he allegedly shot another juvenile during a fight in the central Massachusetts town of Oxford late Saturday afternoon, police said.
The victim was found suffering from a gunshot wound outside the town library at 339 Main St., Police Chief Anthony Saad said news conference Saturday evening.
He was taken to UMass hospital in Worcester for treatment of injuries not believed to be life-threatening, Saad said.
The shooting was not random and there is no danger to the public, Saad said.
Town residents ". . . should go about their Memorial Day weekend activities as planned," he said.
The incident occurred shortly before 4:30 p.m. in front of the rectory of St. Roch's Church at 334 Main St. The alleged shooter fled on foot behind the church, and along railroad tracks. He was found about a 1/8 mile away by a police officer, but did not have a firearm on him, Saad said.
Assisted by state troopers, K9 units from Webster and Worcester police, officers searched the area around St. Roch's Church, railroad tracks and Water Street.
An Oxford police officer recovered a .380 caliber semiautomatic handgun at 6:12 p.m., police said.
"Finding this firearm was paramount for the officers at the scene," Saad said. " The Mass State Police crime scene services responded, including their ballistic division, as a spent round was recovered in the grass at the scene of the incident."
St. Roch's Church, where the 4 p.m. Mass was being said, was briefly placed in lockdown, according to Saad.
In a brief phone interview Saturday night, the Rev. Michael Roy said he did not feel worshippers were in danger. "We felt pretty secure in church for sure," Roy said.
As the events unfolded inside, Roy said he was praying with the congregation.
"We were praying for everybody involved," Roy said.
In addition to a charge of attempted murder, the suspect has been charged with assault and battery with a dangerous weapon, unlicensed possession of a firearm and discharge of a firearm within 500 feet of a dwelling, according to police.
As the investigation continues, "it is anticipated that there will be additional charges," Saad said.
Adam Sennott can be reached at adam.sennott@globe.com