Portland police say they are seeing rise in guns stolen from vehicles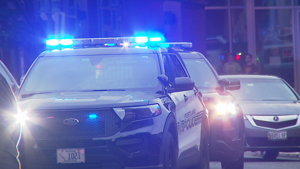 PORTLAND (WGME) -- Portland police say they're seeing a rise in car burglaries and guns stolen from vehicles.
Police say car burglaries are up 77 percent compared to this time last year.
They say they've taken reports of three guns stolen over just a few weeks and two of them in just one day.
Officers say ever since Maine got rid of requiring a permit for a concealed weapon, they've seen a rise in firearm thefts.
Police say if you have a gun in your car, keep it in a lockbox that's secured to the vehicle, because it could easily end up in the wrong hands.
"Just leaving it in a glove box or center console is not safe," Portland Police Major Robert Martin said. "It puts the public at risk, it puts innocent people at risk by doing that. The gun doesn't turn up in a good person's hands, it turns up in a criminal's hands and eventually, it will be used in a crime or against an innocent victim."
Police say it sounds simple, but lock your doors and keep valuable items, like laptops, wallets and bags, out of sight, like under a seat or locked in the trunk.
They say criminals will hardly ever break a window unless they see something worth breaking it for.