Security guard robbed in St. Louis parking garage
KTVI-TV St. Louis
2/7/2023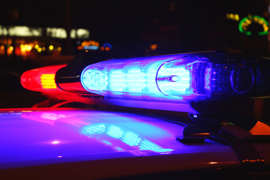 ST. LOUIS – An investigation is underway after two men robbed a security guard overnight in a St. Louis parking garage.
The robbery happened at a parking garage in the 900 block of Olive Street around 11 p.m. Monday.
Police say the security guard noticed two men suspiciously looking into vehicles. The guard responded to his office to inform nearby police officers. When the guard returned to his normal spot, he noticed one of the suspects had entered inside a Dodge Charger on the 12th floor.
As the guard approached the vehicle, one suspect flashed a handgun and threatened to shoot the guard if he didn't hand over his belongings. The suspects, both masked, then ran away with the security guard's cell phones and other belongings.
Investigators say the security guard was hospitalized and possibly suffered a panic attack. The St. Louis Metropolitan Police Department is investigating the case.
Copyright 2023 Nexstar Media Inc. All rights reserved. This material may not be published, broadcast, rewritten, or redistributed.
For the latest news, weather, sports, and streaming video, head to FOX 2.