Sheriff: Man arrested in Anderson Twp. shooting at Joe Mixon's home
Cincinnati Enquirer
3/27/2023
A man wanted in connection with a March 6 shooting that injured a teen near the home of Cincinnati Bengals running back Joe Mixon turned himself in Monday, according to the Hamilton County Sheriff's Office.
Lamonte Brewer, 34, is charged with felonious assault, tampering with evidence and having weapons under disability. Hamilton County Prosecutor Melissa Powers has said he faces up to 20 years in prison if he's convicted on all charges.
Brewer is accused of shooting a 16-year-old boy with an AK-47-style weapon on March 6 from the yard of Mixon's home on Ayers Road.
Start the day smarter. Get all the news you need in your inbox each morning.
The teen, an Anderson High School student, was struck in the foot and suffered minor injuries. A sheriff's office incident report states two witnesses told deputies they were playing "dart wars" with the victim when the shooting happened.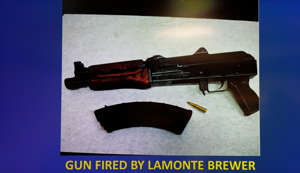 Powers has described Brewer's criminal history as "lengthy," citing drug and violent offenses.
Court documents state he was convicted of two felonies in Alameda County, California. Oakland, California is in Alameda County.
Brewer was convicted of assault with a firearm in a 2008 case and sentenced to four years in prison, according to court documents. He was also convicted of purchasing or possessing cocaine base for sale in 2011, records show.
Prosecutors cited these cases as the reason why Brewer could not have a gun in Ohio. Public records show he's previously lived in San Pablo and Richmond in California.
Shalonda Mixon, Joe Mixon's sister and Brewer's girlfriend, has also been indicted in connection with the shooting.
She was arrested on March 16 on charges of tampering with evidence and obstructing justice. Investigators say she picked up shell casings at the scene.
In a March 16 press conference, Powers said Joe Mixon had a weapon at the time of the shooting but did not fire and did not commit a crime.
In a statement provided to NFL Network, Joe Mixon's agent, Peter Schaffer, said his client returned from California on the day of the shooting.
"Joe hates that a young adult was injured during this incident. He has been involved in youth activities in various capacities since joining the Bengals and calling Cincinnati home. His goal has always been to help our youth, not harm them," the statement reads.
One of Joe Mixon's first phone calls was to the Bengals' security team, according to the prosecutor.
Powers said Brewer and others should have been able to tell that the juveniles were carrying toy weapons. "This is clearly a toy," she said, displaying the green and gray plastic rifle.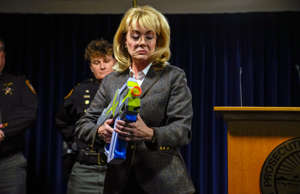 Powers said Joe Mixon had been receiving threats on social media lately, heightening concerns for Mixon as the juveniles surrounded his yard with the toy weapons in the game organized by many area students. The game involves pairs of teams that face off against each other in a bracket-style elimination.
Powers said Joe Mixon was in the yard with Brewer, but that Brewer was acting independently.
Brewer is scheduled to appear for an arraignment in Hamilton County Common Pleas Court on Friday, court records show.
Enquirer reporters Cameron Knight and Erin Couch contributed.
This article originally appeared on Cincinnati Enquirer: Sheriff: Man arrested in Anderson Twp. shooting at Joe Mixon's home