St. Louis officer shoots gun-wielding suspect after chase ends in Jennings
KTVI-TV St. Louis
3/5/2023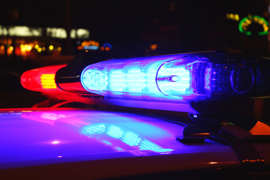 JENNINGS, Mo. – An officer shot a gun-wielding suspect Friday evening shortly after a pursuit ended in Jennings. The suspect is hospitalized in critical condition.
Sean Gathing, 19, faces felony charges in connection with the incident. Gathing was shot by an officer from the St. Louis Metropolitan Police Department, who had followed Gathing's vehicle from north St. Louis City to Jennings city limits.
The incident unfolded around 10:30 p.m. Friday. During that time, St. Louis Metropolitan Police SWAT officers attempted a traffic stop of Gathing's vehicle in St. Louis, near the area of Rosalie and North Kingshighway. The driver sped away from the scene, prompting a miles-long pursuit.
The pursuit ended near the intersection of McLaran Avenue and Main Street when the suspect vehicle came to a stop.
The St. Louis County Police Department says, shortly after that, the suspect got out of the car armed with a firearm and flourished it at one officer. The responding officer then fired a department-issued firearm, striking the suspect at least one time. 
Gathing was rushed to a hospital. No one else was hurt in the shooting or pursuit. The officer who fired the shot is a 40-year-old man with 11 years of service. 
Prosecutors have charged Gathing with one count of first-degree assault, one count of armed criminal action and one count of resisting arrest by fleeing. He is jailed on a $100,000 cash-only bond.
St. Louis County Police Crimes Against Persons detectives are handling the investigation into the shooting.
Copyright 2023 Nexstar Media Inc. All rights reserved. This material may not be published, broadcast, rewritten, or redistributed.
For the latest news, weather, sports, and streaming video, head to FOX 2.