Kansas City mayor is turned away from polls, told he 'wasn't in the system'

Kansas City Star
3/10/2020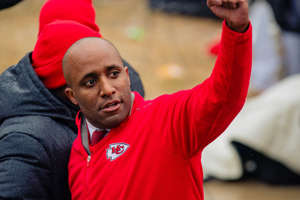 Moments after making a plea for people to get out and vote in the Missouri primary Tuesday, Kansas City Mayor Quinton Lucas was turned away from the polls and told he "wasn't in the system," the mayor said on Twitter.
"I made a video this morning about the importance of voting and then got turned away because I wasn't in the system even though I've voted there for 11 years, including for myself four times!" Lucas said.
Lucas tried to cast his vote before 7 a.m. at Mount Pleasant Baptist Church at 22nd and Olive streets, where he said he has voted since 2009.
Missouri Democrats were headed to the polls Tuesday to choose a nominee for president. More than twenty names were listed on the ballots, but the chief contenders were expected to be former Vice President Joe Biden and Vermont Sen. Bernie Sanders.
When Lucas tried to vote, a poll worker searched his name using a utility bill he brought but came up empty as if Lucas wasn't registered.
After waiting a few minutes, Lucas showed his Kansas City Board of Police Commissioners' ID. But he was told that they still were not finding him.
About 10 minutes later, poll workers offered a provisional ballot to the mayor, who refused, saying he wanted to make sure his vote was registered so that if anyone checked his record it would show he voted.
"If the mayor can get turned away, that would mean anybody can . . . so it's something we all need to try to address," Lucas said.
Lucas said he planned to return to his polling location later Tuesday to try again, but that the experience was frustrating.
"A lot of people won't come back either because they have to go to work or because it has the opportunity to be a slightly embarrassing experience," Lucas said.
'Only issue'
Lauri Ealom, the Democratic director of the Kansas City Board of Elections, said the poll worker entered Lucas' first and last names in the wrong order.
"He put his last name in as his first name and his first name in as his last name," she said.
Ealom said no one else had been turned away from Lucas' polling place and that voting was running smoothly early Tuesday morning.
"That's the only issue that we've had this morning," Ealom said.
Lucas said he received a phone call about 45 minutes after he left the polling location informing him of the mix-up. He acknowledged that most Kansas Citians wouldn't receive such a call.
In a follow-up Tweet, Lucas clarified the message in his initial post.
"By the way, me writing 'but that's okay,' was me being Midwestern and passive aggressive. It's really not okay," he wrote.
This should serve as a wake-up call when it comes to our elections, Lucas said later.
"A lot of us in this region are used to folks talking about voting irregularities; talking about those sort of issues," Lucas said. "I think the biggest threat to American elections is that American's can't vote too often. Unfortunately that was the situation I ran into this morning."
Lucas said he hoped to follow up with the Election Board and others to make sure that this doesn't happen again.
"We need to find a way to make sure it works all the time," Lucas said.
Polls and ID
Polls are open from 6 a.m. until 7 p.m.. If you run late to the polls but are in line by 7 p.m., you still have the right to cast your vote. You don't have to be done voting by the time the polls close.
Voters are not required to show a photo ID to cast a ballot, but they must provide documentation that contains their name and address. A utility bill, bank statement or paycheck can suffice.
Anyone who cannot provide ID but is still registered to vote may cast a provisional ballot that will be counted if they return to the polling place on Election Day with ID or if the signature on the provisional ballot envelope is determined by local election authority to match the signature on the voter's registration record.
———
©2020 The Kansas City Star (Kansas City, Mo.)
Visit The Kansas City Star (Kansas City, Mo.) at www.kansascity.com
Distributed by Tribune Content Agency, LLC.