5 Ideas for Socially Distant Celebrations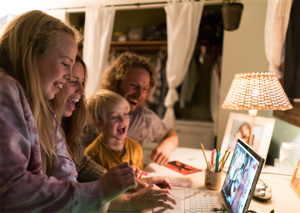 Just a few weeks ago I was researching fun party ideas for my son who turns three in April. From swim parties, to trampoline parks, to pizza places, the options seemed endless. Today? Today I'm trying to figure out how to celebrate his birthday beyond our living room without any physically present guests. These are unique times and this global pandemic has me thinking about everything from how best to keep my family safe to how to decorate and frost a cake.
So, whether you're celebrating a birthday, graduation, or special holiday I've compiled a list of fun and memorable activities to do that will keep the "social" in "social distancing." 
1. Create celebratory drive-bys and parades
Take a cue from these clever individuals who celebrated special milestones via parade with the help of nearby family and friends. You can easily decorate your car and design posters with items you probably have lying around the house including ribbons and wrapping paper. Cruise by the guest of honor's house at a designated time to spread cheer and deliver gifts. This might be one of the few times where wild hand gestures and vigorous honking while driving are completely welcome.
2. Host virtual get togethers
From catching up to playing games, video conferencing apps are often free and a great way to stay connected with loved ones across the world. The best part? Sessions can be recorded so you can relive those cherished memories for years to come. Just remember to inform others you're recording—not everyone wants their off-key singing to be replayed at the next family function. It's also helpful to set up video chat sessions and do a test run ahead of time so everyone is ready to go the day of the celebration. Lastly, you don't need an account or complicated software to join--with options like Meet Now in Skype or other apps with video calls, it's as easy as clicking a link.
3. Participate in a scavenger hunt
Spread smiles and kindness by hiding special objects around your home or outside for your family to find. Whether it's painted rocks or decorated eggs, you can express your creativity while also offering something a little out of the ordinary. People around the world are also lifting spirits by displaying anything from teddy bears to rainbows to messages spelled out with sticky notes in their windows, so you can add something special to your home for others to enjoy, too.
4. Personalize and send cards
Remember the days of hand-made cards and customized notes? They get an upgrade with professionally-designed templates and mailing services. Postable will not only create and send cards for you, they'll also manage your address book and remind you of important dates. You can also quickly convert your favorite photos into postcards using Postcardly. Simply attach your photo along with a quick note and they take care of the rest. If you're looking for something you can create at home, check out these templates for graduations, birthdays, or special holidays.
5. Have desserts delivered
You can still send sweet thoughts from afar. Many locally-owned bakeries and gift shops are offering free delivery options while their stores are closed. If you're feeling particularly crafty and need inspiration beyond your usual cake decorating, baking kits are also a great option and can be delivered right to your door. These kits include everything you need to create delicious concoctions and make for a fun "crafternoon" with the kiddos. From gourmet palates to youthful taste buds, there's a kit for everyone.