Cook up fun in the kitchen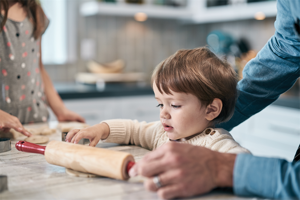 For the past month, my entire family has been working and learning from home. While we're grateful to be safe and healthy, we also find ourselves looking for new things to do. During this time of concentrated togetherness, I've also realized some undeniable truths:
My kids seem to have an unquenchable desire for snacks, but a limited appetite for dinner
My culinary creativity extends as far as slicing up hotdogs for boxed mac and cheese
So, if you're like me and looking for ideas to both entertain and nourish your family, here are a few to spark your imagination and make mealtime a little more fun. After all, as the world-famous chef Julia Child once said, "No one is born a great cook, one learns by doing."
How do I prepare the kitchen for kids and vice versa?
What should we cook?
Whether you're baking, cooking, or simply assembling ingredients, these crowd-sourced ideas and professional recipes created just for kids, will inspire and delight all age-levels while satisfying even the most picky eater.
How can I make this more fun?
Take the night off and let the kids prepare your next meal. They can even create and design their very own custom menu to host an in-home dinner party just for the family.
Let your kids show off their newfound culinary skills when they host their very own cooking show. To get started, all you need is a phone and a tripod. Download a free app like Instagram or Skype to broadcast live or record and share with friends later.
Put sibling rivalry to good use with a friendly cooking competition. Take a cue from Chopped Junior and create dishes throwing together random ingredients or try to crown your own MasterChef Junior by testing culinary abilities. No matter who wins, everyone will walk away well-fed.