Fun Earth Day Activities for Kids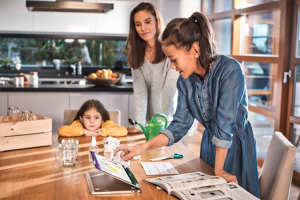 Lately, I find myself reminiscing on what I was doing this time last year. Last year for Earth Day, my family went to a festival at an arboretum. We got to plant a tree and make non-toxic soap to take home. I also helped my niece with a school project about pollution.
This year, we can't go to community events and schools are closed. Determined to celebrate from inside an apartment, I began a search to find things to do this year to help celebrate and mark the 50th anniversary of Earth Day.
From educational to easy crafts, there are plenty of great ideas that will engage and delight kids of all ages. Even if your family doesn't typically participate in Earth Day, the events and activities can liven up your sheltering-in-place routine.
1. Go to an online festival
The folks at earthday.org have a world map of live digital festivals. The page is set up for you to find exactly what fits your family with filters for language, country, event type, and age. If too much screen time for your kids is a concern, local organizations have figured out different ways to celebrate this year too. Do a web search using your city and Earth Day 2020. Many schools, universities, and nonprofits have offline challenges the whole family can do at home to help protect the planet.
2. Make upcycled crafts
Let Earth Day inspire an art project that will spark your kid's imagination. Upcycling is good for the environment and uses things you already have around the house, which makes it budget-friendly too. The inside of a grocery bag can become a canvas for coloring or painting. Junk mail and the pages of old magazines can be transformed into colorful masterpieces by cutting them up to make cool pictures, like flowers or bugs. There are tutorials for crafting useable objects too, like these pencil holders made from soup cans.
3. Explore wildlife
With stories of wildlife roaming empty streets in cities around the world the past few weeks, it's a perfect time for kids to learn about animals and conservation. The San Diego Zoo is hosting animal-focused virtual activities for Earth Day, including a nature scavenger hunt. If you're looking for something the whole family can do together, get the popcorn ready and have a wildlife movie night. There are plenty of flicks to choose from with an animal focus, whether you're in the mood for a documentary or animated feature.