Get involved: Organizations that help the homeless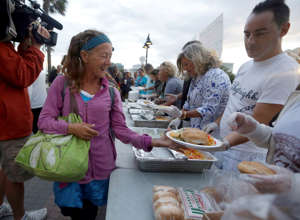 If you would like to help the homeless, please consider one of the following organizations that Microsoft and MSN support.
United Way
United Way has a network of community-based offices across the country. Focusing on education, income and health, they partner with schools, government agencies, businesses, organized labor, neighborhood associations, faith groups and more to help people succeed. You can get involved by giving money, volunteering or lending your voice to a cause. Visit www.unitedway.org. 
YWCA
With a focus on women in its core mission, YWCA works to address the unique needs of those living in poverty and strives for outcomes that increase emotional and economic self-sufficiency. For volunteer opportunities and donation options, visit YWCA.org.  
Feeding America
This network of more than 200 food banks feeds more than 46 million people through food pantries, soup kitchens, shelters and other community-based agencies. Donate, volunteer, and check out their helpful Hunger Blog for interesting articles and creative ideas for ways you can help. More at www.feedingamerica.org
Mercy Housing
Mercy Housing provides affordable housing and supportive services for low income families, seniors and people with special needs. Once housing needs are met, the nationwide nonprofit organization additionally assists with health and wellness support, children's educational needs, job readiness and financial literacy. Visit www.mercyhousing.org
Goodwill
Money raised through donations of new and gently used goods to Goodwill stores benefits people in need through employment training, job placement services, financial education, youth mentoring and more. Volunteering opportunities include helping veterans build workforce skills, teaching English as a Second Language, mentoring students and more. Visit www.goodwill.org.