Bringing Hope to the Children of Cambodia with the Cloud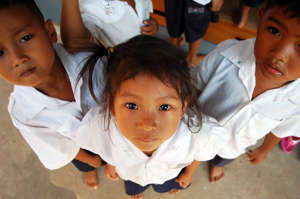 A special message from MSN: 
This month we're working with the National Center for Missing and Exploited Children and other organizations to help reunite missing kids with their families. Together, through raised awareness and Microsoft technology like facial recognition and cloud computing, we're making progress. You can help, too. Please consider donating.
Child abuse and trafficking remains a serious social issue in Cambodia, with an estimated 1.2 million children trafficked every year—and a fifth of these victims sexually exploited.
Hoping to bring an end to this is the Child Protection Unit (CPU), a joint operation between the Cambodian Children's Fund and Cambodia National Police. Its work involves providing assistance in the investigation of crimes committed against children, training local police officers in investigative techniques, and supporting victims and their families in the recovery journey.
Information and collaboration are key in all aspects of its daily work—which was why CPU chose to deploy Office 365 when looking to improve their operations.
Watch the video below to find out how the cloud-based tools equipped CPU officers with the ability to access information and collaborate on the go, empowering them to bring hope to more children and families across Cambodia.