MSN Causes: Empowering our readers to help missing children in May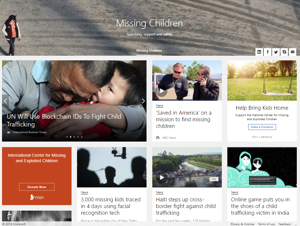 May 25th is National Missing Children's Day, so throughout the month, as part of our ongoing MSN Causes series, we're examining the issue of Missing Children and contributing to the effort to reunite them with their families. There were some 465,000 children reported missing in the US in 2016 alone, and in Canada, 47,000 kids went missing in 2017 (read more here).
The global figures are more staggering. Going beyond the common image of playground abductions and kidnappings, our carefully-curated report looks into even more pervasive aspects of the issue, such as online luring, parental abductions, runaways and human trafficking. 
You can learn how to protect the children in your life, submit tips, and connect with organizations like the National Center for Missing & Exploited Children that are working to bring kids home. You can also read about how Microsoft facial recognition technology and cloud-based tools are helping families find answers. 
We may all be "just one person", but as an MSN reader, you're part of a community that's 140 million strong. So we hope you'll join us in coming together for a very good Cause.
About MSN Causes
At MSN, we're passionate about keeping our audience informed using content from the world's top news providers. Millions of you get your news from us every day, and we're grateful. We're also passionate about empowering people to make a difference. That's why we started MSN Causes.
These special content packages are created to inform and empower people around select topics. We believe that a thriving future, both in the near-term and long-term, is within our power if we're willing to make it so.
See our previous Causes projects here: 
Donate Today: Help bring kids home
More About Missing Children