Kavanaugh praises new Supreme Court Justice Jackson: 'Thoroughly prepared'

FOX News
1/27/2023
Supreme Court Justice Brett Kavanaugh offered praise for his new colleague Justice Ketanji Brown Jackson this week, telling an audience at the University of Notre Dame law school that she has "hit the ground running."
Kavanaugh was present for a keynote Q&A session at the 2023 Notre Dame Law Review Federal Courts Symposium on Jan. 23, where he addressed the perception that the Supreme Court is sharply divided on ideological grounds after a series of controversial decisions that went in favor of conservatives. 
Critics on the left have accused the 6-3 majority of Republican appointed Supreme Court justices of undermining the court's legitimacy with rulings that have expanded gun rights and a highly controversial decision last June that overturned Roe v. Wade – declaring there is no constitutionally protected right to abortion. But according to Kavanaugh, the justices are still on friendly terms despite spirited disagreements. 
"There are great relations among all nine justices both personally and professionally. We only get tough cases, and we disagree on some of those. I think that's more nuanced than it is sometimes portrayed," Kavanaugh said.
SUPREME COURT SEES UPTICK IN APPROVAL RATING SINCE OVERTURNING ROE V. WADE TANKED NATIONAL SUPPORT: POLL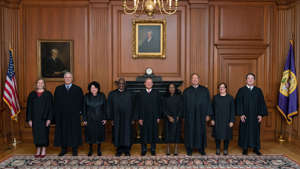 SUPREME COURT LEAKERS BANNED FOR LIFE, FINED $5,000 UNDER GOP BILL
He told the law students in the audience that the justices spend "an enormous amount of time" together, eating lunch after every oral argument and conference and becoming friends. 
"You can't talk about work at lunch. So, you talk about the things that you would talk about with your friends. You talk about your kids, you talk about movies, you talk about books, you talk about war stories . . . again and again," Kavanaugh said cheerfully.  
PROTESTERS GATHER OUTSIDE OF SCOTUS JUSTICE BRETT KAVANAUGH'S HOME ON 50TH ANNIVERSARY OF ROE V. WADE RULING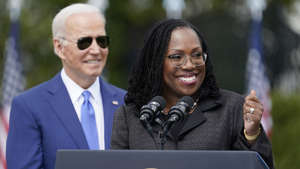 He shared his experience joining the court after a contentious Senate confirmation hearing in which Kavanaugh faced allegations of sexual misconduct and assault that Republicans called a "sham." 
Kavanaugh said that liberal Justices Ruth Bader Ginsburg and Stephen Breyer "couldn't have been better at welcoming me to the court."
It's a courtesy he said the justices extended towards new Supreme Court appointees under both Presidents Trump and Biden. Kavanaugh praised Jackson, the latest addition to the court, as someone who is "fully prepared, thoroughly prepared" and "off to a great start." 
"We miss Justice Ginsburg, of course, and Justice Breyer, but there's turnover, and it's wonderful to have two new colleagues who have fit in, in my judgment, fit in well with the group," he said.