Dyson electric car: new patents show mold-breaking design

Autocar
5/8/2019
Sir James Dyson's eagerly anticipated electric car is likely to be a long, sleek crossover-style premium sedan that occupies roughly the same road space as a Range Rover but looks like having completely different proportions from that classic British 4x4 – and every other production car on the road.
Key details of the billionaire inventor's thinking on electric vehicles have dramatically emerged from three patent applications made public today. They cover the car's ultra-long wheelbase, unique 'crossover' body, unprecedentedly large and thin wheels, short body overhangs and unusually 'fast' windscreen.
As a caveat, though, Dyson's famously secretive people emphasize that their images – and therefore ours – don't necessarily show exactly what their car will look like, only some design and engineering devices likely to be used by it.
The Dyson car, whose long-rumored existence was confirmed late in 2017 when the inventor revealed plans to spend billions of his own money on it, has been taking shape for the past two years. Work has been led by former Aston Martin chief engineer Ian Minards, who joined Dyson in September 2016 as vice president, automotive.
The new Dyson patents show nothing less than a complete rethink of big-car design and engineering conventions for the fast-approaching electric age. The refinements are aimed at delivering low weight and low aerodynamic drag to maximize performance and battery range while providing generous cabin space and first-class ride comfort, a particular Dyson priority.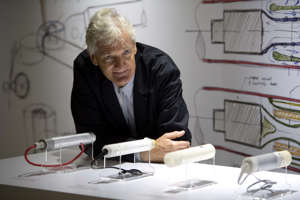 Autocar spoke exclusively this week to company founder Sir James Dyson at his base in Singapore, where electric cars will ultimately be manufactured after an initial batch is built at the company's £200 million ($259,435,200) automotive HQ currently under construction in Wiltshire.
This new facility already contains a dedicated technical center for a 500-strong body of engineers – both Dyson regulars and hirings from car makers such as Tesla and Jaguar Land Rover. It will eventually spread across six comprehensively converted wartime aircraft hangars on the 517-acre former RAF Hullavington airbase near the M4 motorway in Wiltshire. A prototype manufacturing facility will open there next month and a 10-mile test track is also under construction.
DIMENSIONS AND PROPORTIONS
In essence, the patents describe a car that is close to the five-meter (16.5-foot) length of a standard Range Rover but more than 40cm (16in) longer in the wheelbase, at 330cm (130in), with 4-6cm (1.5-2.3in) more ground clearance than the Range Rover's standard 22cm (8.6in) yet at least 25cm (9.8in) less overall height, at around 165cm (65in) tall.
The car's layout allows excellent approach, breakover and departure angles, even in Land Rover terms, although there's no suggestion that Dyson wants to build a farm vehicle. "It's just that we can have these things for free," he said.
This high-floor/low-roof layout is made possible because of the location of the car's wide, long, thin underfloor battery, and the adoption of saloon-like seating positions for occupants, giving what Dyson described as a "command" driving position.
What's more, the compactness of the (probable) twin electric motors allows a cab-forward layout – assisted by the short nose and raked screen – which allows much of the car's total length to be used for accommodation. The Dyson patents propose a potential seven-seater (with center-row and rear-row passengers mounted higher than those in front for good visibility).
A saving of around 10cm on overall width is also possible, said Dyson, because of the lack of a bulky internal combustion engine plus the adoption of narrow-section tires on big-diameter wheels that need smaller wheel envelopes let into the body. A particular Dyson preoccupation is keeping the new car's frontal area to a minimum, a major contributor to aerodynamic efficiency.
BODY, SUSPENSION, WHEELS
Dyson confirmed that the car will have an aluminium body, mostly because he and his engineers feel carbonfiber structures haven't reached the level of maturity they believe the electric project needs. Steel is deemed too heavy.
The patent diagrams suggest a platform-shaped battery mounted beneath the body. Such a battery would need to be encased in an extremely rigid, well-protected structure, which points to the use of a 'skateboard' platform chassis supporting suspension subframes front and rear. Height-adjustable and self-leveling suspension seems likely: Dyson himself pointed to the pitch-limiting advantages of the very long wheelbase.
The Dyson car is likely to have alloy wheels of a highly unusual 23-24in diameter, running thin tires of around 45-55 profile. The company is understood already to have a tire supplier. The inventor said experiments show these wheels have considerably lower rolling resistance than smaller, wider wheels and their greater inertia (often deemed a fault) will help with regenerative braking.
This unusual wheel/tire combination also creates less aerodynamic drag, allows relatively low tire pressures to be used (for good ride comfort), resists aquaplaning on wet roads and requires a smaller wheel envelope, reducing intrusion into the cabin. The tire can still have an acceptably large footprint because it's longitudinal, not lateral.
BATTERY AND POWERTRAIN
Dyson's patent applications contain no powertrain details – beyond a theoretical suggestion that the car could be battery, hydrogen or even petrol-hybrid powered. But Sir James Dyson confirmed that his company is researching two different types of solid-state battery, understood by laymen to be the next big thing after the lithium ion type used almost universally in EVs today.
Dyson's solid-state battery research is proceeding in four linked global locations, including the UK. It seems a certainty that these advanced batteries (bringing advantages in energy density and lightness) will eventually be used in the Dyson car, although there are unconfirmed suggestions that lithium ion may power the earliest cars.
Sir James Dyson also won't publicly specify his car's motors, except to suggest that more than one motor would make sense because that would increase the potential for power regeneration when the car is coasting and braking. Dyson high-speed electric motor designs are among the world's best and most compact, so the company will build its own motors for this application and package them very compactly.
MARKET POSITIONING
There's enough about the specification of a five-meter (16.5-foot) car with seven-seat capability, powered by an ultra-expensive battery and riding on very special wheels, suspension and brakes to suggest that this will most definitely be a premium car.
Hiring the former Aston Martin chief engineer (Ian Minards) and inviting a former BMW big-board member, Ian Robertson, onto your board of director is another indication. Dyson himself mentioned Range Rovers and Teslas as he discussed his new car, suggesting that, in a money sense at least, they were rivals. But the only speculation about price – and it's rather idle – seems to be on which side of £100,000 of today's money a Dyson car will sit.
The car will be sold globally and seems likely to have particular appeal in China. No production volume is spoken of, but it seems clear from the size of the engineering effort that this is much more than a bespoke, hand-made effort. The Dyson name, and the company's global reputation for unusual, progressive, high-quality products that push at existing boundaries, will surely help it find markets. Everything we've seen points to a well-backed, credible, long-lasting rule-breaker of an electric luxury car. Let's hope we're right.