Fact Check: Did Jill Biden Get Booed at Eagles Game in Philadelphia?
First lady Jill Biden appeared to get a hostile receptions from some sections of the crowd as she joined the coin toss at the NFL game between the Philadelphia Eagles and the Dallas Cowboys on Sunday, according to a video circulating on social media.
Biden, who claims to have grown up just outside of Philadelphia, also took part in a rendition of "Fly Eagles Fly," alongside cancer survivors and their families at the Lincoln Financial Field.
The visit was part of an awareness campaign under the Biden administration's reignited Cancer Moonshot, which aims to reduce cancer death by at least 50 percent over the next 25 years.
In a tweet, the first lady thanked the NFL for "for raising awareness through Crucial Catch. We all have a role to play in ending cancer as we know it."
The Claim
While Biden was standing on the field, a number of social media accounts claimed that she was booed by sections of the crowd.
Former NFL star Clay Harbor, was one of those who tweeted the crowd's reaction on Sunday.
"Philly just BOO'd Jill Biden BAD," Harbor wrote.
Philly just BOO'd Jill Biden BAD. 😂 #FlyEaglesFly

— Clay Harbor (@clayharbs82) October 17, 2022
Sports reporter John McMullen added: "FLOTUS Dr. Jill Biden gets booed. Being an 'Eagles fan' didn't save her."
A number of right-wing news sites and blogs including Fox News, Red State and the Washington Examiner, reported on Biden being booed at the stadium based on the tweets.
The conservative blog Right Journalism also claimed to have obtained footage showing Biden being booed, which had been "scrubbed from the networks."
Another clip shared on social media appears to show football fans chanting "f**k Joe Biden" as the first lady was on the field Sunday night.
The Rupert Murdoch-owned Sky News Australia broadcast the footage with the audio of the "f**k Joe Biden chant" heard.
Jill Biden booed loudly by fans at an Eagles game in Philly.

Not only is Pennsylvania her home state, but Philadelphia is about as deep blue as it gets.

Yet we're told Joe Biden got more votes than any other presidential candidate in history! 🤔pic.twitter.com/9II7qwoO1E

— Ben Kew 🐶 (@ben_kew) October 17, 2022
The Facts
Multiple claims about alleged booing by the crowd in attendance somewhat conspicuously failed to offer evidence for an incident that, they claimed, took place at a mass gathering with many in the crowd likely in possession of mobile phones and other recording devices.
"But for some reason, when videos come out now within seconds of things happening and this is at an NFL game, there doesn't appear to be a video yet," said the Red State report on this story.
"The local reporters/NFL writers are reporting it so it happened. But it's almost as though someone doesn't want us to see/hear it. Even Outkick asked the question: We know it happened, so why does the video appear to be hard to find?"
Some videos did emerge, which were inconclusive at best, though it does appear that the first lady did receive some boos from at least certain sections of the crowd on Sunday.
One video, posted on Twitter by Tori Lahren, shows a section of the crown in the upper parts of the stadium jeering Biden, with one woman chanting "let's go Brandon"—the non-explicit version of the "f**k Joe Biden" chant, which is also a conservative catchphrase.
Booed hard af pic.twitter.com/0icZnwvkRF

— Tori Lahren (@Tori_Philly4) October 17, 2022
However, because it appears that the cameraman and people close to him are the ones chanting and screaming, the video makes it hard to gauge how much of the crowd was really following along.
Another video, recorded on the field, initially appeared to provide more conclusive evidence, with multiple prominent conservative users and mainstream media sharing it as proof that the chant indeed happened.
Jill Biden on the field in Philly before last night's Eagles' game is booed while singing the team's fight song. You can hear chants of "f—- Joe Biden," but I'm not sure that's actually from the crowd at the game. The boos were real, though. https://t.co/TH968RYaip

— Bill Griffith (@BillGriffithNew) October 17, 2022
But, as noted by Dan Evon, a former writer at fact-checking website Snopes, the clip in which people can he beard chanting "f**k Joe Biden" towards the first lady appears to be edited, with a different audio track overlaid on top of the visual clip.
Evon tweeted out the original footage, sourced directly from the NFL, which contains no booing, further supporting the idea that the audio was added in afterwards.
Don Henley is trending because someone altered the audio on a video to make it appear as if Eagles fans were booing Jill Biden. Here's the real clip from the NFL. https://t.co/gOWh3jdfnp

— Dan Evon (@danieljevon) October 17, 2022
This was later confirmed in a statement to Reuters by Brian McCarthy, Vice President of Communications for the NFL said: "The official NFL post featured unedited audio and video captured by the NFL social team."
The Red Journalism blog post which included separate footage they claim proves Biden was booed—despite not being clearly heard at all—also contains the disclaimer that the post may "contain disputed claims."
"We make no assertions as to the validity of the information presented by our Opinion Columnist," the disclaimer adds. "This is an opinion article, and this post should be treated as such."
Notably, the explicit anti-Biden chant has become somewhat of a fan favorite at college football games across the U.S., leading to audio clips of it being misleadingly tagged on to more prominent public events and occasions.
In a recent example, Newsweek Fact Check debunked a similarly misleading clip where the "heckling" audio track was laid over the footage of Joe Biden's car passing through streets of London.
Newsweek has reached out to Jill Biden's representatives for comment.
The Ruling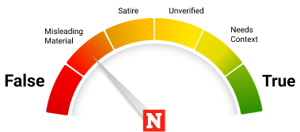 Misleading Material.
A widely shared clip of the Eagles supports chanting "f** Joe Biden" appears to be edited, with an audio track of the chants added that was not recorded at this event, as confirmed by the NFL.
While it cannot be ruled out that Jill Biden was booed by some individuals in the crowd on Sunday (as another video seems to suggest), there is no evidence to suggest it was to the extent portrayed by the right-wing press.
No genuine clips filmed from in the stands Sunday and showing large sections of the crowds joining in the "f**k Joe Biden" chat (loud enough that it would have been picked up over the top of the other crowd noise) have yet emerged.
Given that thousands attended the event, many of whom likely were no fans of Biden, it would be reasonable to expect that at least somebody recorded the scene.
A number of news sites also reported on the booing without sharing any video or audio clips to back up the claims, or with others using the clip that may have been dubbed.
FACT CHECK BY NEWSWEEK
Related Articles