Just five NBA teams project to have cap space for 2018 offseason

HoopsHype
9/14/2017
During the 2016 offseason, this went as high as 27 of the 30 teams entered free agency under the cap due to incoming TV money. The trend normalized, though, as fourteen teams entered the recent 2017 offseason with cap space. Next offseason, this figure could get much smaller.
Kevin O'Connor discussed the bleak future market for the 2018 free agency class (via The Ringer):
"Just five teams are currently expected to have cap space (Hawks, Bulls, Mavericks, Pacers, Lakers), according to projections by Real GM's Keith P. Smith, though a handful of other teams could create space."
The Atlanta Hawks, Chicago Bulls, Dallas Mavericks and Indiana Pacers all have projected lottery picks next season and the Lakers hope to add two max contracts. All five of these teams could look massively different. But the rest of the league may enter a forced holding pattern.

Of course, the most important part to recognize is that just because five teams currently have cap space does not mean that's how it will look when it's time to offer contracts. While these five teams can still be players next offseason, others can join them with some creativity.
Teams including the Brooklyn Nets, Denver Nuggets and Phoenix Suns likely need to shed just one contract to have cap space. The Detroit Pistons, Memphis Grizzlies, Philadelphia 76ers, New York Knicks, Sacramento Kings and Minnesota Timberwolves are not significantly far off either.
O'Connor adds that Philadelphia and Minnesota may move farther away from cap space if they extend Joel Embiid and Andrew Wiggins, respectively:
"There have already been multiple reports that the Wolves and Sixers will look to ink their young stars, and multiple league sources have told me they expect Wiggins to sign once he gets his new agency in order."
Denver could (and likely should) extend Gary Harris to the tune of around $20 million per season which would eliminate them from pursuing any other significant players.

Now this leaves just Brooklyn, Detroit, Memphis, New York, Phoenix and Sacramento as the most likely teams to create space to spend next offseason. But there are other front offices who may pursue massive contract shedding if they hope to make moves.
The teams in the next tier of cap space are the Charlotte Hornets, Orlando Magic and New Orleans Pelicans. The San Antonio Spurs are expected to be players as well. Even if all these teams enter the market, that's still less than half the league.
However, there might not be a motivation to do this considering they won't be able to compete with the Golden State Warriors. For many teams, it would be hard to even match up with the Houston Rockets or Boston Celtics. Instead, building through the draft might be a better option.
Here is how one general manager explained what that means for players and teams (via ESPN):
"The top guys will always feed first and then the year of the cap spike [in 2016], there was a lot left for everybody else to feed. Next year [in 2018], the top players will still get theirs, and then there will be not much left."
Potential free agents like LeBron James, DeMarcus Cousins and Paul George will not have to take smaller deals. But the role players might have fewer suitors for pricier deals.

As such, remaining teams will either need to offer mid-level exceptions or veteran minimums. It will be hard for other teams not mentioned above to provide much more than these options.
Related slideshow: 16 best NBA teams after the Kyrie Irving trade (Provided by Sportsnaut)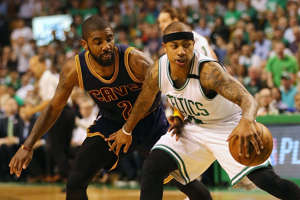 MORE FROM HOOPSHYPE

HoopsHype