Submerged churches around the world

Photos
3/16/2019
Rising from lakes, reservoirs and ponds, there are several churches around the world whose towering ruins remain as eerie reminders of a bygone era. From Spain to Russia, here are a few churches that exist submerged in water.
Church of Sant Roma de Sau, Catalonia, Spain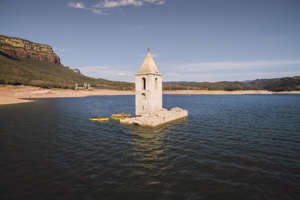 The church and the village of Sant Roma de Sau went underwater with the construction of Sau reservoir in the 1960s. The ruins of the three-story church along with the rest of the town can be seen during drought when the water level recedes.
Drowned Church of Graun, Reschensee, Italy
The village of Graun and its 14th-century church were intentionally submerged to build a dam in mid-20th century. All that's visible of the drowned church now is the bell tower, or "campanile," which protrudes from the turquoise blue waters of the Lake Reschen. 
Holy Rosary Church, Shettihalli, India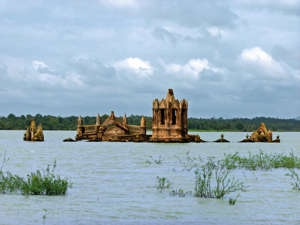 Built during the 1960s by French missionaries, the Gothic-style church remains partially submerged during the monsoon season, when the spillway gates of the Hemavathi Dam is opened to release flooding waters, and reemerges in summers.
Church of Mediano, Huesca, Spain
The 16th-century church went underwater in 1974, when one of the country's largest reservoirs was created in the town of Mediano.
Church of St. Nicholas, Mavrovo, Republic of North Macedonia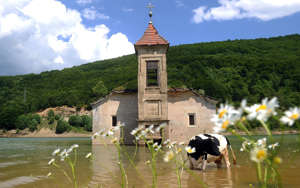 © Robert Atanasovski/AFP/Getty Images
After having stood for over 150 years, the church was flooded in 1957 when an artificial lake, designed to supply water to a local power plant, was being created. 

Alassa Church, Cyprus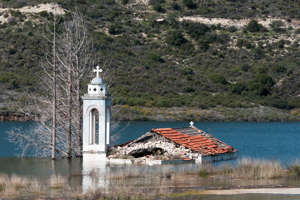 The church as well as the village around it was abandoned after the Kouris Dam was built in the 1980s. The 1939-built church goes underwater whenever the dam fills up.
Geamana, Romania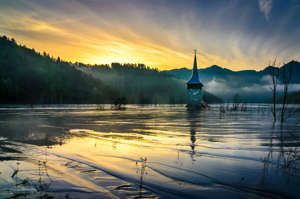 Geamana was like any other village in the country until 1978, when it was converted into a toxic wasteland, generated from copper mining in the Apuseni mountains close by. The village was evacuated to make way for sludge that now covers, among other buildings, a church.
St. Nicholas Cathedral, Kalyazin, Russia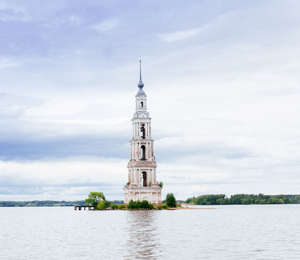 The construction of the Uglich Reservoir on the Volga River in 1939 swamped the town of Kalyazin and several buildings were dismantled. However, the bell tower of the cathedral still stands as a relic of the past.
St. Ivan Rilski Church, Bulgaria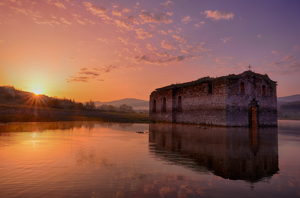 The 1895 church was swallowed by an artificial lake in the 1960s, after the government decided to build a dam in the Zapalnya region. The ruins and reservoir are now a popular tourist destination.
Nativity Church, Krokhino, Russia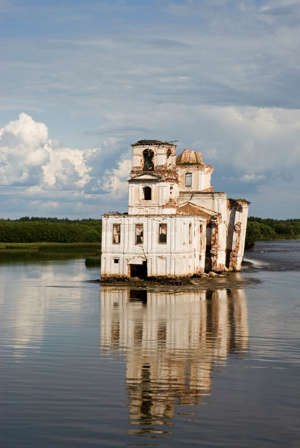 In the 1960s, the water level in the Sheksna River was artificially raised during the construction of Volga-Baltic Waterway. The village of Krokhino, on the river bank, was submerged, leaving only the Nativity Church out of water.