The Biggest Revelations From Prince Harry's Memoir Spare
Town and Country
2/6/2023
Prince Harry's explosive memoir, Spare, is our now, and within, he details his life from his mother's death through Queen Elizabeth's death in September 2022. Much of it focuses on his own grief, and healing, but he also writes about the troubled relationship with his brother.
Here, the 18 biggest revelations from Spare:
1. Prince William's alleged assault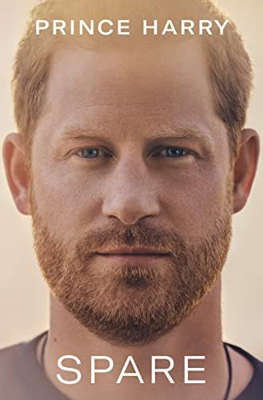 $22.42
Harry, who calls William his "beloved brother" and his "archnemesis" in the book, writes of a physical assault that took place in 2019. Prince Harry says his brother called Meghan "difficult," "rude," and "abrasive," and then the confrontation escalated.
"He set down the water, called me another name, then came at me. It all happened so fast," Harry writes, "So very fast. He grabbed me by the collar, ripping my necklace, and he knocked me to the floor. I landed on the dog's bowl, which cracked under my back, the pieces cutting into me. I lay there for a moment, dazed, then got to my feet and told him to get out."
When he left, Harry says, he "turned and called back: 'You don't need to tell Meg about this.'" Harry replies,"'You mean that you attacked me?" To which William reportedly said, "I didn't attack you, Harold."
At Prince Philip's funeral in 2021, Charles tried to mend fences between William and Harry. Harry quotes his father as saying, "Please, boys, don't make my final years a misery."
3. Harry shares new details behind his choice to wear a Nazi costume
While Prince Harry opened up about wearing a Nazi costume in his Netflix docuseries Harry & Meghan as "one of the biggest mistakes of my life," Spare offers further details surrounding the infamous 2005 incident.
In the memoir, the Duke of Sussex writes about choosing between a Nazi costume or a pilot costume. "I phoned Willy and Kate, asked what they thought. Nazi uniform, they said," Harry writes. When he tried it on for him, he says, "They both howled. Worse than Willy's leotard outfit! Way more ridiculous! Which, again, was the point."
On wearing the costume, he writes, he wasn't thinking. "When I saw those photos, I recognized immediately that my brain had been shut off, that perhaps it had been shut off for some time. I wanted to go around Britain knocking on doors, explaining to people: I wasn't thinking. I meant no harm. But it wouldn't have made any difference. Judgment was swift, harsh. I was either a crypto Nazi or else a mental defective."
When his father learned of what happened, Harry writes, "He didn't gloss over the facts. Darling boy, how could you be so foolish? My cheeks burned. I know, I know. But he quickly went on to say that it was the foolishness of youth, that he remembered being publicly vilified for youthful sins, and it wasn't fair, because youth is the time when you're, by definition, unfinished. You're still growing, still becoming, still learning, he said."
Elsewhere, Prince Harry writes in Spare, "I'd long understood that the photo of me in a Nazi uniform had been the result of various failures—failure of thinking, failure of character. But it had also been a failure of education. Not just school education, but self-education."
4. Prince Harry details losing his virginity to an "older woman"
In the memoir, he writes of losing his virginity to an "older lady" who "loved horses very much," per Sky. He calls it a "humiliating moment," writing, "I mounted her quickly, after which she spanked my a** and held me back… one of my mistakes was letting it happen in a field, just behind a busy pub. No doubt someone had seen us."
5. King Charles joked about Harry's parentage
Rumors have long swirled around James Hewitt, who had an affair with Princess Diana, being Prince Harry's father. According to Spare, Charles himself even made these jokes, which Harry calls "sadistic."
"Pa liked telling stories, and this was one of the best in his repertoire. He'd always end with a burst of philosophizing," Harry writes, according to a leak obtained by Page Six. "Who knows if I'm really the Prince of Wales? Who knows if I'm even your real father?"
Harry continues, "He'd laugh and laugh, though it was a remarkably unfunny joke, given the rumor circulating just then that my actual father was one of Mummy's former lovers: Major James Hewitt. One cause of this rumor was Major Hewitt's flaming ginger hair, but another cause was sadism."
King Charles never spoke to him about the Hewitt rumors, Prince Harry writes, though the tabloids covered it constantly. Of the tabloids, he says, "Maybe it made them feel better about their lives that a young prince's life was laughable. Never mind that my mother didn't meet Major Hewitt until long after I was born."
6. Prince Harry says he killed 25 "enemy combatants" in Afghanistan
Prince Harry served in the army for a decade, which included two tours of Afghanistan. He writes of warfare: "Most soldiers can't tell you precisely how much death is on their ledger. In battle conditions, there's often a great deal of indiscriminate firing. But in the age of Apaches and laptops, everything I did in the course of two combat tours was recorded, time-stamped. I could always say precisely how many enemy combatants I'd killed. And I felt it vital never to shy away from that number. Among the many things I learned in the Army, accountability was near the top of the list. So, my number: Twenty-five."
He continues, "It wasn't a number that gave me any satisfaction. But neither was it a number that made me feel ashamed. Naturally, I'd have preferred not to have that number on my military CV, on my mind, but by the same token I'd have preferred to live in a world in which there was no Taliban, a world without war. Even for an occasional practitioner of magical thinking like me, however, some realities just can't be changed."
Apparently, both of Charles's sons were against him marrying Camilla.
"That's why when the question came, Willy and I promised our father that we would welcome Camilla to the family. The only thing we asked for in return was that he didn't marry her," Harry writes."'You don't need to get married again,' we asked him."
King Charles and Camilla married in April 2005. Yet, when the wedding happened, "We pumped his hand, wished him well. No hard feelings. We recognized that he was finally going to be with the woman he loved, the woman he'd always loved. Fate might've intended for him in the first place. Whatever bitterness or sorrow we felt over the closing of another loop in Mummy's story, we understood that it was besides the point."
8. Harry admits to taking cocaine at age 17
"Of course I had been taking cocaine at that time. At someone's house, during a hunting weekend, I was offered a line, and since then I had consumed some more," Harry recalls in Spare. "It wasn't very fun, and it didn't make me feel especially happy as seemed to happen to others, but it did make me feel different, and that was my main objective. To feel. To be different. I was a seventeen-year-old willing to try almost anything that would alter the pre-established order. At least, that's what I was trying to convince myself of."
He also writes about his use of psychedelics—including ayahuasca, psilocybin, and mushrooms—to cope with Diana's death. "For me, they cleared the windscreen, the windshield, the misery of loss," Harry told Anderson Cooper on 60 Minutes. "They cleared away this idea that I had in my head that… I needed to cry to prove to my mother that I missed her. When in fact, all she wanted was for me to be happy."
Throughout the book, too, he writes of his frequent weed habits. At one point, he writes, "I believe that was also the night I smoked an entire shopping bag of weed. I don't recommend it. Then again, it might have been another night. Hard to be precise when it comes to a shopping bag full of weed."
9. Harry finally confirms who set him and Meghan up: Violet von Westenholz
He recalls the first time he saw Meghan, which he shared in Netflix's Harry & Meghan. This time, however, he names the mutual friend: Violet von Westenholz, who worked for Ralph Lauren at the time.
"I was sitting around Nott Cott, scrolling through Instagram. In my feed I saw a video: My friend Violet. And a young woman. They were playing with a new app that put silly filters on your photos. Violet and the woman had dog ears, dog noses, long red dog tongues hanging out. Despite the canine cartoon overlay, I sat up straighter. This woman with Violet…my God. I watched the video several times, then forced myself to put down the phone."
He continues, "Then picked it up again, watched the video again. I'd traveled the world, from top to bottom, literally. I'd hopscotched the continents. I'd met hundreds of thousands of people, I'd crossed paths with a ludicrously large cross-section of the planet's seven billion residents. For thirty-two years I'd watched a conveyor-belt of faces pass by and only a handful ever made me look twice. This woman stopped the conveyor-belt. This woman smashed the conveyor-belt to bits. I'd never seen anyone so beautiful."
The rest, they say, is history.
As he was en route to Balmoral to be with the Queen and the rest of the royals, it was not his family who notified Prince Harry about the Queen's passing.
"When the plane started to descend I saw that my phone lit up. It was a message from Meg: 'Call me when you get this,'" Harry writes. "I looked at the BBC website. My grandmother had died. My father was King."
Prince Harry told Anderson Cooper on 60 Minutes that his stepmother Camilla was dangerous, "because of the need for her to rehabilitate her image." He continued, "That made her dangerous because of the connections that she was forging within the British press. And there was open willingness on both sides to trade of information. And with a family built on hierarchy, and with her, on the way to being Queen consort, there was gonna be people or bodies left in the street because of that."
Prince Harry writes in Spare, "I didn't relish losing a second parent, and I had complex feelings about gaining a stepparent, who I thought had recently sacrificed me on her personal PR altar." In Spare, he directly accuses Camilla of leaking stories. Harry writes, "Stories began to appear everywhere in all the papers about her private conversation with Willy, stories that contained pinpoint accurate details, none of which had come from Willy, of course. They could only have been leaked by the other one other person present."
12. Meghan offended Kate over "baby brain" comments
In the lead-up to Harry and Meghan's wedding, Harry reportedly writes, Meghan told Kate that she "must have baby brain because of her hormones," which deeply offended Kate. Apparently, Kate told Meghan "You talked about my hormones. We are not close enough for you to talk about my hormones!"
Elsewhere, Harry writes about how he perceived Kate's feelings about Meghan joining the British royal family. Kate, Harry writes in Spare, was "on edge," as she was now "going to be compared to, and forced to compete with, Meg."
13. He watched Meghan Markle's sex scenes on Suits
When they started dating, Harry writes, he made "the mistake of Googling and watching some of her love scenes online." He continues, "I'd witnessed her and a castmate mauling each other in some sort of office or conference room... It would take electric-shock therapy to get those images out of my head. I didn't need to see such things live."
In another Suits-related anecdote, Harry reveals after his and Meghan's relationship became public, the Palace tried to intervene in the scripts. He writes,"The show writers were frustrated, because they were often advised by the Palace comms team to change lines of dialogue, what her character would do, how she would act."
14. An essay in Huffington Post convinced Harry to put out a statement defending Meghan when they first started dating
"Even after I'd convinced him that we needed to do something, say something, anything, the Palace said no. Courtiers blocked us hard. Nothing can be done, they said. And therefore nothing will be done," Prince Harry writes. "I accepted this as final. Until I read an essay in the Huffington Post. The essayist said the mild reaction of Britons to this explosion of racism was to be expected, since they were the heirs of racist colonialists. But what was truly 'unforgivable,' she added, was my silence."
The essay was by Rachel Décoste, headlined "Meghan Markle Should Dump Prince Harry." In it, Décoste writes, "There's nothing like a black girlfriend to cause racism to rear up its ugly head. It isn't surprising that Brits would recoil at the hint of racial impurity infiltrating their blue bloodlines. Cultivating whiteness is, after all, their family business. What's unforgivable is Prince Harry's silence."
Soon after, Prince Harry released a statement condemning the attacks on Meghan.
15. Camilla suggested to Meghan that Harry should become Governor General of Bermuda
As Harry writes, "Camilla also suggested to Meg that I become Governor General of Bermuda, which would solve all our problems by removing us from the red-hot center of the maelstrom. Right, right, I thought, and one added bonus of that plan would be to get us out of the picture."
A historical parallel: After the Duke of Windsor, former King Edward VIII, married Wallis Simpson, Edward was made Governor of the Bahamas.
16. Charles and Camilla wanted Kate to change the spelling of her name
As Harry recalls in Spare,"He and Camilla wanted Kate to change the spelling of her name, because there were already two royal cyphers with a C and a crown above: Charles and Camilla. It would be too confusing to have another. Make it Katherine with a K, they suggested. I wondered now what came of that suggestion."
17. Harry has felt "helpless" just four times in his life
He recounts them: "In the back of the car while Mummy and Willy and I were being chased by paps. In the Apache above Afghanistan, unable to get clearance to do my duty. At Nott Cott when my pregnant wife was planning to take her life. And now." The now refers to when Meghan miscarried.
18. He found out Prince William and Kate were to be married from the news
Following a trip to Lesotho in 2010, the brothers returned to the UK—and Harry found out his brother's engagement from the press.
"Soon after we returned to Britain the Palace announced that Willy was going to marry. November 2010. News to me. All that time together in Lesotho, he'd never mentioned it," he writes. "The papers published florid stories about the moment I realized Willy and Kate were well matched, the moment I appreciated the depth of their love and thus decided to gift Willy the ring I'd inherited from Mummy, the legendary sapphire, a tender moment between brothers, a bonding moment for all three of us, and absolute rubbish: none of it ever happened. I never gave Willy that ring because it wasn't mine to give. He already had it. He'd asked for it after Mummy died, and I'd been more than happy to let it go."