'That didn't go as planned': Fox News accidentally booked a Mass. Democrat and got an earful about Trump

The Boston Globe
7/23/2018
Video by Washington Post
Whoops.
In an apparent mix-up early Monday morning, a Democratic Massachusetts state senator, Barbara L'Italien appeared via satellite during a segment on "Fox and Friends First" in place of the hosts' intended guest, Ann Kirkpatrick — a Democratic congressional candidate from Arizona who they believed would speak in favor of ICE's policies.
In the segment, L'Italien was on a split screen with hosts Jillian Mele and Rob Schmitt, who were under the impression they were speaking with Kirkpatrick.
Schmitt and Mele kicked off the conversation on live television by asking L'Italien — again, who they believed was Kirkpatrick — "why you do support ICE."
But rather than getting the response the hosts had hoped for, they got a message from L'Italien that was aimed at President Trump.
"Good morning, I'm actually hear to speak directly to Donald Trump. I feel that what's happening at the border is wrong," said L'Italien, who is running for the Third Congressional District seat in the US House of Representatives. "I believe that separating kids from their parents is illegal and inhumane."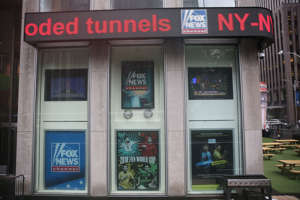 L'Italien went on to identify herself, so the hosts knew they weren't actually speaking to Kirkpatrick, before continuing her message.
"I keep thinking about what we are putting parents through, imagining how terrifying that must be for those families, imagining how it would feel not knowing if I'd ever see my kids again," L'Italien said, referencing Trump's controversial move to separate immigrant children from their families at the southern border. "We have to stop abducting children and ripping them from their parents' arms, stop putting kids in cages, and stop making 3-year-olds defend themselves in court."
As L'Italien continued to talk, she was interrupted by the two hosts, who seemed to still think they were speaking to Kirkpatrick.
"OK, but that practice has stopped at this point, Miss Kirkpatrick," Schmitt claimed, a look of confusion on his face. "Right?"
Mele added, "Kids have been reunited with their families."
L'Italien identified herself a second time, while speaking over the hosts, before Schmitt asked, "Who is this? Who is this?"
Amid the confusion, L'Italien got cut off and disappeared from the screen.
"That didn't go as planned," Schmitt said.
"That's what happens sometimes," Mele chimed in. "Time for a break?"
Following the botched segment, Schmitt sarcastically tweeted that it was a "fun morning," and claimed L'Italien "hijacked" the show with a "publicity stunt." The tweet included a side-by-side picture of Kirkpatrick and L'Italien.
Mele, for her part, called it "One heck of a Morning so far," and said L'Italien using her unintended time on live television was "kind of a weak move."
Representatives from Fox did not immediately return a request for comment about what went wrong.
According to L'Italien's campaign, however, the mix-up came after a Fox News representative mistakenly called one of L'Italien's aides on Sunday, seeking to set up an interview with Kirkpatrick.
L'Italien's aide never corrected Fox News representatives to let them know they had called the wrong person and booked the time slot anyway, the statement said.
"Fox News is where you go when you want to talk to Donald Trump, and Barbara felt she had an obligation to her constituents to take advantage of that opportunity," her campaign said Monday. "This would not have happened to an actual news station. Fox's lack of attention to the facts normally is a disaster for the country, it just so happened that today it was embarrassing for them."
L'Italien is running to fill the seat of retiring Representative Niki Tsongas in the Third District, which encompasses 37 cities and towns northwest of Boston, including Lawrence, Lowell and Fitchburg.
Not long after her appearance on Fox News, L'Italien put out a statement of what she would have said on television "if I hadn't been cut off," she said.
In a follow-up tweet, as the segment continued to make the rounds online, Schmitt said L'Italien "lied" to get on the show, and that the station's "legal team is on it."
Fun morning. We expected democrat Anne Kirkpatrick (left) but got hijacked by Democrat @teambarbara w/ a publicity stunt pic.twitter.com/s5bZ2HOrcz

— Rob Schmitt (@SchmittNYC) July 23, 2018
I was stuck in an elevator before work then I get to work and this happens. One heck of a Morning so far. By the way, kind of a weak move to do this on live TV. https://t.co/53YLozNChP

— Jillian Mele (@jillianmele) July 23, 2018