2022 Indiana election results: Here's who won Indiana's 9 US House seats
Indianapolis Star
11/9/2022
Indiana Republicans kept their current seven U.S. House District seats Tuesday but fell short in their push to pick up an eighth.
That means Hoosiers will continue to have two Democratic representatives in Washington.
2022 Indiana election resultsGet the latest results here as they come in
Start the day smarter. Get all the news you need in your inbox each morning.
Here's who voters chose to represent them in Congress for the next two years:
Green concedes in 1st District
In a nationally watched race, Democratic U.S. Rep. Frank J. Mrvan defeated Republican challenger Jennifer-Ruth Green.
As of Wednesday morning, Mrvan secured 53% of the vote to 47% with 96% of precincts reporting in northwest Indiana, and Green conceded.
The race had been viewed by political experts as a tossup after more than 90 years in Democratic hands — Green's campaign bolstered by solid fundraising and changing demographics in northwest Indiana.
Yakym wins special, general elections in 2nd District
In the 2nd Congressional District, Republican Rudy Yakym won two elections Tuesday for a seat formerly held by Jackie Walorski, who was killed in a car crash in August.
The Associated Press declared Yakym the winner over Democrat Paul Steury both to finish out Walorski's unexpired term and to serve a full two-year term in January.
More:Two vying for late Jackie Walorski's seat spar over abortion, gun ownership in debate
As of 11 p.m., Yakym won 65% to 32%, with 99% of the precincts reporting, in the race for a full, two-year term. Libertarian candidate William Henry picked up 3% of the vote.
More:Curtis Hill among at least 5 running for Rep. Walorski's former congressional seat
Banks wins 3rd District, a favorite for whip
Incumbent Republican U.S. Rep. Jim Banks defeated Democrat Gary Snyder in the 3rd Congressional District race, AP declared Tuesday night. Banks is a favorite for majority whip if Republicans win control of the House.
Banks won 66% of the vote at 11 p.m. with 80% of precincts reporting. Snyder had 30% and independent candidate Nathan Gotsch had 5%.
Indiana Republican Party Chairman Kyle Hupfer congratulated Banks on his victory.
"Jim is a champion for Hoosiers in the Third Congressional District and a conservative fighter who will continue to hold the Biden administration accountable for its extreme liberal agenda," Hupfer said in a statement.
Rep. Jim Banks and his communications director, Buckley Carlson, were pulled into a controversy with Minnesota Rep. Tom Emmer recently, building drama in the majority whip race.
Tucker Carlson, Buckley's father, called Emmer following a Daily Beast article where a GOP strategist supposedly tied to Emmer brought up Buckley as an example of Banks' faulty MAGA support, Axios reported last month.
"Deep down, he dies to be liked by the Establishment. He hires Tucker Carlson's son, a 24-year-old kid, to be his communications director," the anonymous strategist told the Daily Beast.
More:Tucker Carlson's son works for Indiana Rep. Jim Banks. GOP whip race makes it a hot topic
Baird wins reelection for 4th District seat
U.S. Rep. Jim Baird won reelection for his 4th District seat, AP said Tuesday.
Baird fended off Democrat Roger Day, leading 68% to 32% with 76% of precincts reporting as of 11 p.m.
The seat, which Baird also won in 2018, was previously held by Indiana Attorney General Todd Rokita.
Spartz wins second term in 5th District
In Indiana's 5th District, U.S. Rep. Victoria Spartz held off Democrat Jeannine Lee Lake to win a second term.
As of 11 p.m., Spartz led 60% to 40% with 72% of precincts reporting.
Spartz, a former state senator, is weighing a run for U.S. Senate in 2024, but this election came first, she told IndyStar. In 2020, Spartz narrowly won her seat in a race that saw millions of dollars from outside groups.
Lee Lake, a longtime Muncie resident, previously lost to U.S. Rep. Greg Pence in 2018 and 2020 when Delaware County was in the 6th Congressional District.
Following redistricting in 2021, Marion County was cut out of the 5th District in favor of gaining Delaware County and most of Howard County.
More:In gerrymandered 5th District, Jeannine Lee Lake thinks she has chance vs. Victoria Spartz
Pence earns reelection in 6th District
Incumbent U.S. Rep. Greg Pence, a Republican and brother to former Vice President Mike Pence, beat out Democrat Cinde Wirth to keep his 6th District seat, AP announced Tuesday.
As of 11 p.m., Pence had 68% of the vote with 83% of precincts reporting.
Rep. Pence was first voted into his seat in 2016.
More:Rep. Greg Pence criticizes student loan plan after having nearly $80K PPP loan forgiven
Carson wins another term in 7th District
U.S. Rep. André Carson will serve his eighth term in the 7th District after defeating Carmel resident and Republican Angela Grabovsky, AP announced.
As of 11 p.m., Carson led 66% to 32% with 95% of precincts reporting.
Democrat Carson has held the seat since 2008.
More:Will André Carson win his 8th term? This GOP newcomer hopes to unseat him.
Bucshon wins in 8th District
Incumbent Republican Larry Bucshon won reelection in the 8th District with 66% of the vote Tuesday, AP declared.
His Democrat challenger Ray McCormick had 28% with 64% of precincts reporting at 11 p.m.. Libertarian candidate Andrew Horning nabbed 5% of the vote.
Houchin takes 9th District
Republican Erin Houchin took the 9th District seat vacated by U.S. Rep. Trey Hollingsworth, a Republican who did not seek reelection, AP called Tuesday night. Houchin defeated Democrat Matthew Fyfe.
As of 11 p.m., Houchin won 65% to 33% with 73% of precincts reporting. Libertarian candidate Tonya Millis has 3% of the vote.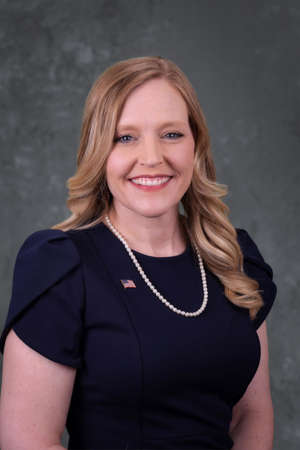 Houchin, a former Indiana state senator, previously ran for the seat in the 2016 Republican primary, when she was defeated by Hollingsworth.
More:9th District candidates loan their campaigns at least $100,000 amid tight primary race
Rachel Fradette is a general assignment reporter at IndyStar. Contact her at rfradette@indystar.com or follow her on Twitter at @Rachel_Fradette.
This article originally appeared on Indianapolis Star: 2022 Indiana election results: Here's who won Indiana's 9 US House seats