Brett Kavanaugh to Be Sworn In as a Supreme Court Justice Today

Bloomberg
10/6/2018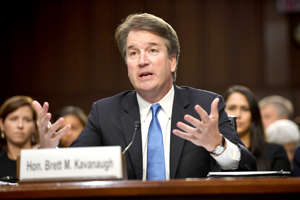 (Bloomberg) -- Brett Kavanaugh will be sworn in as associate justice of the Supreme Court later today, according to a statement from the high court, after the U.S. Senate confirmed President Donald Trump's nominee to replace the retired Justice Anthony Kennedy.
Chief Justice John Roberts will administer the constitutional oath, and Kennedy will administer the judicial oath in what the court says will be a private ceremony. That will let Kavanaugh begin work immediately and start hearing cases this week.
To contact the reporter on this story: Catherine Dodge in New York at cdodge1@bloomberg.net
To contact the editors responsible for this story: Derek Wallbank at dwallbank@bloomberg.net, Catherine Dodge
©2018 Bloomberg L.P.