Bush attorney general on Trump DOJ report: 'You don't go after your political rivals'

The Hill
11/21/2018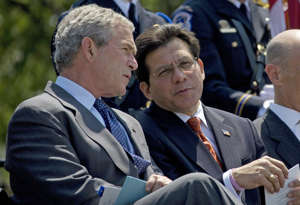 Former Attorney General Alberto Gonzales on Wednesday said presidents should be wary of prosecuting political rivals, responding to a New York Times report that President Trump wanted to
order the Department of Justice
to prosecute his 2016 presidential opponent
Hillary Clinton
and former FBI Director
James Comey.
Gonzales warned that even if opponents do something that are criminal in nature, you have to pursue investigations "very carefully."
"Obviously political rivals sometimes do things that are criminal in nature and when that occurs, then obviously there should be an investigation and prosecution," Gonzales said on CNN's "New Day." "But even then you do so very, very carefully, because of possible allegations that you're going after your political rivals for no reason whatsoever."
"We live in a democracy, and you don't go after your political rivals," says former US Attorney General Alberto Gonzales, explaining why Trump's demands for the DOJ to prosecute his rivals is wrong https://t.co/kZTzh0c77X pic.twitter.com/mNEBaHGVLk

- New Day (@NewDay) November 21, 2018
Gonzales, who served under former President George W. Bush, said it is the White House counsel's job to suss out whether the president has a genuine concern about "wrongdoing."
Trump this past spring reportedly told then-White House counsel Don McGahn of his desire to prosecute the pair, which McGahn said would spark allegations of abuse of power.
The president continues to privately discuss the possibility of prosecuting Clinton and Comey, the Times reported, citing two people who have spoken to Trump about the matter.
McGahn's legal counsel, William Burck, told the Times that McGahn "will not comment on his legal advice to the president." He also pointed out that Trump never actually ordered anyone to prosecute Comey or Clinton.
"Like any client, the president is entitled to confidentiality," Burck said. "Mr. McGahn would point out, though, that the president never, to his knowledge, ordered that anyone prosecute Hillary Clinton or James Comey."
Gonzales added in his CNN appearance that in the Bush White House, the attorneys would have worked to prevent "the president from having those kinds of conversations with the prosecutors."