Bush calls on Trump, Democrats to 'put politics aside' and end the shutdown

Washington Examiner
1/18/2019
Former President George W. Bush on Friday called on President Trump and congressional leaders to "put politics aside" and end the partial government shutdown, which is about to enter its fifth week.
"Laura W. Bush and I are grateful to our Secret Service personnel and the thousands of Federal employees who are working hard for our country without a paycheck," Bush said in a social media post showing him delivering pizza to federal workers. "And we thank our fellow citizens who are supporting them."
"It's time for leaders on both sides to put politics aside, come together, and end this shutdown," he added.
As of Friday, there was no sign the shutdown was about to end. Trump canceled a congressional overseas trip that House Speaker Nancy Pelosi, D-Calif., and other House members were scheduled for over the next week. That trip included stops in Brussels and Afghanistan.
Trump's move came shortly after Pelosi called for a delay in the president's State of the Union address, which is slated for Jan. 29, due to security concerns as the Secret Service and Department of Homeland Security are unfunded due to the shutdown. Republicans rejected Pelosi's move as a political stunt and said the Secret Service was able to handle the event.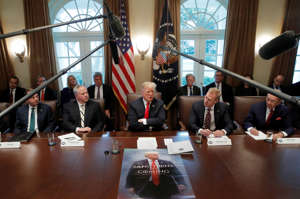 Slideshow by photo services