Can Donald Trump Be President Now That He's Been Indicted? Your Burning Questions Answered
Criminal charges against a former president are unprecedented — but they may not affect Trump's 2024 campaign as much as one might expect
With Donald Trump facing 30 criminal counts in Manhattan, many are left wondering how the charges and any ensuing trial will impact his political aspirations.
Trump, 76, finds himself in an unusual place, after a Manhattan grand jury made a historic vote Thursday to indict the former president over an alleged hush money payment he made to adult film star Stormy Daniels in 2016. What complicates the situation is not just that he was once the U.S. commander-in-chief, but that he's actively campaigning for another term in the White House.
Dr. Trey Hood III, a political science professor at the University of Georgia, explains to PEOPLE the implications of an indictment against Trump as the 2024 presidential race heats up.
Can Trump still be president?
Hood says an indictment of a former president is unprecedented — but it doesn't prevent Trump from running, or winning, a campaign for the presidency.
"Legally speaking, and certainly even if he were convicted of this incident in New York City, it wouldn't prevent him from running for president," Hood says.
That's because constitutionally, the only restrictions on presidential eligibility are that a candidate must be at least 35 years old, a natural born citizen of the United States, and a resident of the U.S. for at least 14 years.
Related:Will Donald Trump Be Arrested? Everything to Know About His Indictment in Stormy Daniels Case
And while there's little to no precedent for former presidents being indicted or arrested, there is some for future presidents.
George W. Bush, for instance, was arrested of drunk driving in 1976, and later went on to serve two terms as president.
"The bottom line is that [an indictment] is not going to keep [Trump] legally from running for president and potentially from being elected," Hood adds.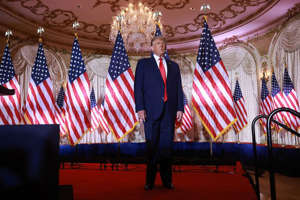 If Trump wins the presidency in 2024, can he still be put on trial?
This is a question without a clear answer — largely because it's so unprecedented.
The Constitution does not outline whether a president can face criminal prosecution in court, and it's a question event the U.S. Supreme Court has not addressed (at least, not yet).
But the U.S. Justice Department has a decades-old policy (adopted during the Nixon years and reaffirmed in 2000) that stipulates a sitting president is "constitutionally immune" from indictment and criminal prosecution.
That means any trials or convictions could potentially be put on pause if Trump were to be elected president again — though that could change if the Department of Justice issued a new memo, or if the issue wound up working its way through the courts.
"To my understanding, I don't think anything would proceed if he were to be elected president," Hood says.
How does an indictment impact Trump, politically?
This is the question at the top-of-mind for Hood, who tells PEOPLE: "This is more of a political issue than a legal one, in terms of his presidential bid. Trump has this core base of support and being indicted might actually galvanize the base even more."
As Hood notes, Trump has long run his campaigns on a theme of persecution — of being an outsider, or of being the underdog in a David vs. Goliath-style fight. Trump's base, says Hood, may view the indictment "as a witch hunt against the former president."
Even before the grand jury indicted Trump, he attempted to use the possibility of being charged to his advantage, urging his supporters to "protest" in the event of an indictment, and blasting the Manhattan DA's investigation as a "witch hunt."
Related:Donald Trump Says He Expects to Be Arrested on Tuesday After Reports Say Indictment Is Imminent
Of course, there's a flip side.
"Some people who never were in the Trump camp or who turned away from him in the last election" likely won't be fired up to vote for him due to an indictment. In fact, it will likely turn off the anti-Trump crowd even more — which could open the door for another candidate.
"Even without these legal issues, there's an interesting question within the [Republican] party — does Trump still have a big enough base of support or will someone like DeSantis really challenge it?" Hood says.
In the 2016 election, Hood notes, Trump benefited from running against many other candidates in the Republican primary. With votes fractured across so many candidates that year, Trump came out on top. But if the Republican Party can unify behind one candidate to face Trump in 2024, he could suffer electorally.
Related:Donald Trump Reportedly Thinks Ron DeSantis Is 'Stealing' His Speaking Style and Mannerisms
Of course, unification may mean a Republican will need to criticize Trump — and potentially to his face, in a debate — something many have failed to do in previous elections. "From a strategic standpoint, someone is going to have to stand up to Trump at some point otherwise they're going to get run over," Hood notes.
The ongoing legal issues could also prove to be something of a distraction for Trump while he embarks on another time-consuming presidential campaign.
Hood says the indictment is something Trump can't ignore. "So [he'll] have to spend a certain amount of his time and resources on the case, get a legal team together ... certainly, it would be somewhat of a diversion from a campaign."
What about the other ongoing investigations into Trump?
In addition to the hush-money case in New York, Trump is the subject of other investigations, including a criminal investigation in Fulton County, Ga., into whether Trump attempted to persuade elections officials to overturn the state's results in the 2020 election.
Trump is also under investigation by the Department of Justice for his handling of some classified documents (which he allegedly took to his Palm Beach home after leaving the White House).
In those cases, there are federal statutes that could come into play, such as one that says those "willfully" conceal or destroy documents while in public office can be barred from holding office. Still, many experts believe such statutes wouldn't hold up to an appeal and likely would not impact Trump's bid for the presidency.
Never miss a story — sign up for PEOPLE's free daily newsletter to stay up-to-date on the best of what PEOPLE has to offer.
According to Hood, "the Fulton County case could be a potentially bigger deal than what's going on with New York City."
But the bottom line? "We don't know what's going to happen."
For more People news, make sure to sign up for our newsletter!
Read the original article on People.