Commander who oversaw bin Laden raid: It'd be 'an honor' for Trump to revoke my clearance

The Hill
8/16/2018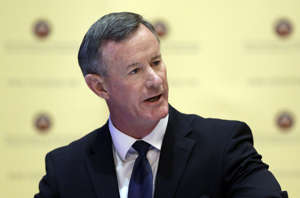 © Associated Press FILE - In this Aug. 21, 2014, file photo, U.S. Navy Adm. William McRaven, the next chancellor of the University of Texas System, addresses the Texas Board of Regents, in Austin, Texas. McRaven is running into political problems in his role as chancellor of the University of Texas System. The retired Navy admiral who planned the raid that killed Osama Bin Laden faces an uncertain future as chancellor, as his three-year contract expires at the end of 2017. After multiple clashes with lawmakers and a new makeup of the Board of Regents he works for, it's an open question as to whether he'll be back. (AP Photo/Eric Gay, File) The admiral who oversaw the 2011 Navy SEAL raid that killed al Qaeda leader Osama bin Laden said Thursday he'd consider it "an honor" for President Trump to revoke his security clearance in a show of solidarity with former CIA Director John Brennan.
"[Brennan] is a man of unparalleled integrity, whose honesty and character have never been in question, except by those who don't know him," retired Navy Adm. William McRaven wrote in an op-ed for The Washington Post.
"Therefore, I would consider it an honor if you would revoke my security clearance as well, so I can add my name to the list of men and women who have spoken up against your presidency," he wrote.
The comments from McRaven come a day after White House press secretary Sarah Huckabee Sanders announced that Trump had stripped the security clearance from Brennan, a former Obama administration official who has been a vocal critic of Trump.
In addition, Sanders said that the White House was reviewing access to classified information for several other former government officials who have been critical of Trump, including former FBI Director James Comey, former National Security Agency Director Michael Hayden and former Deputy Attorney General Sally Yates, among others.
Many seized on this development as a sign that Trump was targeting figures who have frequently criticized him. Trump told The Wall Street Journal on Wednesday that he drew a direct connection between special counsel Robert Mueller's probe and his decision to revoke Brennan's security clearance.
McRaven called out the actions in his op-ed as "McCarthy-era tactics" intended to "suppress the voices of criticism." But he added that "criticism will continue until you become the leader we prayed you'd be."
Brennan has been especially critical of the president during his time in office and responded on Wednesday to his security clearance being stripped by saying his "principles are worth far more than clearances" and that he would "not relent."
McRaven has also not shied away from criticizing the president. In February, he said that Trump calling the media the "enemy of the people" may be the greatest threat to democracy in his lifetime.