Congress turns to school safety as students protest inaction on gun violence

USA TODAY
3/14/2018
Video by CBS Miami
WASHINGTON — Congress turns to school safety Wednesday as students from more than 2,800 schools stage National School Walkout events, calling on lawmakers to do more to address gun violence.
Marking Congress's first legislative response to the Florida mass shooting last month, the House will take up a bill that would fund training for students, school personnel and law enforcement to detect early signs of violence. It would also fund threat assessments and "anonymous reporting systems" such as phone apps, hotlines and websites for threats of school violence .
Also on Wednesday, the Senate Judiciary Committee is focusing on the government's response to the Valentine's Day shooting in Parkland, Fla., and discussing legislative proposals to improve school safety. Witnesses include members of law enforcement agencies, a Parkland teacher and the father of a shooting victim, according to the committee.
"This Congress cannot continue to do nothing because nothing means more lives lost, including the youngest and most vulnerable among us," said Sen. Dianne Feinstein, of California, the committee's ranking Democrat. "High school students who have lost their friends are literally begging us to take action."
Senate Judiciary Committee Chairman Chuck Grassley, R-Iowa, said Congress must rally around  "consensus, evidenced-based solutions" to protect young people from violent attacks.
"I worry that political opportunists will seek to interject their extreme agendas into this debate," Grassley said. "That might be good for party politics and fundraising for the midterms, but it is not good for America."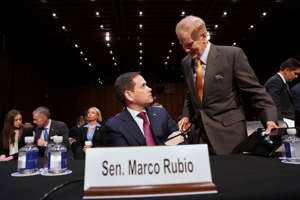 Gun-control advocates say they expect more from Congress than additional school security. They are calling for an expansion of background checks, a ban on "assault weapons" and high-capacity magazines, and other measures.
"We want to make sure that we're focusing on the issue of guns and gun reform," said Madison Thomas, 20, a Georgetown University student who is one of the Walkout organizers.
On Capitol Hill: Parkland family members call on Congress to pass school safety bill
The White House: After NRA meeting, Trump appears to soften gun control stance
Florida: What you need to know about the FBI tip line that failed
The student walkouts, organized by the youth empowerment arm of the Women's March, fall on the one-month anniversary of the Florida mass shooting that killed 17 at Marjory Stoneman Douglas High School.
Hundreds of students rallied outside the White House, calling out President Trump and the National Rifle Association with signs and chants.
Children as young as 11 years old stood outside in the 30-degree weather chanting, "No more silence. End gun violence!"
The students from at least 28 schools also planned to rally outside the U.S. Capitol with several Democratic members of Congress.
At the Senate hearing, Democrats focused on the need for gun-control while Republicans called for more modest measures, including school safety legislation and improved reporting to the federal background check system, all while lambasted government agencies for a failed response in Parkland.
"There was a catastrophic failure at every single level which made this shooting possible and we have to find a way to plug those holes," said Sen. John Cornyn, R-Texas.
The Federal Bureau of Investigations has acknowledged it failed to act on a tips about the shooter's "desire to kill people...and the potential of him conducting a school shooting."
"We made mistakes here, no question about that," said David Bowdich, the FBI's deputy director. "That said, even had we done everything right, I'm not sure we could have stopped this act. But it sure would have been nice to try."
As deep divisions persist on gun-control legislation, the less-controversial school safety legislation has bipartisan support in both the House and Senate.
Senate Majority Leader Mitch McConnell, R-Ky. said on Tuesday he is "anxious" to pass significant school safety legislation and another measure by Cornyn called "Fix NICs" to improve reporting to the National Instant Criminal Background Check System.
But it's unclear whether senators will get to the bills before they start a two-week recess on March 26 because other measures may consume Senate floor time. Also, Sen. Mike Lee, R-Utah, is blocking expedited consideration of "Fix NICS," concerned it could encroach on gun rights without providing due process protections.
Outside the White House, the students honored the 17 who died in Parkland with 17 minutes of silence, some wiping tears from their eyes.
Sam Blank and Aliaberry-Drobnich, both 14, said they skipped their 9th-grade classes Wednesday because what happened in Parkland made them afraid to go to school.
"People always say kids are the future," Blank said. "I want to be part of the future but I have to be alive to do that."
Drobnich said while legislative efforts to improve school safety were good steps, it wasn't enough. 
"It's not just schools that are targets. Everyone knows that," she said. "You have to get to the root of the problem and that's gun laws."
Contributing: Christal Hayes