Senate agrees on last-ditch talks to try to avoid shutdown

The Hill
12/21/2018
Video by Reuters
Senators agreed to advance a House-passed government funding bill on Friday evening as part of a last-ditch effort to make room for negotiations about how to prevent a partial shutdown that is scheduled to start at midnight.

Senators say they agreed to take up the House bill not because they have a deal on how to avert a partial shutdown but to allow talks to continue in good faith.
The Senate will not vote again on a funding bill unless it's on a bill that Democrats and the White House can agree on, senators said.
"The Senate has voted to proceed to legislation before us in order, in order to preserve maximum flexibility for productive conversations to continue between the White House and our Democratic colleagues," Senate Majority Leader Mitch McConnell (R-Ky.) said from the Senate floor.
The decision came after a vote on taking up the House bill, which includes $5.7 billion for the border, was held open for hours as senators scrambled to reach a deal moving forward.
But the agreement to take up the House bill doesn't guarantee senators will be able to craft a deal by the midnight deadline.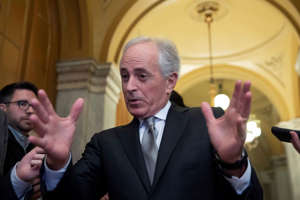 Senate Minority Leader Charles Schumer (D-N.Y.) added that the struggle for Senate Republicans to take up the House bill makes it "clear" that President Trump's U.S.-Mexico border wall can't get 60 votes, or even a simple majority, in the Senate.
But he added that he was willing to keep talking about how to fund approximately 25 percent of the government, including the Department of Homeland Security.
"We are willing to continue discussions on those proposals with the leader, the president, the speaker of the House and the Democratic leader of the House. All five are necessary to get something done," Schumer said.
McConnell and Schumer's announcement came after the chamber voted 50-50 to take up the stopgap bill, which passed the House on Thursday night. Vice President Pence broke the tie in the Senate.
The House bill will still need to overcome a 60-vote filibuster if it is to be able to clear the Senate and Democrats have said they will not support the seven-week continuing resolution (CR) with funding for the border wall.
Where the Senate goes next is unclear, with neither Schumer nor McConnell offering a path to how they get to an actual agreement or if they can reach one on Friday night.
But senators are newly optimistic about the path forward after hopes of a deal rose late on Friday afternoon when Schumer met with Pence, incoming White House chief of staff Mick Mulvaney and Trump's son-in-law and adviser Jared Kushner.
Sen. John Cornyn (R-Texas) said he was "feeling better" about the chances of avoiding a partial shutdown after the Senate Democratic leader met with the trio of administration officials.
"I'm so happy about," Cornyn said, adding that senators are thinking "positive thoughts."
Sen. Bob Corker (R-Tenn.)—who has spent hours shuttling between Schumer, McConnell and the broader Democratic and Republican caucuses—separately told reporters that the two Senate leaders were expected to shortly announce a path forward from the Senate floor.
The deal, according to Corker, related only to the Senate's procedure for handling the House-passed CR, but he was hopeful that it "gives us the best chance of actually coming to a solution" that would avoid a partial shutdown.
Pence, Kushner and Mulvaney also traveled to the House side of the Capitol where they headed into House Speaker Paul Ryan's office. Reps. Mark Meadows (R-N.C.) and Jim Jordan (R-Ohio), who called for Republicans to reject the Senate's seven-week bill, were also spotted heading into Ryan's office.