Democratic anger could spell victory in Wisconsin: 'They hate Scott Walker'

Washington Examiner
11/5/2018
MILWAUKEE — Wisconsin Gov. Scott Walker is in the fight of his life after three statewide victories that made him a Republican hero and at one point a favorite for the White House.
He's vying for a third term leading a state that President Trump won by less than 1 percentage point in 2016, after winning two terms and beating back a Democratic recall effort. Walker has been a top target for Democrats and labor unions for years, especially after his reforms to public sector collective bargaining, but discontent with Trump may have created the conditions necessary to finally take him out. Just two years ago, Trump was the first Republican presidential candidate to win Wisconsin since Ronald Reagan in 1984.
Polls show this year's gubernatorial race as a toss-up between Walker and his Democratic challenger Tony Evers, with two recent polls showing a tie, one a 1-point lead for Walker and three with more comfortable leads for Evers.
Both candidates have campaigned with big names in the last two weeks in an effort to turn out voters in their favor on Tuesday. Walker will need the Republican base who went big for Trump in 2016 to turn out Tuesday if he's to win the state that was a shock capture for the GOP in 2016.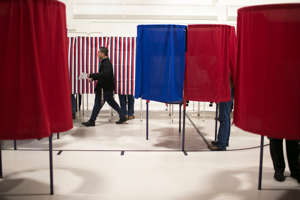 Photo gallery by photo services
Trump's visit on Oct. 24 to Mosinee, a central Wisconsin city with a population around 4,000, was the "perfect visit" for Walker because "it's in the heart of Trump land," Wisconsin-based GOP strategist Brandon Scholz told the Washington Examiner.
"Walker needs every single vote he can get to win. He needs every single Republican voter to turn out. He cannot have a subpar performance," Scholz said.
Scholz questioned why Democrats had former President Barack Obama, former Vice President Joe Biden, and Sen. Bernie Sanders, I-Vt., campaigning in Democratic strongholds such as Madison and Milwaukee.
"Independents are going to decide this race," he said. "I'm not getting why the big-gun Democrats didn't go after independent votes outside Milwaukee and Madison. … The Democrats in this state are mostly angry. They hate Scott Walker. I'm taking these big-gun visits as base drivers, but they're not there to move what I consider the electorate that's going to decide this race."
To sway independent voters to support him, Walker told the Washington Examiner he's preaching about how he turned the state around from the economic "mess" he inherited almost a decade ago.
"[We're] reminding people how bad things were years ago, how we turned things around," he said.
The last time Wisconsin had a Democrat leading the state was 2003 to 2011, when Jim Doyle was governor. The state unemployment rate was 8 percent in 2011 when Doyle left office, according to Bureau of Labor Statistics. Data from the bureau shows the jobless rate consistently dropping during Walker's two terms. In September, Wisconsin had a 3 percent unemployment rate.
Despite low unemployment, Evers argues, families are still struggling. Evers has said he supports a $15-an-hour minimum wage, which would more than double the minimum wage from $7.25 an hour, and wants the state to avoid giving tax breaks to foreign corporations.
Fox Point resident Ekene Onuogo, who attended Walker's campaign event in Glendale on Sunday, said he moved to Wisconsin because of its economy. At the event, Walker held up a "Sorry, we're closed" sign, claiming the unemployment rates would jump if Evers defeats him.
Kris Casey, of Manitowoc, cited lower taxes and less regulation as some of the reasons she'd be supporting Walker on Tuesday.
If the gubernatorial election were only about the state's economy, it might be enough to propel Walker to a third term, but few Wisconsin residents said it was the motivator behind their vote. Most wanted to talk about education and healthcare, regardless of who they'd be voting for.
Walker has been on the defensive amid a barrage of attacks from Democrats, who say he won't protect health insurance coverage for people with pre-existing conditions. Walker has responded by calling it one of the biggest lies of the campaign.
Democratic attack ads have focused on Walker's support of a lawsuit to overturn the Affordable Care Act and roll back spending on social programs. Walker also refused to accept money from the federal government to expand Medicaid.
"Scott Walker took money away from healthcare," Sandy Harris, of Bayside, said.
Onuogo said he believes Walker will make sure people with pre-existing conditions are covered — "I'm a pre-existing condition," he said — because the governor has several immediate family members who have been affected by cancer, diabetes and other health problems that qualify as pre-existing conditions.
Education is another motivator in this year's election.
Walker has labeled himself the "education governor" and insists his decision to take on teachers unions has made schools better. He also paved the way for an expansion in school choice, which allows parents to use taxpayer-funded vouchers to send their children to private schools.
Evers, who leads the state agency that oversees public and private schools, said he would seek to phase out the taxpayer funded vouchers. The plan, which is backed by teachers unions and public school advocates, is unlikely to succeed, however, with Republicans in control of the state legislature.
Rebekah Morin, of Wauwatosa, said she "appreciates" Walker's stance on education because he gives choices to parents through the voucher program.
"His reforms in education have allowed school districts to have the option if an educator is not performing, they are not bound to keep that educator on," she said.
Scholz, the Republican strategist, said ultimately there are "so many elements" that will determine how the race will be decided. He said the Republican messaging about the economy is not "certainly not moving independents like it would have in the past" and it's difficult for any governor to achieve a third term.