Democrats have obtained 'tens of thousands' of documents from Trump associates, entities in sweeping House probe

New York Daily News
3/19/2019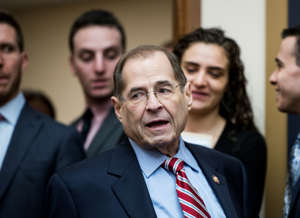 © Bill Clark/CQ Roll Call The House Judiciary Committee, led by Rep. Jerry Nadler, launched a sweeping investigation into Trump world. Trump associates have turned over "tens of thousands" of documents to lawmakers probing alleged corruption and abuses of power by the President and his administration, House Judiciary Chairman Jerry Nadler announced Monday evening.
Nadler, whose panel launched a sweeping investigation into Trump world earlier this month, said "a large number" of the 81 people, federal agencies and business entities he demanded documents from on March 4 have complied and forked over records.
"Those documents already number in the tens of thousands," Nadler (D-N.Y.) said in a statement.
The New York congressman noted that, while he was "encouraged" by the responses he has received, his staff remains in contact with some who have asked for subpoenas "before they are comfortable supplying the information requested."
"It is my hope that we will receive cooperation from the remainder of the list, and will be working to find an appropriate accommodation with any individual who may be reluctant to cooperate," Nadler said.
Nadler did not specify who has and hasn't complied with his requests.
Among the 81 people that Nadler demanded documents from in his multi-faceted inquiry were members of Trump's own family, including sons Eric and Donald Trump Jr. and son-in-law Jared Kushner.
Other high-profile names included on the list are ex-Trump campaign chairman Paul Manafort, longtime Trump confidant Roger Stone and ex-Trump attorney Michael Cohen — all of whom have been indicted in special counsel Robert Mueller's investigation into Russian election interference.
Michael Caputo, a former Trump campaign communications official, was among the people contacted by Nadler.
In a response letter provided to the Daily News, Caputo told Nadler he did not have any of the requested documents, such as communications about the infamous June 2016 Trump Tower meeting, which was attended by a Russian lawyer who had promised dirt on Hillary Clinton.
Caputo also stressed to Nadler he had already testified three times under oath — once to Mueller's investigators and twice before congressional committees.
"I have not yet been invited to testify a fourth time," Caputo told The News in a text message late Monday. "If I am, I will decline. If I am subpoenaed, I will assert my Fifth Amendment rights. Enough is enough."