Elizabeth Warren makes presidential campaign official

The Boston Globe
2/9/2019
Video by Reuters
LAWRENCE, Mass. — US Senator Elizabeth Warren, the law professor turned firebrand of the progressive left, made her run for the presidency official on Saturday, laying out a populist vision for the change needed to right an economy gone wrong that imbued her longtime focus on inequality with new liberal tenants like Medicare for All and the Green New Deal.
Speaking on the steps of a hulking mill building, Warren kicked off her campaign with a history lesson about the immigrant women who had gone on strike inside more than a century ago to protest squalid labor conditions and dwindling pay, connecting themes of labor rights, immigration, and gender to her own campaign.
"Like the women of Lawrence, we are here to say, 'Enough is enough,' " Warren said, according to her prepared speech text. "We are here to take on a fight that will shape our lives, our children's lives and our grandchildren's lives."
In her telling, that fight is not just about President Trump, whom she initially referred to simply as "the man in the White House," shaming him, if not naming him, as an "extreme symptom" of a broken system.
"Once he's gone, we can't pretend all of this never happened," Warren said. "We can't afford to just tinker around the edges — a tax credit here, a regulation there. Our fight is for big, structural change."
She added: "That is why I stand here today, to declare that I am a candidate for president of the United States of America."
A cheering crowd of people wrapped in scarves and gloves squeezed into the space in front of the mill, which was festooned with bunting and banners that read "Warren." The crowd was dense, and seemed to contain least 1,000 people, but it was considerably smaller than the 22,000 who watched Senator Kamala Harris' announcement on a sunny day in Oakland last month.
The announcement has seemed all-but-inevitable for months, but especially since New Year's Eve, when Warren formed an exploratory committee — which allowed her to raise money but did not make her a formal candidate — and kicked off five weeks of campaigning that took her from Iowa to Puerto Rico.
With those stops — as well as the seven-state tour she kicked off Saturday that will take her from here, to New Hampshire, through Iowa and the South and end out West — Warren has been able to show off a muscular proto-campaign that has drawn droves of enthusiastic voters and established her as a top-tier presidential candidate.
But she faces a deeply talented field that has grown swiftly amid a surge of Democratic enthusiasm for taking on Trump. Several of Warren's Senate colleagues, including Harris of California and Kirsten Gillibrand of New York, have announced their own runs for president. Senator Cory Booker of New Jersey is campaigning in Iowa this weekend, and Senator Amy Klobuchar of Minnesota has scheduled an event for Sunday where she is likely to announce her intentions.
And there are giants waiting in the wings, including former vice president Joe Biden and former Texas congressman Beto O'Rourke, both of whom could draw major enthusiasm if they decide to run. Bernie Sanders, the independent Vermont senator who ran an insurgent campaign on populist themes similar to Warren's areas of focus, could also siphon her support if he runs.
Last year, Warren's name recognition and extensive political network seemed to set her up to be a possible frontrunner, even in a big field. But she stumbled in the fall when she released a widely criticized DNA test to prove her claims of Native American heritage. Last week, she apologized to the Cherokee Nation for saying she was Native American for parts of her academic career, even though she is not a tribal citizen. And then she faced more questions when a previously undisclosed document, a Texas state bar card on which she wrote her race was "American Indian," came to light in the Washington Post. Now, she will have to work hard to convince voters that she, out of all the candidates, is best positioned to take on Trump.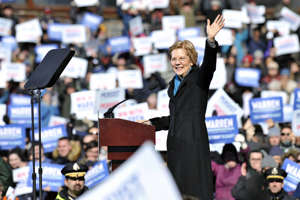 Slideshow by photo services
Republicans have wasted no time seizing on Warren's blunders. A super PAC calling itself the Stop Pocahontas PAC, a reference to the racist moniker Trump frequently deploys against Warren, announced it has formed in an attempt to end Warren's political career.
"It is time for her get out of the Senate, never mind running for the White House. We are going to swift boat her candidacy and her incumbency," said Joe Dunn, the PAC's co-chairman in a press release, referring to the "Swift Boat" attacks launched against John Kerry during his own run for president in 2004.
The Republican National Committee sent reporters a memo entitled "Fauxcahontas' Failure To Launch," offering up a list of stories that add up to, they said, a "disastrous few months of self-inflicted mistakes, public apologies, and flubbed announcements."
Saturday's announcement offered a new opportunity to make her case — and to change the subject. Warren lined up a series of home-state endorsements, including from Representative Joseph P. Kennedy III — who is a close friend of O'Rourke — and Senator Ed Markey.
She braided her family's modest Oklahoma upbringing with her academic work on bankruptcy as she explained her motivations for running for president.
"Year after year, the path to economic security had gotten tougher and rockier for working families, and even tougher and even rockier for people of color," she said, emphasizing the role of racial discrimination in American society, for the first of multiple times in her speech. "I also found out this wasn't an accident."
Warren's campaign likely hoped Lawrence, which is more than 70 percent Latino and has long drawn immigrants, would be a symbolic place to launch a campaign in which she will need support from minority voters.
In Warren's telling, the wealthy and powerful "lobbied Washington and paid off politicians to tilt the system just a little more in their direction" year after year. In the speech, Warren mixed her academic proclivity for statistics — including data points like minority homeownership rates, the death rates in the Lawrence mills, and economic mobility — with a full-throated call for new economic rules.
"When I talk about this, some rich guys scream 'class warfare!' " Warren said. "Well, let me tell you something, these same rich guys have been waging class warfare against hardworking people for decades – I say it's time to fight back!"
She blamed corruption for the government's intractability on issues like climate change and gun control, and drew on her personal accomplishments — from potty-training her daughter to creating the Consumer Financial Protection Bureau — to make the case that she could be a champion of a sprawling platform that she said would add up to sweeping reform, including new restrictions on lobbyists, limitations on banks and rules to empower workers, and protections for voting rights.
And in the end, she compared her efforts to those of the Lawrence mill workers who famously went on strike in 1912, shutting down production and striking fear in factory owners across the country.
"When the women of Everett Mill walked away from their machines and out into the cold January air all those years ago, they knew it wouldn't be easy," Warren said, adding, "Today, we gather on those same streets, ready to stand united again."