FEC chair responds to Trump saying he'd accept foreign intel on opponent: 'It is illegal'

The Hill
6/14/2019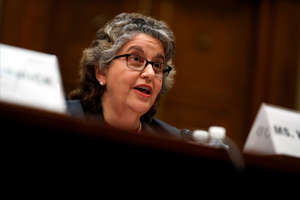 © ASSOCIATED PRESS U.S. Federal Election Commission Commissioner Ellen Weintraub testifies on Capitol Hill in Washington, Wednesday, May 22, 2019, before the House Oversight and Reform National Security subcommittee hearing on "Securing U.S. Election Infrastructure and Protecting Political Discourse." (AP Photo/Carolyn Kaster) Federal Elections Commission chair Ellen Weintraub said Thursday it is illegal to accept foreign interference during elections after President Trump publicly suggested he would accept foreign intel on opponents.
"I would not have thought that I needed to say this," Weintraub tweeted Thursday with her statement.
"Let me make something 100 percent clear to the American public and anyone running for public office: It is illegal for any person to solicit, accept, or receive anything of value from a foreign national in connection with a U.S. election," Weintraub said.
In an interview with ABC News Wednesday, Trump suggested he would accept dirt on an opponent offered by a foreign country.
Doubling down on why that's unconstitutional, Weintraub said "this is not a novel concept," adding that "our Founding Fathers sounded the alarm about 'foreign Interference, Intrigue, and Influence."
"They knew that when foreign governments seek to influence American politics, it is always to advance their own interests, not America's," she said.
Any political campaign that does receive such an offer should report it to the Federal Bureau of Investigations.
Trump said in the ABC interview he would "maybe go to the FBI" if he received information about an opponent from a foreign government.