Five takeaways from the final Tennessee Senate debate

The Hill
10/11/2018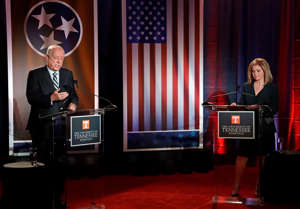 © AP Photo/Mark Humphrey Democratic candidate and former Gov. Phil Bredesen and Republican U.S. Rep. Marsha Blackburn take part in the 2018 Tennessee U.S. Senate Debate at The University of Tennessee Wednesday, Oct. 10, 2018, in Knoxville, Tenn. (AP Photo/Mark Humphrey) Rep. Marsha Blackburn (R-Tenn.) and former Tennessee Gov. Phil Bredesen (D) went toe-to-toe in the final debate of the marquee Senate campaign, clashing on immigration, health care and Supreme Court Justice Brett Kavanaugh's controversial confirmation.
Bredesen, who served as governor from 2003 to 2011, rebuffed the deep polarization within politics as he doubled down on casting himself as a politician who can work independently from his own party. But Blackburn repeatedly hammered him as a run-of-the-mill Democrat that'd be beholden to Washington.
Here are the five takeaways from Wednesday night's debate in Knoxville:
Bredesen and Blackburn couldn't be more different
Bredesen called for partisan compromise and wished his opponent well, should she be elected in November.
Blackburn tied the Democrat to the Clintons and slammed him for allegedly mishandling sexual harassment claims during his tenure in the governor's mansion.
The debate highlighted Bredesen and Blackburn's drastically divergent styles.
On one side, the former governor played the role of genteel, old-school politician. He often spoke softly and rarely veered into personal attacks on Blackburn's tenure or character.
On the other, Blackburn was quick to the punch, casting Bredesen as a liberal Democrat who failed to connect with the conservative voters of Tennessee. She also tied herself closely to President Trump and his agenda.
"Phil will support the Clinton agenda; the Washington Democrats," Blackburn said.
"I'm going to support your Second Amendment, I'm going to make sure your borders are secure, I'm going to make sure you keep your tax cuts," she added.
Which strategy ultimately proves more successful in deep-red Tennessee is unclear. What is clear is that Bredesen and Blackburn couldn't be more different.
Border wall draws sharp divide between Bredesen, Trump
Bredesen has said he's willing to work with Trump and Republicans where there's common ground. But one of his biggest splits with the president is on his signature campaign promise: a wall built along the U.S.-Mexico border.
"I believe very strongly in controlling our borders, but I think there are much better ways of doing it than building a wall," Bredesen said, adding that there's technology that can secure the border faster and at a lower cost. "I think the wall is political theater."
While that puts him at odds with the president, Bredesen said he wants to secure the southern border through "sophisticated technology" that includes electronic surveillance and drones, but said there's still a need for troops and U.S. Immigration and Customs Enforcement (ICE) - regardless of whether a wall is constructed.
"That's a huge amount of money to be spending on anything like that," Bredesen said when asked about the hefty price of a border wall, which is estimated to cost nearly $70 billion. He described it as "something out of the last century."
Blackburn hit back at Bredesen's description of the wall as "political theater." She also invoked some Democrats' desire to abolish ICE, though that's something Bredesen doesn't support.
"Walls work, just ask Israel, it's imperative we protect this country," she said. "It's not political theater to talk about building a wall."
When pressed again by the moderator if she'd support construction of a wall at that price, Blackburn still remained closely aligned with the president's top priority. "If the wall ends up costing $70 billion, Tennesseans say 'build the wall and secure the country,'" she said.
Kavanaugh fight creeps into debate
The partisan brawl over Brett Kavanaugh's confirmation to the Supreme Court has consumed campaigns across the country in recent weeks. The Tennessee Senate race is no exception.
Ahead of the confirmation vote on Saturday, both Bredesen and Blackburn backed the conservative jurist, despite multiple sexual misconduct allegations being levied against him. On Wednesday, Bredesen sought to explain his decision.
"I watched it very closely and I just came to the conclusion that, all things being equal, I did not think those allegations rose to the level of disqualification from the Supreme Court," he said.
Blackburn was unrelenting in her support for Kavanaugh, saying that Tennesseans wanted to see him on the high court. If Hillary Clinton had won the White House, she said, "you would not have had Judge Kavanaugh."
She also suggested that Bredesen's support of Kavanaugh was a political play intended to draw attention away from allegations that he tried to shield male aides from sexual harassment allegations during his tenure as Tennessee governor.
Bredesen shot back at that suggestion, calling it "flat wrong."
"The individuals who performed these acts were gone the next day from the governor's office," he said. "The women who been assaulted had all the resources possible. What you're saying is just flat wrong."
For Bredesen, his decision to support Kavanaugh's confirmation highlighted the difficult position Democrats running in red states find themselves in.
Opposing the judge could have exposed him to GOP attacks labeling him as out of touch with his state. But by supporting Kavanaugh, Bredesen drew the scorn of liberal Democrats, who accused him of capitulating to Republicans.
Candidates offer diverging visions on health care
The two candidates also offered warring visions on health care policy, highlighting what has become one of the most prominent issues of the 2018 midterms.
Bredesen conceded early on that he was not a fan of the Affordable Care Act (ACA) after it was introduced in 2009. But once it was signed by then-President Barack Obama, he said, it became the "law of the land" and he felt obligated to defend it.
He hailed its protections for people with pre-existing conditions and insisted that lawmakers could find a way to pay for its costs.
Blackburn painted a starkly different vision for health care, calling for laws that opened up insurance markets across state lines and relied on the private sector to expand access to care.
Taken together, the debate underscored what has already become a wedge issue in 2018. Democrats across the country have campaigned on expanding access to health care, accusing Republicans along the way for working to up-end ObamaCare's pre-existing conditions protections.
Republicans have sought to counter those arguments by claiming that Democrats are trying to nationalize health care.
"Hillary Clinton is the mother of government run health care," Blackburn said Wednesday. "That is a concept that Phil supports."
Bredesen has not come out in support of the "Medicare for All" proposal that a growing number of Democrats have adopted in recent months.
Republicans can't get enough of Clinton attacks
Hillary Clinton isn't on the November ballot, but Republicans still hope invoking her name will be an effective line of attack against Democrats in 2018.
During last month's debate, Blackburn repeatedly mentioned Senate Minority Leader Charles Schumer (D-N.Y.). But she also turned her attention to Clinton and other big-name Democrats.
It's a strategy that many Republican Senate candidates are using this cycle, particularly in red states that overwhelmingly backed Trump over Clinton in 2016.
Blackburn said at least half a dozen times throughout the debate that Bredesen wanted Clinton in the White House, noting his donation to her presidential campaign.
She also brought up on multiple occasions Bredesen's fundraiser with former New York City Mayor Michael Bloomberg, who is a high-profile gun control activist. Bloomberg, a political independent who re-registered as a Democrat, is considering a presidential bid in 2020.
"Phil would be there right with the Washington Democrats," Blackburn said. "Phil was in New York with Michael Bloomberg."
Bredesen repeatedly called for the end of divisive politics that has led to deep divisions within both parties. At the last debate, Bredesen said he wouldn't support Schumer for leader and described himself as "an equal opportunity offender of both parties."
"You seem to have a crystal ball about what I'm going to do as a U.S. senator," Bredesen hit back, saying that he'll govern similarly to his time as a two-term governor.
At the end of the debate, Bredesen pointed directly to Blackburn's frequent mentions of Clinton.
"I did not think you could beat the number of mentions of Chuck Schumer in the last debate than you did with Hillary Clinton tonight," he quipped.