Fox News Joins NBC in Pulling Trump-Backed Anti-Migrant Ad

Bloomberg
11/5/2018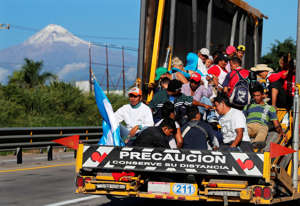 (Bloomberg) -- Fox News joined NBC in pulling a controversial TV commercial about the migrant caravan after an online backlash that included protests from Hollywood celebrities.
The ad, backed by President Donald Trump, was pulled from Fox News airwaves on Sunday, according to Marianne Gambelli, president of ad sales for the network. "It will not appear on either Fox News Channel or Fox Business Network," she said in a statement on Monday.
NBC also said on Monday that it was yanking the spot.
"After further review we recognize the insensitive nature of the ad and have decided to cease airing it across our properties as soon as possible," Comcast Corp.'s NBCUniversal said in an email.
NBC's decision to run the ad was criticized on Twitter, most notably by Hollywood personalities like Judd Apatow and Debra Messing. CNN said Saturday it refused to show the commercial because its journalists deemed it racist.
The Republican campaign spot, which aired during NBC's broadcast of "Sunday Night Football" just two days before the midterm election, says the migrant caravan is filled with "dangerous illegal criminals." It says Democrats allowed the entry of Luis Bracamontes, an undocumented immigrant who was convicted of killing two sheriff's deputies in California in 2014. The ad said President Trump and his allies will protect the border and urges viewers to "vote Republican."
Bracamontes last entered the country in the early 2000s, when George W. Bush was president, according to the Washington Post. And media coverage of the caravan, which has been traveling north from Honduras over the past month, has revealed its participants are men, women and children who are fleeing violence, poverty and political repression.
Many have compared the caravan commercial to the infamous Willie Horton ad during the 1988 presidential campaign that damaged the prospects of Democratic candidate Michael Dukakis.
To contact the reporter on this story: Gerry Smith in New York at gsmith233@bloomberg.net
To contact the editor responsible for this story: Nick Turner at nturner7@bloomberg.net
For more articles like this, please visit us at bloomberg.com
©2018 Bloomberg L.P.