In Japan, Trump slams U.S. judge over border-wall ruling

POLITICO
5/25/2019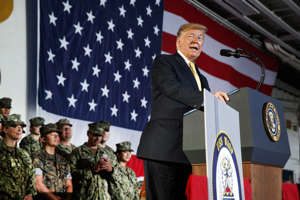 Slideshow by photo services
At 4:35 a.m. Sunday local time in Tokyo, President Donald Trump tweet-slammed a U.S. judge's ruling against part of his border-wall funding as "in favor of crime, drugs and human trafficking."
"Another activist Obama appointed judge has just ruled against us on a section of the Southern Wall that is already under construction. This is a ruling against Border Security and in favor of crime, drugs and human trafficking. We are asking for an expedited appeal!" Trump wrote.
On Friday, an injunction by Calif.-based U.S. District Court Judge Haywood Gilliam halted a $1 billion transfer from Pentagon counterdrug moneys aimed at funding parts of border-wall construction and maintenance in Texas and Arizona.
Trump's tweet came during his four-day trip to Japan to talk trade, North Korea and to meet with Japan's newest emperor Naruhito.
On Saturday, Trump arrived aboard Air Force One at Haneda International Airport in Tokyo before meeting with Japanese business executives, where he talked about the strong relationship between the two countries and the future of trade relations.
"Japan has had a substantial advantage for many, many years, but that's OK, maybe that's why you like us so much," Trump said, adding that in the future it will be "a little bit more fair, I think."
Trade negotiations between the two countries have been a major factor in the U.S.-Japan relationship after Trump withdrew from the Trans-Pacific Partnership early in his presidency. Last week, Trump delayed auto tariffs for six months while the administration pursues trade deals with Europe and Japan.
Later Sunday, Trump will meet with Japan's Prime Minister Shinzo Abe in Chiba, where they will attend a sumo wrestling championship, before going to dinner with Abe and his wife, Akie.
On Monday, Trump will meet with Emporer Naruhito, the first foreign leader to do so since he assumed the throne.