Mueller investigating 2017 meeting between Manafort and Ecuador's President

CNN
11/27/2018
Special counsel Robert Mueller's team has been investigating a meeting between former Trump campaign chairman Paul Manafort and Ecuadorian President Lenin Moreno in Quito in 2017 and has specifically asked if WikiLeaks or its founder, Julian Assange, were discussed in the meeting, a source with personal knowledge of the matter tells CNN.
In November 2017, The Associated Press reported that Moreno publicly acknowledged meeting with Manafort and a group of Chinese businessmen who wanted to privatize the country's electric corporation. Moreno said the proposal was rejected.
Earlier Tuesday, The Guardian reported that Manafort secretly met several times with Assange inside the Ecuadorian embassy in London, including around the time he was made a top figure in the Trump campaign. The Guardian, citing sources, said Manafort met with Assange in 2013, 2015 and in the spring of 2016.
Both WikiLeaks and Manafort feature prominently in Mueller's investigation into Russian meddling in the 2016 election and whether the Trump campaign colluded with Moscow. In a court filing on Monday, Mueller accused Manafort of lying to investigators after agreeing to cooperate with the special counsel's office.
The newspaper said it is unclear "why Manafort wanted to see Assange and what was discussed."
Citing a "well-placed source," The Guardian reported that Manafort met with Assange around March 2016, just months before WikiLeaks released Democratic emails believed to be stolen by Russian intelligence officers.
Manafort, the newspaper reported, denied having any involvement in the hack and his lawyers declined to answer the Guardian's questions about the visits. Jennifer Robinson, Assange's UK-based counsel, told CNN "no such meetings took place."
"We have had no contact with the Mueller investigation," she added.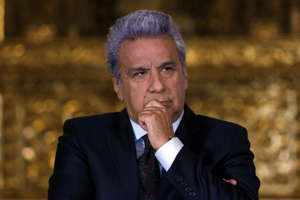 © CRISTINA VEGA/AFP/Getty Images Ecuador President Lenin Moreno is shown at Carondelet palace in Quito, Ecuador, on August 16, 2018. WikiLeaks denied the report shortly after it was published.
"Remember this day when the Guardian permitted a serial fabricator to totally destroy the paper's reputation. @WikiLeaks is willing to bet the Guardian a million dollars and its editor's head that Manafort never met Assange."
Barry J. Pollack, an attorney for Assange who was in federal court in Virginia for an unrelated issue Tuesday, said he didn't "know whether that's accurate or not" when asked about the meetings detailed in the report.
The newspaper also reported that an internal document written by Ecuador's intelligence agency and seen by The Guardian contains Manafort's name on a list of "well-known" guests at the embassy in 2013. The list, according to the newspaper, also mentions "Russians."
For more than a year now, Manafort has been at the heart of several unresolved threads of the Mueller investigation. He had been in the room for the Trump Tower meeting with Russians who touted they had incriminating information about Hillary Clinton; and he had allegedly offered private briefings on the campaign to a Russian oligarch to whom he was indebted, according to The Washington Post.
Manafort pleaded guilty to conspiracy and witness tampering on September 14, almost a year after he was first charged and following his conviction by a jury in a separate but related case on eight tax and banking crimes.
CNN's Kara Scannell and Laura Jarrett contributed to this report.