Ocasio-Cortez quotes from 'Watchmen' in response to Dem criticism

The Hill
1/11/2019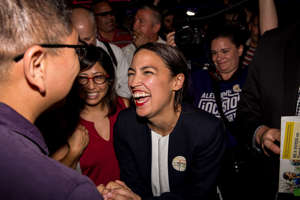 Slideshow by photo services
Freshman Rep. Alexandria Ocasio-Cortez (D-N.Y.) took aim at her critics among fellow Democrats on Friday after a number of lawmakers voiced concerns about her governing style.
Linking to an article featuring the Democrats' worries, the New York Democrat shrugged off the criticism with a line from Alan Moore's "Watchmen" comics, and the 2009 movie based off the graphic novels.
To quote Alan Moore: "None of you understand. I'm not locked up in here with YOU. You're locked up in here with ME." https://t.co/8TCmKNJlkD

- Alexandria Ocasio-Cortez (@AOC) January 11, 2019
Her response comes following a Politico article detailing how some members of the Democratic caucus have chafed at her primary defeat of former Rep. Joe Crowley (D-N.Y.), and subsequent threats to encourage primary challenges against members of the party seen as too friendly with Republican positions.
"She needs to decide: Does she want to be an effective legislator or just continue being a Twitter star?" one House Democrat described as being in "lockstep" with Ocasio-Cortez policy-wise told the news outlet.
Since taking office earlier this month, Ocasio-Cortez has remained in the headlines due to her massive Twitter following and frequent use of the platform to push the Democratic Party left on ideas such as a Green New Deal.
A former presidential campaign volunteer for Sen. Bernie Sanders (I-Vt.), Ocasio-Cortez won an easy election in a safe blue district in November after overtaking Crowley, a then-member of House Democratic leadership, by more than 10 points in a shocking primary victory.