Pelosi, Schumer slam Trump for using Oval Office to 'stoke fear'

The Hill
1/9/2019
Video by CNBC
Congressional Democratic leadership ripped President Trump on Tuesday night, accusing him of trying to "stoke fear" with his calls for a wall on the Mexican border, which have led to a partial government shutdown.
House Speaker Nancy Pelosi (Calif.) and Senate Minority Leader Charles Schumer (N.Y.), standing side by side in front of six American flags, offered a rebuttal to Trump immediately after his Oval Office address to the nation.
They cast the fight as a battle between the president's use of "fear" and the "facts" touted by Democrats.
"Sadly, much of what we have heard from President Trump throughout this senseless shutdown has been full of misinformation and even malice," said Pelosi, who spoke first. "The President has chosen fear. We want to start with the facts."
Schumer echoed her while knocking Trump for using the Oval Office to make his pitch for the U.S.-Mexico border wall.
"Most presidents have used Oval Office addresses for noble purposes. This president just used the backdrop of the Oval Office to manufacture a crisis, stoke fear, and divert attention from the turmoil in his administration," he said.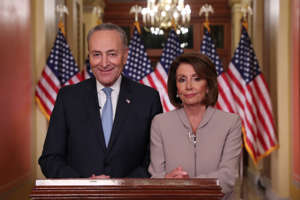 Schumer added that "the symbol of America should be the Statue of Liberty, not a thirty-foot wall."
Trump argued the country is facing a "growing humanitarian and security crisis" at the southern border, calling the current stalemate "a choice between right and wrong, between justice and injustice."
He knocked Democrats during his primetime address, saying the government was shut down for "one reason only"- because Democrats wouldn't fund border security.
And he called out Schumer by name, suggesting the Senate Democratic leader and his colleagues had previously supported border security but had "changed their mind" and were refusing to acknowledge the "crisis" at the border.
Trump also sought to cast himself as willing to compromise with Democrats, and increase pressure on them to reopen the government, saying he offered to build a steel wall instead of a concrete barrier "at the request of the Democrats" - even though Democrats actually haven't asked for a steel wall.
]]>