Post Politics Now: Garland announces DOJ motion to unseal search warrant for Trump's property

The Washington Post
8/11/2022
Today, Attorney General Merrick Garland announced that the Justice Department has asked a federal court to unseal the search warrant and inventory of items taken from the Florida home of former president Donald Trump earlier this week by the FBI. Speaking from the Justice Department, Garland said the department was making the request given that Trump had publicly confirmed the search. Garland said he personally approved the search. He said department rules prohibit him from further discussing the case.
Meanwhile, President Biden, who is on vacation in South Carolina, and his fellow Democrats are welcoming news that the national average for a gallon of gas has fallen below $4 for the first time since early March. Prices at the pump — and inflation more broadly — have been a drag on Biden's popularity and a challenge for Democrats with the midterm elections approaching.
Your daily dashboard
2:30 p.m. Eastern time: Attorney General Merrick Garland made a statement from the Justice Department. Watch here.
2:05 p.m. Pacific time (5:05 p.m. Eastern time): Vice President Harris holds a roundtable discussion with California state legislators and advocates on reproductive health care.
Got a question about politics? Submit it here. After 3 p.m. weekdays, return to this space and we'll address what's on the mind of readers.
7:36 PM: On our radar: House will vote on Democrats' tax and climate bill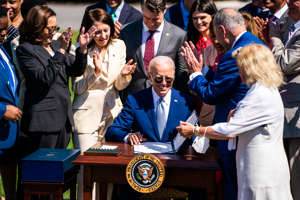 The House is back in session Friday for the passing of what could be one of the Democrats' biggest legislative successes of this Congress. Here's what we're watching:
The House will start debate on the Democrats' bill targeting inflation, climate change and rising drug prices at 9 a.m. Eastern time. It is likely to vote on it later Friday.
The Senate is in recess. It will hold a pro forma session, but no votes will take place. Senators will be back for votes Tuesday.
President Biden is on vacation. The president has nothing on his public schedule. He's in South Carolina with his family.
Rep. Michael R. Turner (Ohio), the top Republican in the House Intelligence Committee, will hold a news conference at 9:30 a.m. Eastern time on the FBI search of former president Donald Trump's Mar-a-Lago home. Republicans have spent the days since the search claiming, without evidence, that the FBI and the Justice Department have been politicized in connection to the visit.
6:00 PM: Take a look: In new ad, Democrats tout legislative successes
The Democrats, in a new ad, are touting their party's legislative successes as they prepare to face a tough midterm season.
In the video, a narrator lists the measures the party has shepherded through Congress over the past term, including: the bipartisan Chips and Science Act; gun-control legislation; a deal to reduce drug prices, fight climate change and tackle inflation; and gun legislation. The House is expected to send the latter to President Biden's desk on Friday.
Take a look:
5:54 PM: The latest: Trump, in post, comments on search but doesn't say if he'll agree to release of search warrant
Former president Donald Trump jumped on his social media platform, Truth Social, to comment on the FBI search of his Mar-a-Lago home but did not say whether he'll agree to the release of the search warrant that led to the visit.
In a post, Trump said his lawyers had a "very good" relationship with investigators and he called the search "crazy."
On Thursday, Attorney General Merrick Garland said the Justice Department asked a federal judge to unseal the search warrant.
Lawyers for the former president can respond to the government's filing with any objections to unsealing the warrant, leaving it to the judge overseeing the case to decide. He also could publicly release the warrant himself.
The judge ordered the Justice Department to confer with lawyers for Trump and alert the court by 3 p.m. Friday as to whether Trump objects to the unsealing.
If made public, the warrant would probably show a description of what materials agents were seeking at Mar-a-Lago and what crimes they could be connected to. A list of the inventory that agents took from the property would also be released. Details could be limited, however, particularly if the materials collected include classified documents.
Perry Stein and Devlin Barrett contributed to this report.
5:28 PM: Analysis: Garland seeks to call Trump's bluff over warrant
Immediately after the FBI searched his Mar-a-Lago home, former president Donald Trump and his Republican allies cried foul, claiming — without showing evidence — that the visit was a very bad thing.
As Aaron Blake writes, Trump could shed a lot of light on this alleged miscarriage of justice by disclosing the contents of the search warrant. But three days later, he still hasn't done so.
So, on Thursday, Attorney General Merrick Garland decided to call Trump's bluff:
In a news conference, Garland announced that the Justice Department would seek to unseal the search warrant. But in doing so, DOJ made clear — repeatedly — that this wasn't a decision they'd make unilaterally. In a court filing, they emphasized that Trump could object.
"In these circumstances involving a search of the residence of a former President, the government hereby requests that the Court unseal the Notice of Filing and its attachment (Docket Entry 17), absent objection by former President Trump," the Justice Department said.
It reemphasized at the end of the filing that "the former President should have an opportunity to respond to this Motion and lodge objections, including with regards to any 'legitimate privacy interests' or the potential for other 'injury' if these materials are made public."
That Trump could object is a matter of course. But the fact that the Justice Department chose to drive that point home to him — and even go this route in the first place — is important.
Do note that the pushback against the search warrant on the right put the Justice Department in an unenviable spot: It almost never comments on ongoing investigations, but this is a matter of significant public interest and is already the subject of plenty of very uninformed criticism.
Now, it's up to the Trump team to decide whether to sign off on making public the warrant.
As Aaron writes:
On the one hand, there might be things in the warrant that Trump quite logically doesn't want people to know. But if his team objects — even to the disclosure of limited details — it'll look like they're obscuring something, which will undermine their side's pushback. That could also give allies some heartburn, for fear of what they don't know. ...
On the other hand, Trump could just let it all come out — something he hasn't appeared apt to do thus far. That could reshape this entire conversation — one that's been much more fruitful for Trump in the abstract, because he didn't have to account for the actual details. Greenlighting their release would force a true reckoning over precisely what he or someone else might have improperly removed from the White House.
Read more on these two possibilities here.
5:08 PM: The latest: Former Va. police officer sentenced to over 7 years for role in Jan. 6 riot
A Virginia police officer who prosecutors say lied about his actions before, during and after the Jan. 6, 2021, U.S. Capitol attack, including his military service and his marriage, was sentenced Thursday to 87 months in prison, Rachel Weiner reports.
The officer, Thomas Robertson, was a member of the police department in the small western Virginia town of Rocky Mount when he and a colleague, Jacob Fracker, joined the mob that stormed the Capitol. Both have since been fired from the department.
Robertson, 49, was found guilty by a jury this year of six crimes, including using a large wooden stick to block police outside the Capitol and destroying his phone when he got home. Fracker, who pleaded guilty to a conspiracy charge, testified at the trial.
As Rachel writes:
At his sentencing, Robertson depicted his actions on Jan. 6 as an aberration in the life of a respected member of a law-abiding and respectable community. The government's filings suggest he became radicalized under the influence of those around him, including the chief of a small neighboring police department and a retired FBI agent.
Retired police chief Dennis Deacon wrote the court saying that he had helped train Robertson as a police officer and that these crimes were "completely out of character." The agent produced a text conversation from March 2021, in which Robertson told Deacon, "I can kill every agent that they send for at least two weeks." ...
Another man described as a retired FBI agent went to the Capitol with Robertson and Fracker but did not go inside, according to the court records. That man, who could not be reached for comment, called the Capitol Police "cowards" who "will be on their knees before us" in text messages to Robertson, records said.
Fracker is set to be sentenced on Tuesday.
Read more about their case here.
5:04 PM: Analysis: Fox News and Trump debut a new whataboutism defense, this time involving Obama
Over the past 24 hours, conservative media have debuted a new whataboutism defense: What about Obama?
As Aaron Blake writes, several Fox News shows on Wednesday picked up on a New York Post column that noted that Barack Obama at the end of his presidency had 30 million records shipped to Chicago for his presidential library. Trump and Donald Trump Jr. were also on the case, promoting the New York Post's story on social media.
As Aaron notes:
It's the kind of thing that sounds superficially similar to someone with no base-level knowledge of how these processes work. But it's a ridiculous comparison wielded by people who in many cases probably know better. And you can tell that if you look closely at how it's being portrayed.
The first thing to note is that the New York Post's piece — an opinion column — doesn't actually connect the dots and draw a parallel between Trump and Obama in the same way these pundits were so eager to do. It merely casts the Trump search as spotlighting alleged problems with the Presidential Records Act — the law at issue when it comes to documents Trump might have illegally stashed at Mar-a-Lago. It notes the Obama administration records that were shipped to Chicago have yet to be made available in digital form.
...
As with many issues of government transparency and document-sharing, it's true this is not great! You often have to wait years for requested documents, and this appears to be no exception. ...
But that doesn't mean it bears any resemblance to what prompted the Trump search.
And here's why: As was reported back in late 2016, the Obama team was transferring the records to Chicago through the National Archives, which legally owns the documents once a president leaves office. Once the documents ultimately reached a warehouse in Chicago, the Obama Foundation was then due to pay the National Archives and Record Administration to digitize the documents. The lengthiness of that process aside, there isn't the faintest hint of legal violations.
There is no evidence that Obama has hidden anything from the National Archives or that he didn't go through the processes required to share and protect those documents once they leave Washington.
That's the crux of the matter with Trump: The National Archives has said on the record that it previously retrieved 15 boxes from Mar-a-Lago that should have been turned over to it but weren't, and The Washington Post has reported some of those documents were labeled classified and even "top secret."
Read more about why this whataboutism does not hold up here.
5:01 PM: Analysis: GOP and the right's baseless warnings about armed IRS thugs
A lot of federal agencies with seemingly obvious mandates have a wider range of functions than you might expect. An example is the Internal Revenue Service's criminal investigation unit, as the enforcement group is called, which is tasked with "investigating potential criminal violations of the Internal Revenue Code, and related financial crimes, in a manner that fosters confidence in the tax system and compliance with the law," as the agency described in a recent job posting.
As Philip Bump writes, that posting provoked an enormous amount of agitation, largely on the right, because of its direct description of the duties the job entailed. Those hired would "carry a firearm and be willing to use deadly force, if necessary," it originally read, before that stipulation was struck. This is a normal part of service as a police officer, if not necessarily a part that is typically highlighted in job applications. But we don't usually think of the IRS as a guns-out-and-up sort of agency, which contributed to the reaction.
As Philip writes, the job posting had been up for months before attracting attention, but it entered public conversation when right-wing fear of the IRS spiked with the Inflation Reduction Act, which passed the Senate on party lines and includes new funding for the IRS staff. And Republicans cast that funding — often dishonestly — as powering a massive new bureaucracy aimed at scrutinizing average Americans.
So you can see how some may misinterpret the job posting, which mentions the use of deadly force.
Philip, though, goes a little deeper on these right-wing fears:
This week, the rhetoric about the IRS increased several degrees. In part, that's because of the Senate's passage of the IRA and the House's upcoming vote on Friday. But it's also probably in part because of the FBI search of former president Donald Trump's Florida home. That search, approved by Attorney General Merrick Garland and a federal judge, triggered an immediate partisan backlash against the FBI and federal law enforcement more broadly. Journalists who track right-wing rhetoric noticed an uptick in calls for armed opposition — and highlighted examples of members of armed groups focusing on the IRS in particular.
In one example, a man shows off a number of firearms — and mentions how much ammunition the IRS is buying. In October 2020, while Trump was still president, the Department of Homeland Security pointed to domestic violent extremists as one of the most potent threats facing the country.
This rhetoric about the IRS, though, isn't confined to the fringe. Appearing on Fox News on Thursday morning, Sen. Charles E. Grassley (R-Iowa), once as robust an example of sober institutional conservatism as you might find on Capitol Hill, used similarly aggressive language to impugn the tax-collection agency.
The bleak answer is: Yes, the IRS is probably fully prepared to execute an enforcement action against a small-business owner who violates the law. But that's not what Grassley's saying. Instead, up for reelection in November, he's trying to score points with Fox News's audience by casting the IRS as nefarious.
Read more on this rhetoric here.
4:03 PM: Analysis: Scalise called out by Fox News's Doocy for claims about FBI
In the days since news of the FBI search of former president Donald Trump's Mar-a-Lago home emerged, there have been increased threats against Attorney General Merrick Garland and against the FBI, and threats targeting the judge who signed the search warrant, Philip Bump writes.
Yet when asked about the toxic climate the FBI is facing during a Fox News interview on Thursday morning, House Minority Whip Steve Scalise (R-La.) chose not to condemn it but to rationalize it:
Scalise was being interviewed by the hosts of "Fox & Friends," a show that is not known for its interest in holding Republicans' feet to the fire. But on this occasion, host Steve Doocy did.
"The FBI, with 35,000 members, now they apparently are receiving — a lot of specific field agents are receiving specific death threats because there are a number of people online and elsewhere who are demonizing the FBI," Doocy said. He pointed to anti-FBI rhetoric from members of Scalise's caucus, such as Reps. Paul A. Gosar (R-Ariz.) and Marjorie Taylor Greene (R-Ga.).
"I'm just curious," Doocy continued: "Whatever happened to the Republican Party backing the blue, and in particular the 35,000 members of law enforcement, federal law enforcement at the FBI?" ...
Scalise's response was probably unsatisfying for any officers who might have been watching.
"Frankly, we're very strong supporters of law enforcement," he said, "and it concerns everybody if you see some agents go rogue and if you see an agency that doesn't have the right checks and balances at the top. This is coming from the top."
Doocy couldn't abide that response.
"Steve, who went rogue?" he pressed. "They were following a search warrant!"
"We want to find that out," Scalise replied. "We want to find that out." He then pivoted to criticism of Garland.
Here's the key thing to note: Scalise's answer should be considered under the context of who is making the threats against law enforcement officials.
When members of the Supreme Court faced threats after the decision to overturn Roe v. Wade, Scalise was among Republicans who criticized that response. In fact, he did so on "Fox & Friends." As Philip writes:
The difference is obvious: Who's making the threats. Threats against Supreme Court justices and protests at their houses (violating a legal statute and spurring Scalise's excoriation of the Justice Department) came from advocates of abortion access, largely on the left. Threats against the FBI and those involved in the Mar-a-Lago search are coming from the right. From Scalise's base. And just as Republicans spent weeks playing along with Trump's false claims about the election after November 2020, Republicans are now playing along with his insistence that the search is necessarily partisan and illegitimate.
Read more on Scalise's response here.
3:33 PM: This just in: Garland defends FBI in response to attacks
Attorney General Merrick Garland pushed back at those who have criticized the FBI as political and rogue agents after the search of former president Donald Trump's Mar-a-Lago estate.
"I will not stand by silently when their integrity is unfairly attacked," he said Thursday in a brief statement. "The men and women of the FBI and the Justice Department are dedicated, patriotic public servants every day."
"Every day they protect the American people from violent crime, terrorism and other threats to their safety while safeguarding our civil rights," Garland added. "They do so at great personal sacrifice and risk to themselves. I am honored to work alongside them."
In the days following the search, Trump supporters and Republican politicians have accused FBI employees of being politically aligned against the former president and that their personal dislike of Trump was a motivating factor for the search at Mar-a-Lago. Some on the right — including Trump — have put forward the unproven claim that the FBI agents who entered the property might have planted evidence designed to make the former president appear to have broken the law.
Garland made the comment as he announced that the Justice Department has asked the judge to unseal the search warrant for Trump's Florida home.
By: Eugene Scott
3:23 PM: The latest: Justice Department asks court to unseal warrant for search of Trump's home
Attorney General Merrick Garland said Thursday that the Justice Department has asked a federal court to unseal the court-approved warrant used in the search of former president Donald Trump's Mar-a-Lago home.
Garland said he personally approved the decision to seek the warrant.
The department filed a motion Thursday in the Southern District of Florida to unseal the warrant, as well as a property receipt relating to the court-approved search, Garland said.
Garland said the Justice Department made no public statements on the day of the search, and that the larger public became aware of the FBI's visit after Trump publicly confirmed the search that evening, "as is his right."
The FBI, Garland noted, turned in copies of the warrant the day of the search to the former president's counsel, who was on-site during the search.
"The search warrant was authorized by a federal court upon the required finding of probable cause," Garland said. "The department filed the motion to make public the warrant and receipt in light of the former president's public confirmation of the search, the surrounding circumstances and the substantial public interest in this matter."
2:54 PM: The lastest: White House given no advance notice of Garland statement, official says
The White House was not given advance notice of Attorney General Merrick Garland's plans to make a public statement from the Justice Department, a White House official said Thursday.
The official, who spoke on the condition of anonymity to discuss a sensitive matter, said the White House learned of the planned statement from the news media.
1:54 PM: This just in: Garland to deliver statement this afternoon
Attorney General Merrick Garland will deliver a statement at 2:30 p.m. Eastern on Thursday, the Justice Department said.
It did not offer any details on what Garland will say.
The department announced the statement four days after the FBI searched former president Donald Trump's Mar-a-Lago estate in Florida and removed 12 boxes of documents.
Trump has called the court-authorized search "prosecutorial misconduct" and the "weaponization of the Justice System," without evidence. His Republican allies on Capitol Hill have baselessly denounced Garland and pledged to turn the tables and investigate the Justice Department.
1:37 PM: Analysis: Trump, allies revive the baseless claim of bleaching emails
Donald Trump's circle is spreading a baseless claim in response to the FBI search of Mar-a-Lago, and we're going to let Philip Bump explain it:
Before we begin, I have a challenge for you. I want you to switch from reading this article over to your email application. Once there, I want you to permanently destroy one email (doesn't matter which) using bleach. Then, when you're done, we'll continue.
Did you do it? Did you destroy the email with bleach?
You didn't? Why not? Because you can't? Because the idea doesn't make sense? Because emails are digital and not physical and therefore impervious to chemical destruction? Yeah, exactly.
And yet there is some portion of the American public that believes maybe this can happen — that somehow emails — or maybe hard drives? — can have bleach poured over them to destroy them. They believe that this is something Hillary Clinton did, in fact — because they have internalized one of the least credible claims made by Donald Trump during the 2016 presidential election and, despite the ludicrousness of the idea, have never actually examined the viability of the idea. Trump said it, they believed it, and now — in the urgent rush to "What about the search of Trump's home in Florida?" — they're presenting this idea of destroying emails with acid or bleach as not only possible but a matter of fact.
The background of Trump's claim is this:
In August 2016, the investigation into the terrorist attacks in Benghazi, Libya, in 2012 had evolved into an investigation into Clinton's use of a private email server during her tenure as secretary of state. … Rep. Trey Gowdy (R-S.C.) — who served as chairman of the select House committee investigating the attacks and is now a Fox News host — announced during an interview that when shutting down her system, Clinton's team had deleted the emails contained on the server.
"And they didn't just push the delete button; they had them deleted where even God can't read them," Gowdy said. "They were using something called BleachBit. You don't use BleachBit for yoga emails or bridesmaids emails. When you're using BleachBit, it is something you really do not want the world to see."
Tech experts quickly weighed in. Often, deleting files from servers still leaves remnants of the information scattered around a hard drive. A software tool such as BleachBit ensures those remnants don't remain — a useful measure to take when talking about emails that involved a senior administration official. (Copies of emails Clinton's attorneys said were related to her official work had already been turned over to the government.)
Here's the thing: The name "BleachBit" is meant to evoke the idea of using bleach to clean something thoroughly — in this case: bits, electronic data. But in short order, Trump began describing this security step involving free software as a literal use of bleach.
Thus, an inaccurate line of rhetoric was born.
Why is it relevant now? Because in the wake of the FBI search of Mar-a-Lago — apparently to recover material that Trump took from the White House when he left office — Trump's supporters began drawing comparisons to Clinton's emails. If she could destroy emails that the government wanted, why is the FBI going to search Trump's house?
The distinction between deleting emails with BleachBit and destroying them with bleach (somehow) isn't that important, truth be told. In the end, the emails were destroyed.
But there are two important points here, as Philip notes:
The first is that Trump's (and Gowdy's) claims about BleachBit were offered to insinuate a certain deviousness to Clinton's actions that helped frame how the public viewed her email server. If the story had instead been that Clinton turned over relevant documents and then ensured that the emails sent and received couldn't be retrieved from the server by any hacker or criminal — how her team described the action, with justification — the entire episode seems less sketchy. This is why the "bleaching" nonsense is being raised today! Trump's allies want people to think that he simply had some boxes of mementos the FBI snatched away, while by contrast Clinton was lurking around in the shadows destroying evidence like a mobster.
The other important thing is that people still say this nonsense about acid-washing. Trump made this claim six years ago, and it was obviously false then. But because his statements are taken without skepticism and because his defenders are so habituated to defending him, even egregiously false claims simply become part of the narrative.
Read more on how literal bleach won't actually destroy your emails here.
1:32 PM: Analysis: Why election denial is looming so large in Republican primaries
At least one-third of Republican primary candidates for House and Senate seats have embraced former president Donald Trump's false claim that the 2020 election was stolen, with many winning their party's nomination.
While polls have long shown most Republicans do not think Joe Biden was legitimately elected, a poll released this week highlights why such views have become key in appealing to Republican voters this year.
The Pew Research Center poll found 51 percent of Republicans overall said they like political leaders who assert that Trump is the legitimate winner of the 2020 election, while 17 percent said they dislike them and 31 percent said they like neither. But among people who call themselves "strong" Republicans — the vast majority of Republicans — more are likely to express positive views of political leaders who said that Trump won in 2020.
About 6 in 10 strong Republicans have positive views of leaders who say Trump won in 2020 (59 percent), while 11 percent said they dislike such claims.
That compares with 31 percent of "not strong" Republicans who like leaders that deny the election, with a similar 33 percent saying they dislike such leaders. Such claims are less popular still among independents who lean Republican (24 percent), with 33 percent saying they dislike such leaders. Strong Republicans make up 17 percent of U.S. adults in Pew's survey, but they account for about 4 in 10 Republicans and Republican-leaning independents.
And they're more likely to vote in primaries: According to the 2016 American National Election Studies survey, 61 percent of strong Republicans said they voted in their state's primary or caucus, compared with 34 percent of not as strong Republicans and 37 percent of independents who lean Republican.
Put simply, the group of Republicans most attracted to election deniers is also the group most likely to vote in primaries.
It's unclear how these attitudes will affect the 2024 presidential nomination contest. But saying the 2020 election was stolen has already boosted many candidates to victory in Republican primaries this year.
By: Scott Clement and Emily Guskin
12:40 PM: On our radar: Finstad to be sworn in Friday as Minnesota congressman
Newly elected Minnesota Republican Brad Finstad will be sworn in to the U.S. House by Speaker Nancy Pelosi (D-Calif.) on Friday.
With such a quick swearing-in, Finstad will be able to cast his first votes as the GOP's newest congressman — most likely against the Inflation Reduction Act, the Democrats' sweeping economic package on climate, health care and taxes that all Republicans voted against in the Senate, and House GOP leadership opposes.
Finstad won the special election for Minnesota's 1st Congressional District, defeating Democrat Jeff Ettinger in a closely watched race. He will hold the seat for the remainder of the 117th Congress.
Finstad and Ettinger will face each other again in November as candidates for each of their parties for the chance at a full, two-year term.
The seat had been held by Rep. Jim Hagedorn (R-Minn.), who died in February of kidney cancer.
Before running for the House, Finstad served as director of rural development in Minnesota for the U.S. Agriculture Department. The 46-year-old Minnesota native was appointed to the position by then-President Donald Trump.
12:37 PM: Noted: What you need to know about the kind of search warrant used at Mar-a-Lago
FBI agents executed a search warrant at former president Donald Trump's Florida home Monday, taking about a dozen boxes of material after opening a safe and entering a padlocked storage area.
The Post's Perry Stein reports that Trump and his allies have denounced the search as unlawful and politically motivated, but provided no evidence to back that up and have refused to share a copy of the warrant with the public. Per Perry:
People familiar with the investigation, speaking on the condition of anonymity to discuss it, said the dramatic decision to obtain a warrant reflected growing concern that the former president or his lawyers and aides had not returned key documents and other government property from his time in the White House.
In her piece, which you can read in full here, Perry answers some key questions about the process used in such cases, including how investigators obtain a warrant.
12:21 PM: Take a look: The corporate minimum tax could hit these ultra-profitable companies
The House is expected to approve the Inflation Reduction Act on Friday that includes a minimum tax rate of 15 percent on highly profitable companies — a levy that could hit Amazon, Verizon and others. The tax would help pay for large investments across climate and health care.
The Post's Kevin Schaul has pulled together a package that looks at ways companies could be affected. The piece notes that there are exemptions for some tax credits and deductions designed as tools to incentivize certain behaviors, so some companies could wind up still paying less than 15 percent.
You can take a look at the package of graphics and explanation here.
11:59 AM: Analysis: Democrats need to sell health package that doesn't kick in right away
Democrats are poised to get their health-care win, with the economic package expected to pass the House on Friday.
Writing in The Health 202, The Post's Rachel Roubein says the next challenge will be selling the public on a package the party believes will lower health costs for many Americans, even as some of the major changes won't have a tangible impact on voters' pocketbooks for months to years to come. Rachel writes:
The package has given Democrats in tight reelection races a fresh way to slam their opponents. They're preparing attacks on Republicans for voting against legislation aimed at making the costs of prescription drugs more affordable, and touting the package as a win against the powerful pharmaceutical industry.
"I think our voters are going to see that we've been willing to stand up on their behalf against some pretty well-funded special interests," Rep. Angie Craig (Minn.), a vulnerable Democrat, told The Health 202. She added: "For me, it's about positioning myself as the person that is doing what she promised to do when she got elected to Congress."
You can read the full analysis here.
11:38 AM: Noted: Schumer sidesteps question on whether Biden should run again
During a radio interview Thursday, Senate Majority Leader Charles E. Schumer (D-N.Y.) sidestepped a question about whether President Biden should run for a second term, saying his focus now is on this year's midterm elections.
"I'm not focusing on that," Schumer said when asked about Biden by host Joe Madison on SiriusXM's "The Black Eagle."
Schumer went on to make a case that Democrats could gain seats in November, citing competitive races in Pennsylvania, Wisconsin, North Carolina and Ohio, where seats are currently held by Republicans.
Schumer argued that if Democrats held a couple more seats, the Inflation Reduction Act — which aims to combat climate change, lower health-care costs, revise the tax code and reduce the deficit — could have been even broader in scope. And Sen. Joe Manchin III (D-W.Va.) would not have played such an outsize role in determining what was in the bill, Schumer suggested.
"We would get child care," Schumer said. "We would get paid family leave. We would get help for the elderly, home care. We would get the kind of things that, you know, Joe Manchin was against."
"So please focus on the 2022 elections," Schumer added. "And let's deal with the presidency after that."
11:11 AM: Analysis: The electoral outlook for Democrats shifts from bleak to blurry
In polling this summer, President Biden's approval ratings have been remarkably low, which usually correlates with poor performance for a president's party in November. But congressional Democrats are holding their own in polls that ask people which party they plan to support.
After taking a close look at the polls and reading some other tea leaves, our colleague Philip Bump concludes that what looked six months ago like a robust Republican rout this November is now something murkier. Per Philip:
What I'm talking about here, by the way, is polling averages; specifically those compiled by FiveThirtyEight. Polls are images; averages are filmstrips. And since late June, two things have happened to the averages of polling on Biden's approval and the generic ballot: The latter has gotten better for Democrats, and the former hasn't gotten worse. ...
Will Democrats continue to improve on the generic ballot as Biden stays flat? That could help the party break what Biden's approval rating suggests will be a rough year for his party.
Or will the energy in the race be shifted back in the other direction? Republicans are pledging that the FBI search of Donald Trump's Florida home will trigger political blowback.
You can read the full analysis here.
11:00 AM: Take a look: Cheney decries Trump's 'poisonous lies' in campaign video
Rep. Liz Cheney (R-Wyo.) has released a campaign video ahead of her primary in Wyoming on Tuesday that decries the "poisonous lies" of former president Donald Trump about the 2020 presidential election and criticizes her primary opponents for not disputing his claims.
"Like many candidates across this country, my opponents in Wyoming have said this election was rigged and stolen," Cheney says in the video. "No one who understands our nation's laws, no one with an honest, honorable, genuine commitment to our Constitution, would say that. It is a cancer that threatens our great republic."
Cheney, the vice chairwoman of the House Jan. 6 committee, is facing a tough challenge back home from one of her opponents, Harriet Hageman, a trial attorney who has been endorsed by Trump. You can watch Cheney's video above. It runs for about 2 minutes 20 seconds.
10:41 AM: Noted: Without evidence, Scalise suggests FBI agents at Trump's home went 'rogue'
During an appearance Thursday on Fox News, House Minority Whip Steve Scalise (R-La.) suggested that some of the FBI agents involved in the search of former president Donald Trump's Florida residence had gone "rogue" — prompting "Fox & Friends" host Steve Doocy to press him for evidence that Scalise didn't provide.
During the appearance, Doocy was questioning Scalise about derogatory comments other House Republicans have made about the FBI in the wake of the search of Trump's Mar-a-Lago property Monday and whether the GOP is still a party that is "backing the blue."
"Frankly we're very strong supporters of law enforcement and it concerns everybody if you see some agents go rogue," Scalise said, at which point Doocy cut him off.
"Steve, who went rogue? Who went rogue? They were following a search warrant," Doocy said, referring to the fact that the Justice Department had to get a federal judge to authorize the FBI search.
"We want to find that out. We want to find that out, and that's why we're asking these questions," Scalise responded before pivoting to a demand that Attorney General Merrick Garland testify under oath about whether he knew ahead of time that the search would take place.
The FBI search at Trump's Palm Beach, Fla., home was part of a criminal probe into his possible withholding of classified documents. People familiar with that investigation have said the agents were seeking classified documents and other presidential records amid a months-long disagreement between federal officials and Trump's advisers about whether he withheld important files or items that belonged to the government.
10:18 AM: On our radar: The House could be less than full on Friday
Fewer members than usual could be passing through the chamber to cast votes Friday when the House briefly returns to Washington from its August recess for the expected passage of the Inflation Reduction Act.
As of Thursday, about four dozen members had sent letters to the House clerk since the chamber was last in session late last month to designate a proxy to cast their vote. Nearly 100 other members have active proxy designations that were filed earlier. There are currently 430 members of the House, with five vacancies due to deaths and resignations.
The proxy system was put in place relatively early in the pandemic as a precaution against spreading the coronavirus among the chamber's members.
Some caveats: Sometimes members designate a proxy and show up anyway. And more could still be filed ahead of Friday's vote.
But, in any case, the numbers suggest a lot of House members will be voting from home — a luxury senators don't have.
9:49 AM: The latest: Russia says prisoner swap talks underway via a channel set up by Biden and Putin
Russia on Thursday confirmed for the first time that negotiations between Washington and Moscow on a prisoner exchange were underway, after the United States proposed a deal to release WNBA star Brittney Griner and another American prisoner, Paul Whelan.
The Post's Robyn Dixon reports that the Russian Foreign Ministry said talks were underway via a channel that was set up by President Biden and Russian President Vladimir Putin when they met in Geneva in June 2021. Per Robyn:
Russian Foreign Ministry spokesman Ivan Nechayev said Thursday that negotiations about an exchange began after Foreign Minister Sergei Lavrov confirmed last week that Russia was willing to talk.
The Biden administration has been under pressure to secure Griner's release after her arrest at Moscow's Sheremetyevo International Airport in February. She was carrying two vape cartridges with cannabis oil, containing less than a gram of the substance, which is banned in Russia.
Griner asked the court for leniency but was sentenced last Thursday to 9½ years in prison. Her lawyers have announced plans to appeal.
Biden told reporters last week that he was "hopeful" about Griner's situation but did not elaborate.
You can read Robyn's full story here.
9:20 AM: Take a look: Beto O'Rourke not-so-delicately confronts a cackling heckler
Beto O'Rourke, the Democratic nominee running against Texas Gov. Greg Abbott (R) in November, was railing against Texans' easy access to assault-style rifles when he was faced with a cackling heckler at a campaign event Wednesday.
O'Rourke was not amused, to say the least. You can watch his profanity-laced response above (with an appropriately placed bleep).
You can also read more on the episode here from The Post's Jonathan Edwards.
8:50 AM: Analysis: Campaign to define Democrats' economic package has begun
House Democrats are flying back to Washington on Thursday so they can vote Friday on the $740 billion climate, health-care and tax bill that passed the Senate on Sunday.
Writing in The Early 202, The Post's Leigh Ann Caldwell and Theodoric Meyer say that when it clears the House — which is expected — it will give President Biden another major bill to sign into law and Democrats an infusion of new issues to campaign on ahead of the midterm elections: renewable energy tax credits designed to combat climate change, subsidies for health-care insurance provided by the Affordable Care Act and higher corporate taxes.
Per our colleagues:
On the campaign trail, Democrats are most likely to boast about a new policy aimed at lowering the cost of prescription drugs.
Of all the elements in the bill, Rep. Andy Kim (D-N.J.) plans to highlight the $2,000 cap on out-of-pocket costs for prescription drugs for seniors, which he helped to write.
"I heard horrible stories from constituents who told me they paid over $500 a month for medicine. With this provision, no senior in America will need to pay over $166 a month," Kim told The Early. "That's real help."
Lowering prescription drug costs has been a top campaign issue for Democrats for decades, but they never delivered. That didn't stop several in the party from running on it again earlier this year, hoping this time would be different.
You can read the full analysis here.
8:26 AM: The latest: Special election for Indiana congressional seat set for November
Indiana Gov. Eric Holcomb (R) has signed an executive order setting a special election for Nov. 8 — the same day as the general election — to fill the remaining term of the late Rep. Jackie Walorski (R-Ind.), who died in a car crash last week.
Practically speaking, that means voters will choose someone to fill out the remaining couple of months of Walorski's term representing the state's 2nd Congressional District on the same day that they elect a candidate to serve a full two-year term in a 2nd District with boundaries altered during redistricting.
Indiana law calls for a caucus of precinct committee members from the Republican and Democratic parties to choose the nominees for the special election.
The Democratic nominee for the general election is already set: Paul Steury, a high school teacher, ran uncontested in the May primary. Republican committee members will choose his opponent. They are expected to pick the same candidates for the special election.
8:20 AM: Noted: White House details election-year pitch for economic package
The House is poised to pass the Inflation Reduction Act on Friday and send it to President Biden for his signature, but the White House and Democrats are wasting no time in planning their campaign to highlight the benefits of the sweeping package.
The Democratic message in the 88 days to Election Day: the bill to address climate change and improve health care will bring down costs for American families.
How the Inflation Reduction Act might impact you — and change the U.S.
Biden and other Democrats also will argue that their GOP opponents are beholden to special interests and the agenda of former president Donald Trump, according to a memo from White House Communications Director Kate Bedingfield and Senior Adviser Anita Dunn.
The bill will lower health-care costs, revise the tax code, reduce the deficit and combat climate change. It's unclear when Biden will sign the bill — he is vacationing in South Carolina — but most of the travel of the executive branch leading up to the midterms during the campaign season will highlight its benefits.
The midterm message, in a memo first obtained by Axios, stresses that the recent spate of wins by Biden have hurt special interests, including oil and gas companies, the pharmaceutical industry and gas companies.
The memo also highlights plans by Republicans that Democrats argue are counter to the needs of American families. The strategy is an effort to push back against GOP messaging that Democratic policies are the cause of economic pain to middle-class families, particularly as the cost of food and rent have risen over the summer.
"This is the choice before the American people: President Biden and Congressional Democrats taking on special interests for you and your family. Or Congressional Republicans' extreme MAGA agenda that serves the wealthiest, corporations and themselves," the memo says.
By: Cleve R. Wootson Jr.
7:53 AM: Take a look: O'Dea distances himself from his party in Colorado Senate race
Joe O'Dea, the Republican nominee for Senate in Democratic-leaning Colorado, seeks to put some distance between himself and his party in a new ad in his race against incumbent Sen. Michael F. Bennet (D-Colo.).
"Everyone in Washington votes the party line. Joe won't," a supporter says in the upbeat ad. "He doesn't care about partisanship. He'll represent Colorado."
O'Dea himself then seeks to hammer home the same message, saying: "I'm not focused on political parties. I'll do what's right for our country."
You can take a look above.
7:28 AM: On our radar: Harris to hold event in San Francisco on reproductive rights
Vice President Harris is scheduled Thursday to hold her latest in a series of discussions about reproductive rights in the wake of the Supreme Court overturning Roe v. Wade. This one is with state legislators and activists in California, scheduled to be held in San Francisco.
Harris, who has aspirations beyond her current office, has sought to play a leading role on how Democrats should respond in the post-Roe era.
Earlier Thursday, she plans to hold a press call about investments in broadband access for tribal communities.
President Biden is on vacation in South Carolina and has no public events scheduled Thursday.
7:00 AM: On our radar: Funeral to be held today for Rep. Walorski, killed in crash
The funeral for congresswoman Jackie Walorski (R- Ind.), who was killed in a car crash last week along with two aides, is set to take place Thursday in Granger, Ind.
House Minority Leader Kevin McCarthy (R-Calif.) is expected to be among a group of her colleagues traveling to Indiana for the service and burial.
According to the South Bend Tribune, the service will be held at the Granger Community Church, followed by a 15-mile procession to a cemetery in South Bend, Ind.
Walorski, 58, was involved in a two-vehicle crash on Aug. 3 in Elkhart County, Ind., that also claimed the lives of her staffers Zachery Potts, 27, and Emma Thomson, 28, and the driver of the other vehicle, Edith Schmucker, 56.
6:58 AM: The latest: Gas prices fall below $4 a gallon, lowest point since March
Gas prices — and inflation more broadly — have been a drag on President Biden's popularity and a major challenge for Democrats heading into the fall's midterms. There was some fresh evidence overnight that the situation at the pump is improving, though it remains to be seen how the latest information will be processed by voters.
The Post's Aaron Gregg reports that the national average for a gallon of gas has fallen below $4 for the first time since early March, a key psychological threshold for cash-strapped Americans even as inflation remains elevated. Per Aaron:
The U.S. average dropped 2 cents overnight to $3.99, AAA reported Thursday, a 20 percent pullback from its June peak above $5. The run-up in gas prices earlier this year is tied to the Russian invasion of Ukraine and the ensuing turmoil in energy markets.
Relentlessly high inflation is the nation's most vexing economic problem, prompting months of recession talk even as job growth has soared — U.S. employers added 528,000 jobs in July — and consumer spending has remained resilient.
But lower pump prices mean there's less drag on the broader economy, as evidenced by federal data released Wednesday that shows inflation eased in July. Though overall prices remain elevated, climbing 8.5 percent year over year, they've moved away from the pandemic peak of 9.1 percent recorded in June, when the U.S. fuel average topped out at $5.02.
You can read the full story here.
6:51 AM: Analysis: Hyperbolic GOP claims about IRS agents and audits
With a vote scheduled Friday in the House on the spending package approved in the Senate, Republicans have focused their fire on provisions that would bolster the Internal Revenue Service with new funding to crack down on tax cheats.
"Do you make $75,000 or less? Democrats' new army of 87,000 IRS agents will be coming for you — with 710,000 new audits for Americans who earn less than $75k," House Minority Leader Kevin McCarthy (R-Calif.) said in a tweet this week.
Writing in The Fact Checker, The Post's Glenn Kessler says these numbers are a misfire, lacking significant context. Per Glenn:
We're going to mostly focus on the audit claims, but let's briefly address the alleged "army of 87,000 IRS agents," as that number has spread rapidly across social media.
The 87,000 figure, which is wildly exaggerated, was plucked from a Treasury report released in May 2021 about how the administration hoped to address the "tax gap" — the difference between what is owed to the government and what is actually paid. That figure was believed to be at least $381 billion a year, with most of it because of underreporting of income, according to the nonpartisan Joint Tax Committee.
You can read Glenn's full analysis here and find out how many Pinocchios were awarded to McCarthy.
6:45 AM: The latest: Amid tumultuous week, Trump takes the Fifth
Donald Trump spent hours in a deposition Wednesday with the New York attorney general and repeatedly invoked his Fifth Amendment protection against self-incrimination, the latest in a series of ominous legal developments that would have once been considered devastating for a former president considering another run for the White House.
The Post's Shayna Jacobs, Josh Dawsey and Devlin Barrett report that Trump emerged from the question-and-non-answer session with praise for the "very professional" way Attorney General Letitia James's team handled the meeting, in which he refused more than 400 times to answer questions about his businesses, property valuations and loans, according to a person with knowledge of the discussion.
Our colleagues write:
This person, speaking on the condition of anonymity to describe the closed session, said Trump stated his name, formally declared his Fifth Amendment right not to incriminate himself, and from then on replied to many questions with two words: "Same answer."
Less than two years after leaving office, Trump faces legal jeopardy from multiple directions, with criminal probes into his possible withholding of classified documents and efforts to overturn the 2020 election results; James's civil probe; and congressional inquiries into his taxes and his conduct related to the Jan. 6, 2021, Capitol riot.
You can read the full story here.
6:39 AM: On our radar: Post-Roe special elections show potentially encouraging signs for Democrats
Democrats and nonpartisan analysts said Wednesday that they saw fresh signs for the party in power to be more optimistic about the midterms after a special election in the wake of the Supreme Court's ruling striking down Roe v. Wade. But they acknowledged that with three months left in the campaign, President Biden and his party continue to face substantial political hurdles.
The Post's Colby Itkowitz and Lenny Bronner write that the result in Minnesota's 1st Congressional District, where Republican Brad Finstad defeated Democrat Jeff Ettinger, caught the attention of party strategists and nonpartisan analysts looking for clues about the mood of the electorate. Per our colleagues:
Finstad led Ettinger by four points with 99 percent of the vote tallied Wednesday, according to the Associated Press. Donald Trump won the district by about 10 points in 2020.
In Nebraska's 1st Congressional District, which held a special election in June, the change was even more pronounced. While Trump won the district by about 15 percentage points in 2020, the Republican congressional candidate, Mike Flood, beat his Democratic opponent, Patty Pansing Brooks, by around six points.
Both elections took place in the aftermath of the Supreme Court striking down Roe, which established a constitutional right to end a pregnancy. Democrats have been working to translate anger with the decision into support for their candidates. They said they were encouraged when conservative-leaning Kansas voted overwhelmingly in a high-turnout election this month to protect abortion rights.
You can read the full story here.
6:36 AM: Noted: Capitol rioter claimed he was elsewhere on Jan. 6, handing out Bibles
Bryan Betancur of Maryland was sentenced Wednesday to four months behind bars for participating in the Jan. 6, 2021, Capitol riot. What's notable about his case is how he got there.
The Post's Paul Duggan reports that Betancur, a previously convicted burglar, asked Maryland probation officials to let him travel to the District that day so he could hand out Bibles on behalf of the Christian group Gideons International. Per our colleague:
In a recent plea deal, Betancur acknowledged that his story about distributing the Good Book was a ruse.
Instead, clad in a shirt bearing a logo of the Proud Boys, a far-right group with a history of violence, he attended Donald Trump's incendiary rally on the Ellipse, after which Betancur stormed the Capitol with an angry mob of fellow Trump supporters trying to prevent Congress from affirming Joe Biden's electoral victory, according to the U.S. attorney's office in Washington.
You can read the full story here.