Reporters erupt on Jean-Pierre over Biden not taking questions from press pool: 'That's not true'

FOX News
3/16/2023
Reporters erupted on White House press secretary Karine Jean-Pierre Thursday after she told them they would have the opportunity to ask President Biden questions from the press pool at an upcoming meeting with Irish Prime Minister Leo Varadkar.
The exchange happened during the daily White House press briefing after Jean-Pierre was questioned over why there was not a joint press conference scheduled between Biden and Varadkar, who is set to visit Washington, D.C. on Friday.
"Can you say why not and whether that might be added to the schedule tomorrow? This is kind of becoming a pattern with a lot of the world leaders who are coming to the White House," a reporter asked Jean-Pierre.
KARINE JEAN-PIERRE TORCHED FOR 'WORD SALAD' DEFENDING BIDEN'S BORDER POLICY: '40 SECONDS OF TOTAL NONSENSE'
"I've spoken to this many times … I've brought it up many times and I gave an explanation that these are diplomatic conversations that happen with the countries that are visiting, and it is something that is decided in that way," Jean-Pierre responded.
"You're going to have an opportunity, or your colleagues are going to have an opportunity, to ask questions during the pool spray at the oval that happens every time a head of state visits. So that is an opportunity to be able to pose a question to the president or the head of state that is visiting at the White House on that day," she added.
Reporters immediately started pushing back, with one saying, "But he never answers questions during those periods," referring to Biden.
REPORTER ACCUSES KARINE JEAN-PIERRE OF TRYING TO 'SILENCE' HIM AFTER REMOVAL FROM WHCA
"That's not true. He's answered questions," Jean-Pierre responded.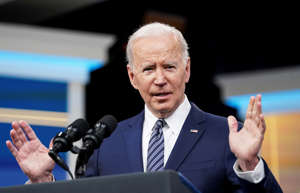 The room then erupted, with one reporter saying they get "yelled at" when they try to ask questions, and another saying reporters get "shouted down" by members of the White House staff whenever they try to ask questions.
Jean-Pierre attempted to speak, but continued getting peppered with complaints from the reporters.
BIDEN BLUNDERS: PRESIDENT STUMBLES HIS WAY THROUGH GAFFE-FILLED WINTER
"I hear you guys. I hear you guys. I hear you guys," she finally said, chuckling. "Look, the two plus two is something that is done in coordination with the country that is visiting. That is not something that is unilaterally decided. That is something that is in discussion with the other country."
She avoided directly answering the reporters' concerns over Biden not answering questions, and reiterated that they would have an "opportunity" to asked questions of the two leaders on Friday.
"I cannot speak to who is going to take questions or who is not going to take questions." she said. "As you know, this is a president that takes shouted questions often, but the two plus two is not a unilateral decision. It is a decision that happens with the visiting country in coordination with them."