Republican opposition mounts against Trump's emergency declaration, could trigger President's first veto

New York Daily News
2/24/2019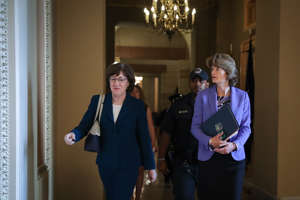 © 2018 Getty Images WASHINGTON, DC - OCTOBER 3: (L-R) Sen. Susan Collins (R-ME) and Sen. Lisa Murkowski (R-AK) walk together as they arrive to a closed-door lunch meeting of GOP Senators at the U.S. Capitol, October 3, 2018 in Washington, DC. An FBI report on current allegations against Supreme Court nominee Brett Kavanaugh is expected by the end of this week, possibly later today. (Photo by Drew Angerer/Getty Images) Feb. 24--President Trump is on a collision course with his own party.
A growing number of Republican senators are openly criticizing Trump's attempt to build a border wall without congressional approval, paving the way for an intra-party clash that could prompt the President to issue his first-ever veto.
Ten Republican senators have publicly questioned Trump's national emergency declaration, which the White House says frees up about $8 billion in taxpayer funds for the construction of a wall between the U.S. and Mexico, including Susan Collins of Maine, Lisa Murkowski of Alaska, Lamar Alexander of Tennessee, and Marco Rubio of Florida.
"I'm disappointed...with the President's intention to declare an emergency to build a wall," Sen. Rand Paul of Kentucky, who is typically committed to Trump's agenda, said after the planned declaration was first announced Feb. 14. "Extraconstitutional executive actions are wrong, no matter which party does them."
Jerry Moran of Kansas, another loyal Trump backer, raised similar concerns last week. "If it gets used this time, what's the next instance in which it becomes used?" Moran asked.
Republican insiders say several more members are privately skeptical, which could prove problematic for Trump as a measure is set to be taken up in Congress this week to block the order altogether.
"The private number is way higher, around 25 or so in total," said longtime GOP strategist Evan Siegfried, citing private conversations with aides and members of Congress.
A congressional source, speaking on condition of anonymity, said a couple dozen Senate Republicans remain critical of Trump's controversial order but likely won't vote against it out of fear of political repercussions.
"All they can do is sigh," the source said.
House Speaker Nancy Pelosi has set a Tuesday vote on a resolution to block the emergency declaration and her Democratically-controlled chamber is all but certain to pass the measure and send it to the Senate.
The resolution will need 60 votes to pass the Senate, which is controlled 53-47 by Republicans. Its passage would indicate remarkable disunity within the GOP and underscore the unpopularity of the President's do-it-alone border wall edict.
But Siegfried speculated Republicans opposed to Trump's order will mostly fall in line.
"They don't want to risk upsetting the base and alienating themselves," Siegfried said. "That's sort of the rule of thumb with the Republican Party now: why go against something that will ultimately end up happening."
Should the Senate pass the block bill, Trump has vowed to issue the first veto of his presidency.
"I will veto it 100%," Trump told reporters Friday.
Congress could override a veto but that appears unlikely because two-thirds of both chambers would need to come together in united opposition.
However, Congress isn't the only obstacle Trump has to surmount.
A litany of lawsuits, including one filed in California by 16 state attorneys general, are seeking injunctions against Trump's order.
Trump conceded his emergency declaration could be struck down in court when he announced it in the White House Rose Garden on Feb. 15, admitting he "didn't need to do this" and adding he only did it because he's impatient to get the wall built.
However, the President said he expects the lawsuits to end up in the Supreme Court, where he hopes the conservative justices will have his back.
"We will possibly get a bad ruling, and then we will get another bad ruling, and then we will end up in the Supreme Court," Trump said. "Hopefully we will get a fair shake, and we will win in the Supreme Court."
___
(c)2019 New York Daily News
Visit New York Daily News at www.nydailynews.com
Distributed by Tribune Content Agency, LLC.