Sessions resignation ignites fierce political reaction: 'This is a red line'

FOX News
11/7/2018
Attorney General Jeff Sessions resigned from his position in the Department of Justice Wednesday afternoon, one day after voters went to the polls in the midterm election.
In a letter addressed to President Donald Trump, Sessions wrote: "At your request, I am submitting my resignation." He went on to tout the department's record under his leadership and said he "had no greater honor than to serve alongside" law enforcement officers.
Session's resignation was not surprising, as the president previously signaled there would be changes to his administration after the midterms. Sessions, once among the president's most loyal supporters, drew the president's scorn after his recusal from the Russia investigation.
For more than a year, Trump repeatedly criticized Sessions over his recusal, saying he wouldn't have selected Sessions for the attorney general role if he'd known Sessions would ultimately recuse himself from the Russia probe.
The resignation drew reactions from lawmakers on both sides of the aisle.
Former Attorney General Eric Holder said on Twitter he worries Session's exit could negatively impact Robert Mueller's investigation.
"Anyone who attempts to interfere with or obstruct the Mueller inquiry must be held accountable," Holder tweeted. "This is a red line. We are a nation of laws and norms not subject to the self-interested actions of one man."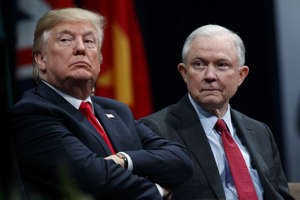 © Associated Press FILE - In this Dec. 15, 2017 file photo, President Donald Trump, left, sits with Attorney General Jeff Sessions during the FBI National Academy graduation ceremony in Quantico, Va. Trump is still roiling about Sessions' decision to recuse himself from the Russia probe, an act of perceived disloyalty. Trump has repeatedly complained about his attorney general and took to Twitter again Wednesday, May 30, 2018, to voice regret about appointing Sessions. (AP Photo/Evan Vucci, File) Senate Majority Leader Mitch McConnell released a statement praising Sessions for "dedicated service" in his role as the nation's top law enforcement officer.
"Throughout his career, as a prosecutor, a Senator and as Attorney General, he remained steadfast in his commitment to the rule of law and his love of our great nation," McConnell's statement said. "I wish him well and look forward to working with him in any future endeavors."
Senate Minority Leader Chuck Schumer commented on Sessions while holding a news conference about the midterm elections, saying he felt the announcement was suspicious.
"I'm not going to say much until I read what they said and why. I find the timing very suspect, number one. But number two, our paramount view is that any attorney general, whether this one or another one, should not be able to interfere with the Mueller investigation in any way," Scjumer said. "They should not be able to end it, they should not be able to limit it, they should not be able to interfere with Mueller going forward and doing what he thinks is the right thing.
Sen. Chuck Grassley called Sessions "a true public servant" on Twitter.
"Thx to AG Jeff Sessions for his service to our country both leading the DOJ & in the US Senate serving the ppl of Alabama I've enjoyed working with him for decades," the tweet said.
Sen. John Cornyn, R-Texas, released a statement, similarly praising Sessions for his decades-long dedication to public service.
"Attorney General Sessions has selflessly dedicated more than 40 years to serving the people of Alabama and the nation," Cornyn said in a statement. "As our country's top law enforcement official, he has been integral in fighting the opioid epidemic, keeping violent criminals off our streets, and supporting victims. Those who know him understand his commitment to the rule of law, and his deep and abiding concern for our country."
"I've had the honor of working closely with Jeff since I came to the Senate, and I'm proud to call him a friend," Cornyn continued. "I wish Jeff and Mary the best of luck in their next chapter, and I hope everyone will join me in honoring his public service to the country."
The American Civil Liberties Union (ACLU) executive director Anthony D. Romero, on the other hand, issued a statement condemning Sessions as "the worst attorney general in modern American history."
"He was an egregious violator of civil rights and civil liberties. From his plot to deport Dreamers, remove police and law enforcement accountability, discriminate against trans people, perpetuate and expand senseless enforcement of racist drug laws, use of religion to discriminate against LGBTQ people and undermine reproductive rights, abandon protections for women against violence, and even lie to the Senate to cover up Trump campaign contact with Russian officials, his tenure as the highest chief law enforcement officer was a complete disgrace to our nation's constitutional protections," Romero wrote. "Sessions allowed the Department of Justice to function as the political arm of the Trump administration to undo fundamental rights that protect each of us, disregarding years of legal precedent and settled law."
He vowed maintain "a close watch" on Mueller's investigation going forward "and the impact of the appointment of a new Attorney General."
"The Senate must demand that any nominee for attorney general must commit to not interfere in the special counsel investigation, and continue to have Robert Mueller operate under the special counsel regulation," Romero's statement said.